Boost Your Fat Loss Plan
Try these four tips for getting your fat blasting back on track.
Heading out the door? Read this article on the new Outside+ app available now on iOS devices for members! Download the app.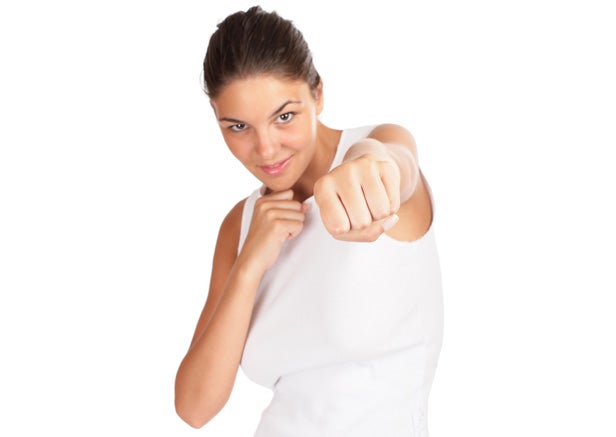 Re-ignite your fat loss plan by shaking things up again.
1. Have food fuel you, not fill you.
To get your energy revving for your fat-blasting cardio you need to be fueled up, not filled up. Being too full can leave you feeling less than pumped on that step machine, so instead take in nutrition that will keep your energy up so you can burn fat longer, and be happier too.
How to do it: Try this Oxygen-approved power meal 30 minutes before your next workout: Chicken salad with pomegranate seeds and green onion. It has the perfect carbs-protein combination to get you revved for a fat-blasting session in the gym.
2. Shape up your routine.
You have it down to a science — warm up, lift weights, cardio, stretch, go home. Repeat the next day — but lately you've noticed that you can't remember the last time you had that "good sore" feeling after a workout. Chances are you've hit that dreaded plateau. Don't fret — there's a way over that hump. To keep the fat loss going, you'll have to keep your body guessing, which means changing up some old habits at the gym.
How to do it: We recommend checking out Oxygen's website for new workouts and exercises and working out with a buddy or hiring a trainer for at least one session to get you started on a program that gets you excited about your goals again. Experts recommend changing your routine (whether cardio or weight training) every six weeks to avoid getting into a rut.
3. Reclaim your cheering section!
According to experts at the UT Southwestern Medical Center, between Thanksgiving and New Year's Day the average person can pack on an extra five to seven pass-the-sauce-and-fruitcake pounds. To slim your chances of getting a set of "holiday hips," let your family and friends know that you'll be turning to them for support as you get your workouts back on track.
How to do it: Fast forward to the post-holiday season (phew!) and start letting family and friends know that you're back on the wagon and are aiming to drop that extra poundage by Valentine's Day. The more people you tell the more likely you'll bump into someone who can cheer you on and help keep you in check.
4. Revisit your goals.
Wanting to "lose a few pounds" might not be enough to get you excited about your fat loss plan. Instead, reaffirm why leaning out and losing fat is important to you. Do you have a family reunion coming up? Is there a fitness competition on the horizon? A milestone birthday you want to look stellar for? Whatever your reasons, remind yourself of what they are and go, go, go!
How to do it: Be SMART about your goal setting. This means making your goals Specific, Measurable, Attainable, Realistic and Timely. For example, putting the SMART principle into action would be committing to losing 15 pounds by spring. Now that's a goal!