Beat The Baby Weight
Competitor and fitness model Michele Levesque-Presciano shares her training and nutrition plan for bouncing back after baby.
Heading out the door? Read this article on the new Outside+ app available now on iOS devices for members! Download the app.
I became a new mom five months ago to my beautiful baby girl Mia Isabella. When I was pregnant, getting back in shape after pregnancy was a big concern of mine. I've worked so hard to achieve a specific physique, and I wanted to maintain it. As selfish as it sounds, I was scared of forever destroying my body.
I am going to be honest, I can't say I necessarily enjoyed being pregnant. I had a normal pregnancy without any complications, only the typical nausea the first 10 weeks and that's it. The hormones raging — yes, raging inside me — made me feel sad, happy, angry, worried. They took over and I had no control over it. I usually know my body so well through my diet and training that I can only blame myself if I had a bad week of eating. But when you're pregnant the numbers on the scale will go up, your clothes get tighter, your thighs rub together, and, yes, you get cellulite! But none of that matters because you have a little miracle growing inside you. Looking back on my pregnancy I should have embraced it more and stopped complaining so much.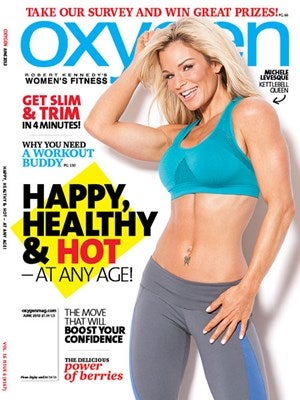 I really don't think there is a reason to put on extra body fat when you are pregnant. Your physician will also track that you're gaining weight at a healthy pace, making sure you are in "the zone" according to your starting weight. I only had to add an extra 300 calories to my diet, and a little more in my third trimester. Otherwise, I retained my usual diet and I added some clean calories, making sure I had food from all four food groups.
Here is an example of a typical food day during pregnancy.
Meal 1
Decaf coffee
3 egg whites + whole egg + low fat cheese
2 slices multi-grain toast
Meal 2
2 tablespoons peanut butter or almond butter
Natural Greek yogurt or cottage cheese
Berries (strawberries, blueberries, raspberries)
Meal 3
Chicken breast
Big salad with a variety of fresh veggies
Croutons
Meal 4
Turkey breast
Brown rice or quinoa
Broccoli, cauliflower, zucchini, spaghetti squash
Meal 5
Filet mignon
Variety of fresh veggies
Baked sliced sweet potato
Meal 6
Vegan protein powder
Almond milk
Mixed fruits
Oatmeal
I actually allowed myself to have any type of food. If I was craving it, I had it. But I really didn't crave anything except maybe more fruits than usual. I don't lose track of my diet easily. If I do, I get back on track the next day. I did the same thing with my pregnancy.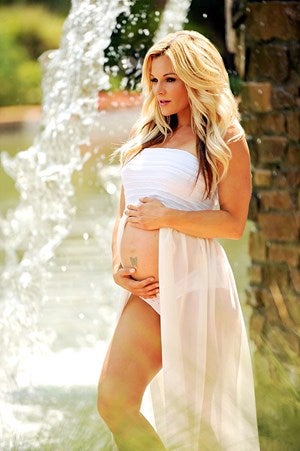 I also trained throughout my whole pregnancy. I made it a point to be active every day even if it was just a walk. I slowly changed my workout routine to full-body workouts four to five times a week with cardio (not exceeding 140 BPM). I used lighter weights but it was just to keep moving my muscles so I didn't lose all of it!
Three days prior my delivery I was on the StepMill feeling great!
Here is an example of my workouts during my pregnancy:
Day 1
3 sets x 12 reps leg extension
3 sets x 12 reps open sumo squats
3 sets x 15 reps abduction machine
3 sets x 15 reps adduction machine
3 sets x 15 reps lateral raises
3 sets x 12 reps rear delt cable flyes
3 sets x 12 reps shoulder press
3 sets x 12 reps biceps hammer curl
3 sets x 10 reps one-arm cable biceps curl
Cardio: StepMill level 6 to 7 for 30 to 40 minutes
Day 2
3 sets x 15 reps seated leg curl
3 sets x 15 reps hip extension (glutes)
3 sets x 25 reps calf raises
3 sets x 10 reps TRX pull-ups (back)
3 sets x 15 reps lat pull down
3 sets x 12 reps cable rows
3 sets x 10 reps triceps push down
3 sets x 12 reps dips off bench
Cardio: Walk on treadmill with 5% incline
In my second trimester I also started doing some abs exercises using the Tuppler Technique to strengthen my core. These exercises are designed to facilitate labor and delivery. During delivery, when it was time to push, knowing exactly what muscle to use and how to use them made the process so much faster with minimum damage to my abdominal wall. It's very common for pregnant women to develop a diastasis recti, which is when the uterus pushing on the "recti" or abdominal wall and causing a separation. The exercises can minimize how big your diastasis recti will be and will also prepare you to bring back your core after delivery. In my case, I think it made a huge difference, I barely had any diastasis recti and now it's pretty much gone.
If you are breastfeeding, you have to keep your calories higher then usual because you can burn about 300 to 500 more calories a day and you want to keep your milk production going strong. But that doesn't mean you have to eat high-calorie foods. It's also not the time to diet and restrict your calories. Your body is slowly going to bounce back by itself, your uterus is going to shrink back to normal as well.
Everything you eat benefits the baby, so having a balanced diet is important. You have to be aware that your baby can be sensitive to broccoli, cabbage, cauliflower… it might upset his or her little stomach and make them gassy. Limit coffee intake and drink tons of water to keep milk production high. Of course, you should check with your doctor before any embarking on any supplement regimen while you're pregnant. Always consider taking a pre/post natal vitamin and DHA vitamin to help with your littleness' brain development.
Here is an example of my breastfeeding diet:
Meal 1
4 egg whites, 1 yolk
Oatmeal or Ezekiel bread
Avocado or peanut butter or almond butter
Meal 2
Greek yogurt
Apple, banana, strawberries, raspberries
Raw oatmeal
Chia seeds
Meal 3
Chicken, turkey
Sweet potato
Asparagus, green beans
Meal 4
Low-fat red meat
Quinoa or pasta
Low-fat cheese
Meal 5
Chicken, turkey
Mega Superfood salad: kale, arugula, spinach
Carrots, beets, artichoke, green beans
Quinoa
Walnuts
Meal 6
Chicken, turkey
Vegetable sauté
Coconut oil
Extra snack:
Vegan protein powder (sweetened with Stevia)
Almond milk or cashew milk
Blueberries
Almost five months after giving birth, I'm pretty much back to my pre-pregnancy body. I was prepared for this process to be much longer, but the combination of being fit before my pregnancy, the fact that I kept working out throughout my whole pregnancy with a clean diet during and after really helped me bounce back quickly.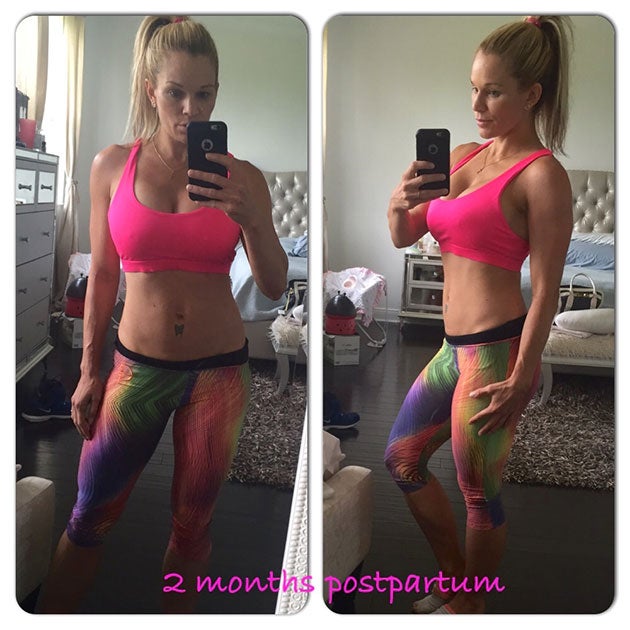 Four days after giving birth I was already fitting in my jeans and down 20 pounds. I know every experience is different, every story is unique and not everybody is blessed with a healthy pregnancy. Remember, it took nine months for your body to stretch and change to accommodate a baby inside you, it can take just has long to go back to normal. Be patient! But for those of you who are worried if you're ever going to look the same, I say yes, and probably even better!