Fit, Flab-Free Momma
Renea Perez proves that you can have a bangin' body after baby (x 3!)
Heading out the door? Read this article on the new Outside+ app available now on iOS devices for members! Download the app.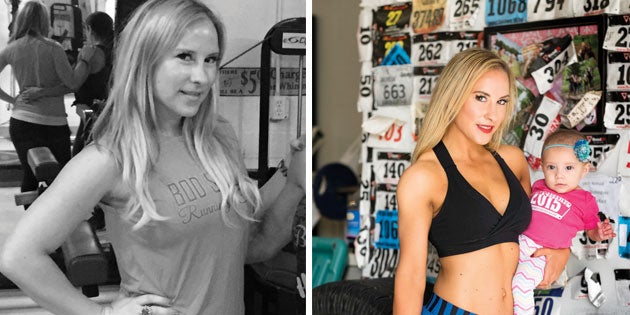 Name: Renea Perez | Hometown: Harlingen, Texas
Age: 36 | Height: 5'1"
Old weight: 150 lb | Current weight: 108 lb
Occupation: Full-time mom, juice bar/gym owner
Fitness family affair: "My 10-year-old son often runs 5 and 10Ks with me, which is totally motivating. And my husband has done many races with me, and we always cross the finish line holding hands. It's amazing."
Growing up, Renea Perez was always that girl — you know, the one who could eat anything and never gain weight. But then … she wasn't. Chowing on loaded breakfast tacos, sugary coffee drinks, enormous deli sandwiches and buckets of soda while living a sedentary lifestyle began to take its toll. Since her father had passed away from a massive heart attack at age 34, Perez knew she had to change her ways. But … she didn't.
When she got pregnant, however, her weight snowballed, and after she had her baby, she realized she was very unhappy with how she looked and felt. "I didn't want to settle and just accept that I was going to be heavy for the rest of my life because I had a child," she says. "So I decided to change that and never looked back."
Perez enrolled in a Curves gym with the initial goal of losing 20 pounds, and she even signed up for a nutrition challenge they were holding. "I began eating five to six meals a day with lean protein, fiber-filled carbs and green veggies," she says. "Eating every two to three hours was hard at first since I felt like I was overeating, but I had to drop that mentality and surrender to the process, and the results followed."
When Perez got pregnant a second time, she was ready: She maintained her activity level, lost all 42 pounds of baby weight in six months and competed in her first bikini show six months after that. She also took up running as a sport. "My first 5K was for the American Heart Association in 2012 in honor of my dad," she says. "Running is something that continually challenges me, and I like that about the sport. I credit my strong quads for my endurance!"
After giving birth to her third child in 2015 at age 35, Perez wanted to push her fitness envelope and prove she should still be fit and fabulous after three children. "I heard about Oxygen's [Ultimate 90-Day] Challenge and that Amanda Latona was one of the coaches," she says. "Amanda inspires me with her attitude and positive mentality. And since I tend to have bigger glutes, I knew she could help me find exercises that would define them — even after three babies!"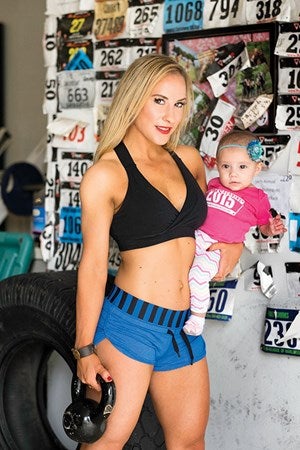 Ninety days later, Perez had lost all her baby weight, leaning out to 17 percent from 30-plus percent, and she added sleek muscle to her frame. "Amanda taught me how to use the stationary bike for glute work and how to really establish a good mind/muscle connection to make my training more effective," she says. "I also learned about carb cycling and found it to be very effective when trying to lose body fat."
So what's next? Perez has big plans for 2016. "I will be doing three more bikini shows in the masters category as well as several half and full marathons and of course my 5 and 10Ks," she says. "Training is my therapy and my escape. It is about the journey and pushing yourself beyond your limits. I love that. This is the year of pushing harder, and I am excited."
Q&A With Renea Perez
Were you ever athletic?
I was always involved in a sport during my school years, but I feel like I always did them halfway instead of giving my all. I played softball and soccer. It was more of a social thing, and I got away with the minimum required. I stopped after high school, though, because I didn't have the drive and I didn't understand the importance of exercise at all. My stepfather also got diagnosed with cancer my senior year, and that caused me to lose any kind of focus whatsoever. Once I started strength training I saw what I was really capable of!
Was eating a way of coping for you?
I love food. I am Cajun and our family functions revolve around lots of food! I'm also a stress eater and I eat when I am bored. Eating was a form of entertainment.
What was your experience like at Curves?
I realized how much women need each other. We need to encourage each other on our journeys instead of criticize and pick each other apart. When you support each other, amazing things happen. We can relate to each other and our troubles.
After Curves I started teaching a class at the local gym and fell in love with weights! I discovered my love for lifting and began to want a place for my clients and myself to train so I opened my own all-women's studio almost five years ago. The experience has been life changing. The support, the encouragement and transformations that happen within those walls have helped me keep going. Everyone assumes that as a trainer it's easy to stay fit and keep pushing for your goals. That's not true. We focus so much on our clients that it's easy for us to forget to plan time for ourselves; we can often lose our drive. But when I see someone overcome obstacles, it makes me push harder as well.
Besides Amanda Latona, do you have any role models that helped you in your transformation?
Hands down Tosca Reno and Jamie Eason were my role models in the beginning of my fitness journey. I devoured every issue of Oxygen and every book Tosca wrote. And Jamie was a superstar to me. She overcame breast cancer and she also competed. She made strong look sexy and beautiful. I had never seen anyone like that before and I was so inspired!
What can you do now physically that you could not do before?
Conquering my mind has been the hardest part for me. When I tell myself that I can do something and make myself train even when I don't feel like it, I see how much my body is capable of. Like running — I never thought I would be able to run a mile without stopping and I have surpassed that. I am my own competition. I don't tell myself that I can't anymore.
What do you do when you come face-to-face with some of your old food vices?
I allow myself a treat meal once or twice a week. For me, mentally, it's good to do that. When I want to overdo it, I remind myself of how far I've come and how I want to reach my goals more than I want to eat that block of cheese!
What is one of your new favorite healthy recipes?
Instead of pasta I use zucchini spirals topped with lean ground turkey or beef, fresh basil and crushed tomato.
What is your favorite body part to train and your favorite move for that part?
I love training shoulders and upper body in general. I hold more muscle in my legs and glutes, so when I train upper body it makes me feel strong. My goal is to grow my upper body this year. I love the classic side lateral raise superset with the Arnold press.
What is your weekly training split?
Monday: Legs
Tuesday: Shoulders and biceps
Wednesday: Hamstrings and plyometrics
Thursday: Back, triceps and abs
Friday: Full body with a focus on glutes and shoulders.
What do you do for cardio?
I like doing a run/sprint combo on Tuesday and Thursday. Monday, Wednesday and Friday I do steady state. I use a machine called the Helix, I love the StairMaster and I've also grown to love the rowing machine. On Sunday I try and get my long runs in- anywhere from 3 to 10 miles, depending on the race I'm training for.
What has been your best race time?
My best half marathon time was the one I recently did after this third baby was born. My time was 2:19. My future goal for a half is under 2 hours.
How do you fit it all in with your family and work schedule?
Having three kids and a husband who works 12+ hours a day is hard to juggle. I try and strength train five days a week and Spin three days a week. I train for my marathon one day a week and thankfully I have amazing support from my family. My mom watches the kids on Sunday when I have my long run to do. I start at her house and take off! I wouldn't be able to do it without her.
What advice would you give someone who has a lot of weight to lose?
The hardest part is starting and just getting to the studio or gym. Surround yourself with women that are also on a fitness journey. Schedule time daily for your workouts and cardio. Make them non-negotiable. Also, be patient. We focus so much on the outward results that we forget all of the amazing things that are happening inside of our bodies when we are eating clean and exercising. You are adding years to your life and making your bones stronger, and fighting disease every time you work out and make a healthy eating choice! Focus on health and the fit body on the outside will appear!
Did anyone in your family also have a transformation?
My sister! She is 45 years old and looks younger than she did at 24. She has amazing muscle definition, is an incredible runner and has improved her eating 100 percent. She went from being "skinny fat" to super fit! Also my mom is 70 years old and she started training weekly and loves Zumba.
What supplements do you take?
I take a shot of wheatgrass daily, and a turmeric ginger shot every day. I take glutamine, I have a whey isolate protein shake daily. I also drink aminos during my workout.
Do you have anything else to add?
I wanted to thank Oxygen for having the Challenge. It was the defining moment after my 3rd baby that got me excited and determined to get back in shape and be even better than I was before. I have always been determined to be in the magazine that I loved and this was my chance. I was also so touched that when I did not make the top 20 finalists for the cover, that I had total strangers on the Facebook boards posting my before and after pics saying I looked like a winner. It touched me deeply and helped me realize that even though I may not make the top 20 or be on the cover that I inspired other moms along the way.