The Food Factor
Stacey Beers discovered that you really are what you eat.
Heading out the door? Read this article on the new Outside+ app available now on iOS devices for members! Download the app.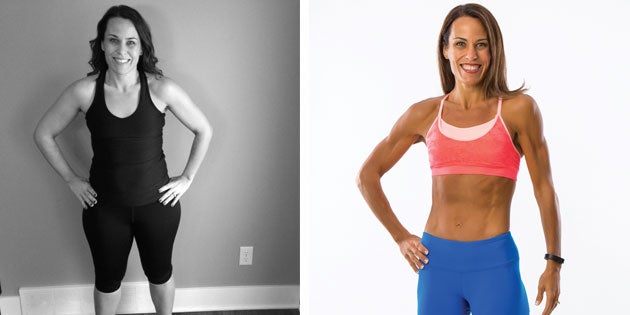 Name: Stacey Beers | Hometown: Rockford, Michigan | Age: 39
Height: 5'6" | Old weight: 180+ lb | Current weight: 135 lb
Occupation: Blogger | Unexpected bonus: "My kids and husband are now eating healthy. They fill their plates with asparagus and broccoli and munch on fruit."
Last winter, Stacey Beers went for a routine checkup and found that she weighed more than 180 pounds and was now in the obese category for her age and height. "This was not the way I wanted to live my life or the way I wanted my young kids to know me — I was 39 years old and knew there had to be more," Beers says. "My gym was having a 12-week transformation challenge that included full-body training and nutritional counseling, and I immediately signed up."
Beers had always struggled with her weight and remembers even in first grade feeling different from the other kids: Her pants were always tight, and it was a daily struggle to fit in. As an adult, Beers guesstimates that at one point, she was well over 200 pounds, even though she was a pretty avid runner. "I even ran two trail marathons after having my kids," she says. "But that does not mean I was skinny. You can be active and still be overweight, and that was me."
The deciding factor for Beers was food. Yes, she could run 10 miles at a clip, but afterward, she would down a whole bag of tortilla chips and some brownies. To get a handle on her nutrition, Beers purged her pantry and threw away all the processed junk. Then she started logging her food into MyFitnessPal and read Tosca Reno's books on clean eating cover to cover. Following the eat-clean philosophy, Beers changed her meals so she always had a protein and a carb with every meal and snack, and had three meals and two snacks daily. "Good nutrition is not about restriction," she says. "I am always eating; I just changed my food from brownies and chips to veggies and salsa."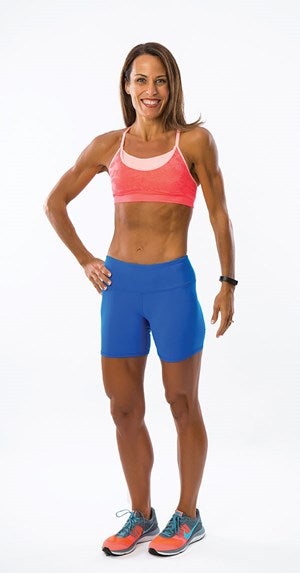 Gymside, Beers was grateful for her trainer. "I was a longtime member of the gym, but I had always felt lost," she admits. "My trainer helped me learn the machines and taught me different exercises to do. He also always held me accountable, which was motivating."
At the end of the 12 weeks, Beers had lost 34 pounds and 11 percent body fat and won the gym's challenge. "They put a life-size poster of me out front, which is a good reminder to keep going," she says. Next, Beers ran her hometown 5K and finished with a time of 21:12, winning her age group. Inspired, she entered a fitness competition in which she placed fourth in masters bikini, fourth in masters fitness model and fifth in the fitness model open. "It was a very emotional day for me." she says. "When you are overweight the majority of your life, you always see yourself that way no matter what your size. After the show, I was able to let go of those feelings and celebrate the new healthy me."
To date, Beers has lost more than 45 pounds, 13 percent body fat and close to 35 inches from all over her body. "My only goals starting out were to be healthy and happy, and a better mother, wife and human being," she says. "I now realize how strong I am. It took a lot of hard work and willpower, but I have finally figured it out."
Why did you want to do this transformation for your kids?
I am conscious of the fact that everything I do, my girls see. I am the biggest influence on them and because of this I should be putting my best foot forward every day.
Was your family supportive?
My family was and is a huge support for me. They could see how important this was for me, and my husband even now takes the kids to their functions so I can get to the gym. Because in the end, he knows that the working out helps me stay focused and makes me a better wife and mother. I am thankful for him every day!
Why were you eating mostly carbs and junk foods?
I have been a vegetarian since I was 14 years old, but I became one for all the wrong reasons. I thought it would make me skinny but instead all I ate was carbs and junk food with a few healthy things now and then. I was always hungry because I wasn't eating protein. I am still a vegetarian but I know how to eat for fuel and to help my body be and stay healthy. I am so much fuller and satisfied eating eggs, berries, veggies and nuts than I was eating chips and brownies.
How do you get your protein?
I eat dairy and eggs, so I do Greek yogurt and cottage cheese quite often. I also eat a lot of beans and quinoa.
What do you do when you come face-to-face with some of your old food vices?
I always have fruit and veggies cut up and ready for me to take with me everywhere I go. I drink about a gallon of water every day to keep me full and I just always try to be prepared with protein bars for snacks. However, I have to say that the other day we stopped at Krispy Kreme for my daughter's treat and I had one bite of a warm donut off the press. God gives me a hand daily with will power!
What is one of your new favorite healthy recipes?
I was always a baker and loved brownies. These are my go-to for something sweet!
Protein Balls
1 cup oats
¼ cup honey
1 Tbsp. vanilla
1/3 cup natural peanut butter
½ cup chia seeds
1 mashed banana
A few teaspoons of mini chocolate chips
Mix together. Roll into balls and place in the refrigerator.
I also love Quinoa stir-fry:
Sauté 1 onion and 2 garlic cloves in a pan with a tablespoon of extra virgin olive oil. Add broccoli, carrots, cabbage and red peppers, spinach and other veggies of your choice. Sauté for 7 minutes. Add 2 cups of cooked quinoa. For the sauce I use a few tablespoons of low-sodium teriyaki, salt and pepper to taste. At the end I add about 4 egg whites and mix until cooked.
What is your favorite bodypart to train and your favorite move for that part?
I really work hard at training my glutes and legs. These have always been my problem areas as I have always been pear shaped. I really like using kettlebell swings as they work my glutes, hips, hamstrings, lats and abs and shoulders.
What is your weekly training split?
I work out twice a week with a trainer where we concentrate on the lower half of my body. But we also do a lot of circuit training where we work everything together. I do two other days of lifting and some total body workout classes at my gym called boot camp and total conditioning, and round out my week with yoga.
What do you do for cardio — how long and how often?
I am concentrating more on weight training and less on cardio. It is hard to change your mindset from doing lots of cardio to more weight training. But I know that weight training is key for continuing to build muscle and burn fat. For cardio I either will do HIIT Cardio in the classes or running sprints.
What advice would you give someone who has a lot of weight to lose?
Just make the decision to make the change. I have tried and failed so many times at this, and it was just my time for it all to click. Get into a gym and start with a trainer and definitely get with a nutritionist that can show you how to start logging your food into a program. For me having the accountability of a trainer and nutritionist was key. Lastly get a Fitbit. Even with my training days, I still have to get 10,000 steps in every day. This is not always easy as I have a banking desk job. But if at 8 PM I am on the couch and don't have my steps in for the day, out the door I go.
What supplements (if any) do you take?
I take COQ10 with fish oil, Multi Vitamin, Vitamin D, Magnesium and Bee Pollen
Anything else to add?
I believe God helped me to do well on this journey to hopefully inspire others to get fit and healthy. I want others to feel how I feel. I am excited to live life and be a mom and wife and co-worker. It is a choice that I need to make every day to eat right and get to the gym. I owe it to myself and my family to keep living healthfully!