The Healing Power of Fitness
After a divorce and a bout with depression, this mom committed to fitness and bettering her personal situation.
Heading out the door? Read this article on the new Outside+ app available now on iOS devices for members! Download the app.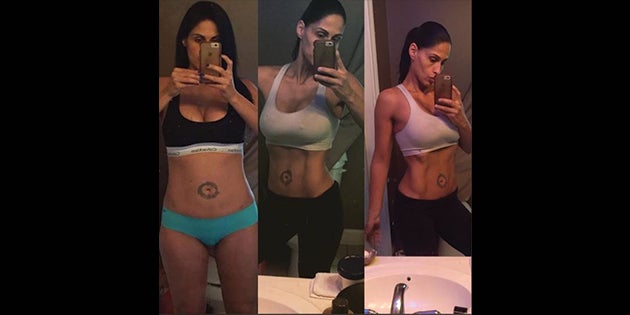 Name: Santa Monica Berrocal | Age: 38

Old weight: 158 | Current weight: 138
Occupation: Elementary school teacher
OXYGEN: What was your life like before your transformation?
Santa Monica Berrocal: Prior to starting this journey, I was barely working out and eating poorly (if at all). As a busy teacher and a mother, I was fueling myself mostly on just coffee. During that time, I felt extremely weak and tired, and I was barely sleeping most nights.
I would be running on fumes, but my son Nicholas also needed me to care for him, play with him and simply be a mom. I neglected taking care of myself for many years because I felt an immense amount of guilt doing anything for myself and taking time away from my son and family.
OXYGEN: What was the turning point? How did you make the change?
SMB: After 18 years and two kids, I decided to file for divorce and start a new life with my two boys. Fast-forward two years: Last winter I found myself in a really bad depression for the first time in my life. I hated the way I felt, and I avoided the mirror at all cost. It would make me feel ashamed and embarrassed.
One day, my sons and I were in our swimsuits and my oldest asked me, "Mom, are you pregnant?" The next day, I started looking for a coach because I was lacking the motivation and discipline to get and stay fit and healthy. I found coach LeRoyce and shared with him what it was I wanted to achieve, and he assured me he could guide and help me reach my goals.
I remember taking the pictures he requested in order to get started — I felt so embarrassed and ashamed having to send them, but it was eye-opening and exactly what I needed to do.
OXYGEN: What is your current training/nutrition regimen? How has this helped you? Any favorite exercises?
SMB: Coach LeRoyce has tailored many workout regimens and meal plans to fit my crazy and chaotic life. I currently weight train four days a week and consume five small meals a day with a healthy mix of proteins, carbohydrates and "good" fats.
Having a meal plan and workout regimen has helped me lose weight, boost my self-esteem, gain energy and sleep better.
My favorite exercises are squats, deadlifts and leg presses. Over time, these habits have become a lifestyle change and I am now addicted to the gym. It has also motivated me to spend time reading more and doing more research on my own in order to understand how food and specific exercises help your progress.
OXYGEN: What would you impart on someone reading about your journey?
SMB: The words of wisdom I would pass on to others are "trust the process." There are times when even though you are eating right and exercising regularly, you start to question yourself or become discouraged. I've found that with consistency and knowledge, you can achieve exactly what you want. Don't give up on yourself — make the time for you.
Because I am taking care of myself and becoming more fit physically, I also feel better emotionally and mentally, ultimately allowing me to take better care of my loved ones.
OXYGEN: How do you stay motivated and on track?
SMB: There are many ways during this journey that I have had to find a way to keep myself motivated. I am constantly watching videos of people that I admire in the bodybuilding profession. I also reach out to coach LeRoyce when I feel discouraged, and he has been a great support throughout these past eight months.
I also look at pictures from the beginning of my journey, and I am determined never to allow myself back on that unhealthy road.