Holiday Fat-Loss Hacks
Keep these fat-loss survival tips in your back pocket this holiday season.
Heading out the door? Read this article on the new Outside+ app available now on iOS devices for members! Download the app.
The holidays are a perfectly appropriate time to catch up on sleep, enjoy a cocktail with family and even indulge in one (OK, maybe two) of grandma's famous cookies. But you've worked hard all year on your fat-loss plan, so you don't want to start the new year playing catch-up again. The key lies in finding balance and not letting discipline go out the window this month. Here's how to avoid some of the holiday pitfalls.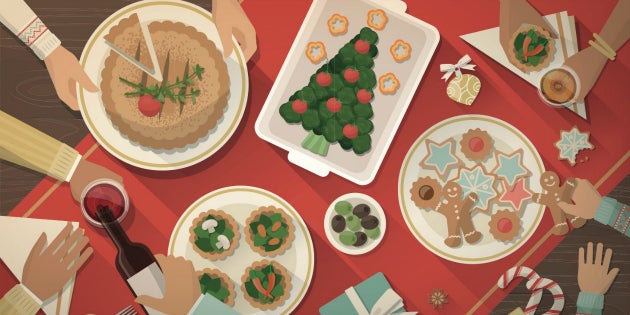 On the Road
Traveling for the holidays can completely derail your endgame, but only if you let it. Whether you're driving or taking a plane, train or automobile to your destination, the changes in routine and the added sitting time are not ideal. While it's impossible to completely avoid the tribulations of travel, you can choose to be a road warrior rather than a complete sloth.
Pack healthy snacks.
Keep it simple, delicious and nutritious by pairing carrots, celery and/or apples with your favorite nut butter (available in single-serve packs). If you're a sucker for the crunch, whip up a quick batch of kale chips or create your own trail mix by throwing together some raw nuts, unsweetened dried fruit and high-quality dark chocolate.
Stay hydrated.
Bring along an eco-friendly refillable water bottle and fill it up once you're through security at the airport — or at restaurants, gas stations or anywhere else water is available.
Keep active.
Bring along a jump rope or exercise bands and use them at each pit stop, including airport layovers. Always opt for the stairs, and turn every bathroom stop into a five-minute jog-and-stretch session (where appropriate). Do as many walking lunges down the airplane aisle as you can get away with.
Welcome Home!
You've arrived at your holiday destination and now the health-and-fitness challenges begin in earnest.
Do your homework.
Once you know where you're spending the holidays, do some research online to find a nearby gym or box. Contact the manager about requirements for drop-ins and ask for class schedules. After a class or training session, reward yourself with a new T-shirt from that gym. Sweat and souvenirs trump candy canes any day.
Work out first.
If you know your motivation dwindles as the day goes on, get your workout done first thing in the morning. A morning workout will prime you metabolically to better handle all those holiday indulgences.
Make it a family event.
It can be surprisingly fun to gather everyone together for a group workout. Experiment with entertaining movement combinations such as the bear crawl, crab walk, burpees, chair dips, jumping jacks, push-ups and air squats. Indulge your coaching power trip!
Prepare for pressure.
You might face pressure from family members who don't need or want to lose body fat. You may be singled out, harassed and forced to defend your food choices. But here's a workaround. Indulge yourself with the most sentimental and "cheat"-worthy meals for the sake of the family experience. Make the rest clean (even if just for yourself).
If it's a special holiday dinner that mom cooks only one day a year, enjoy it. But if it's pumpkin pie after breakfast, lunch and dinner for five days straight, hold your ground. And see last month's newsletter, "Find Your Focus," at oxygenmag.com/article/find-focus-12183, for some helpful advice on how to mentally prepare to do that.
Learn how to taste.
Teach yourself to have just a taste of something and make that behavior routine. The goal is to live in the moment with that first bite; everything after that tends to be mindless eating. If you love grandma's cookies, take a bite when you crave something sweet and put the rest aside for later. If you can't imagine the holidays without stuffing — the real kind — have a spoonful (or two). There's no reason not to enjoy a bite here and there. Holding back too much could backfire and end in a miserable mashed potatoes/stuffing/pumpkin pie/cookies binge. Remember, the farther you fall, the harder it is to bounce back.
Drink smarter.
Maybe you look forward to imbibing cocktails with your family during the holiday season. While it's OK to occasionally indulge in alcohol and allow yourself a "get out of jail free" card or two over the holidays, limit your intake so that it doesn't lead to missing a lot of workouts. Drink plenty of water in between anything alcoholic. Avoid sugary drinks altogether, and use club soda instead of tonic water as a mixer.
Take your supplements.
The perfect combination of holidays and vacation often has one overlooked side effect: vitamin and supplement snubbing. Given that your diet and fitness are more than likely going to take a hit, wouldn't this be the worst time to cease taking your vitamins and supplements? It only takes a few minutes to throw your favorites into zip-top bags or partitioned pillboxes. If you're flying, place liquid versions in travel-size, TSA-compliant containers. Again, no excuses.
So what's your January going to feel like? It's entirely up to you!
The Amanda Latona Resolution is an exclusive two-part program designed to help you sail through the holidays without gaining weight and get in the best shape of your life. Learn more and register here!