"This Is My Journey!"
Jayme Hunsinger stopped listening to others and focused on being healthy — and lost 160 pounds!
Heading out the door? Read this article on the new Outside+ app available now on iOS devices for members! Download the app.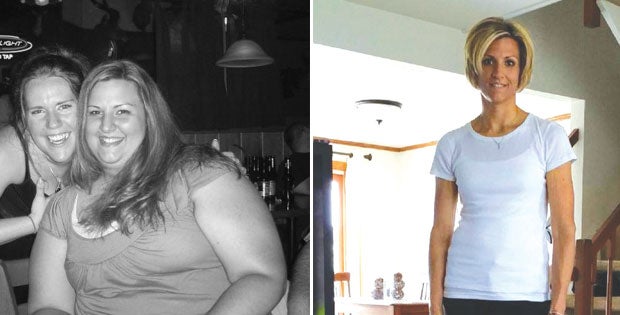 Name: Jayme Hunsinger | Hometown: Hummelstown, Pennsylvania | Age: 34 | Height: 5'9" | Old weight: 304 lb | Current Weight: 144 lb | Occupation: Mental health therapist | Her tools for avoiding temptation: "Water, gum, mints, hot tea and distractions!"
Like so many of us, Jayme Hunsinger blindly followed the siren song and sweet promises of many fad diets, only to be disappointed again and again. "I would go on these crazy crash diets that would work temporarily, then once I got tempted or stopped following it, the weight would come back — times two!" she says. "I never learned what my body really needed."
She lost 50-some pounds on such a diet in college, but then a bad breakup left her reeling, and she turned to food for comfort. "Food did not judge me, and it made me feel wanted," she remembers. "Eating was a way of coping and would soothe everything from sadness and depression to anxiety and failure." Hunsinger slowly but surely soothed her way up to 304 pounds — her all-time heaviest weight.
In 2007, her stepsister asked Hunsinger to be her maid of honor. Hunsinger knew then she had to do something about her weight. "I was so honored and didn't want to disappoint her or look awful," she says. But this time, she wanted to do things differently. "I learned from all my previous failures that setting a goal to lose 20, 30 or even 50 pounds wouldn't work," she says. "So I promised myself to get healthy instead of focusing on a number."
Hunsinger joined Weight Watchers and learned for the first time about portion control. "I never knew what portions were appropriate, nor did I understand the concept of a balanced meal," she explains. "I also learned to stop eating before my stomach was too stuffed and uncomfortable, which was my habit."
She began to use measuring cups and a food scale to parcel out her meals, and cut out all the junk, replacing it with fresh, clean foods. She also learned about the importance of protein for satiety and muscle building, and how to use spices to make food taste fabulous.
The monkey wrench: her social life. "It's very hard to eat clean and be around others who don't share your same thoughts," she says. "They either say, Wow, you are strict and disciplined, or It's OK to eat this or that every once in a while. I used to let that get to me, but I have come to the point now where I don't have to explain myself anymore. This is my journey, not theirs."
Through dietary changes, Hunsinger dropped 60 pounds by her stepsister's wedding. Then after getting married herself and having a baby, Hunsinger lost another 85 pounds with diet and cardio. In 2013, she began lifting weights and lost yet another 20 for a total of 160 pounds lost over the course of seven years. "I'll be honest: With losing 160 pounds and having a baby, my skin has been through a lot," she admits. "Strength training really helped with tightening up and turned my body in the direction I wanted. I will probably always have some loose skin, but heavier lifting has been a huge blessing for me."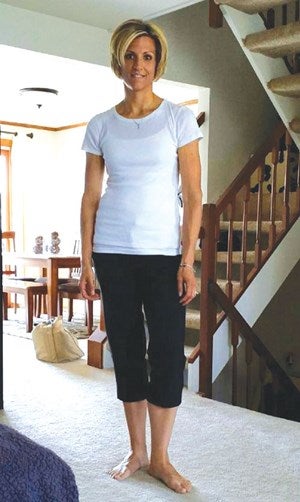 Another blessing: Her husband jumped on board and lost 100 pounds himself! "We do a stationary cycling class together every Monday and run races together," Hunsinger says. "It really has helped us get closer and understand each others' strengths and weaknesses, and find out who can do what better!"
Were you always overweight?
was as long as I can remember. There was a mix of heavy and thin family members too, which made it more difficult to relate.
Once you realized you needed to make changes, what was the very first thing you did?
I reached out to my supports – my family – and told them what I was doing. They were used to me starting and stopping my journey, but I felt that if I put it out there it would be the accountability that I really needed to stay with it. And the second thing I did was to get rid of all the junk food in my house!
Did you have any role models that helped you in your journey?
Honestly I did not. I have found that I am doing this on my own terms and how I feel. I am more healthy now than I have ever been and that is a personal self-discovery that I cherish more than anything.
What can you do now that you could not do before?
A ton of things! Run, lift, walk long distances, play with my daughter, fit into a booth in a restaurant without embarrassment.
What do you do when you come face-to-face with some of your old food vices?
Sometimes I give in and enjoy them. I don't need them, and I am usually stressed or bored when I want them, so a good distraction usually takes care of that for me.
Any mantras you'd like to share?
"I'm worth it." I use this all the time and it helps me remember why I am doing it.
What is your favorite bodypart to train and your favorite move for that part?
My pride and joy is my upper chest and arms! I love free weights and doing bench presses.
What does your workout week look like?
I hit the gym 4 times a week, with 3 days of cardio – either running or Spinning – and 2 days of lifting.
What is your advice for someone with a lot of weight to lose?
Take it slow, listen to your body and never give up. It took me 7 years to lose all my weight and another 2 years to tone up and build muscle. Set small goals to keep you going and know you are worth it 100 percent!