Macro Mama
Eating right helped Laura Carson lose 32 pounds, shake her inhibitions and ditch her eating disorder.
Heading out the door? Read this article on the new Outside+ app available now on iOS devices for members! Download the app.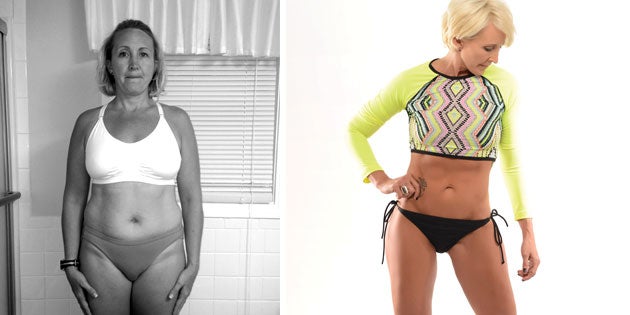 Name: Laura Carson | Hometown: Nashua, New Hampshire | Age: 47
Height: 5'6" | Old weight: 160 lb | Current weight: 128 lb | Occupation: Vice president, customer advocacy
Best advice: "Live by the ABCs: Always take it one day at a time; Be accountable; Consistency is key."
Ice cream, cake, candy, pizza, cereal — these were the staples for Laura Carson, who spent a lifetime struggling with an eating disorder: She would binge on hundreds of calories and then purge by doing hours of cardio. "I became an avid runner and tried to outrun a bad diet," she says. She was also painfully shy and could not give presentations or even engage with strangers in conversation.
Her binge/purge cycle continued for decades, but all that exercise could not combat the glut of unhealthy, empty calories she would take in during her binge. One by one, the pounds crept on. In 2013, she had had enough. "I was sick of waking up every Monday morning, vowing to make a change, then doing nothing," she says. She had seen a friend compete in a bikini show and was inspired to do so herself.
Carson hired an online coach who introduced her to macrobiotic-based eating and helped Carson determine how many carbs, proteins and fats she needed every day in order to reach her goals. "I was addicted to sugar and the wrong types of carbs and didn't even know what protein was," she says. "Macro-based eating was easy to understand and live with. I didn't want a diet; I wanted a lifestyle."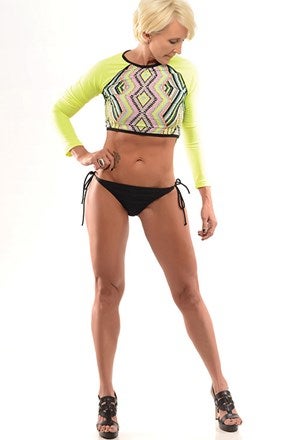 She cut out all the processed junk and used MyFitnessPal to track her food to ensure she was getting exactly what she needed. "The hardest part was killing my sugar addiction," she says. "It took about three weeks for the cravings to go away completely. It was also difficult to get used to eating every few hours and consuming more food than I ever had."
Carson also swapped her cardio-centric training for more focused weightlifting to add muscle and shape to her frame. Slowly, her body fat dropped and her new physique began to emerge.
In 10 months, she lost 32 pounds and stepped onstage in May 2014 for her first bikini competition. "The girl who could not do a school presentation or speak in front of co-workers was onstage in a teeny-tiny bikini in front of 1,500 people!" she says. "It was very empowering."
These days, Carson is part of a group of fit women from Best Fitness in Nashua, New Hampshire, who inspire one another and organize activities such as dinners, movies, hikes and zip lining. She has become certified as a specialist in fitness nutrition from the International Sports Sciences Association and is planning on getting her training certification. "I also started a Facebook blog called 40somethingfitness, and we have more than 1,000 followers," she says. "We share tips, tricks, recipes and more."
As for public speaking — bring it on. "Needless to say, I am over my fears," she says. "I now speak regularly for my job with no hesitation and get onstage to compete at least once a year."