Lynn Cofield's Metamorphosis
Lynn Cofield shed 123 pounds and became a "butterfly."
Heading out the door? Read this article on the new Outside+ app available now on iOS devices for members! Download the app.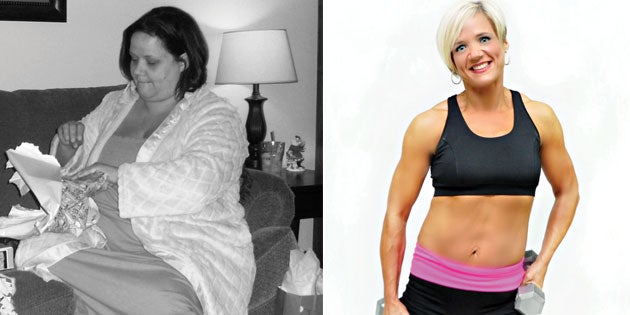 Name: Lynn Cofield | Hometown: Texarkana, Texas | Age: 43
Height: 5'5" | Old weight: 266 lb | Current Weight: 143 lb | Occupation: Registered nurse
Words of wisdom: "Learn to eat healthy before starting a workout routine. If you don't get the nutrition down first, you won't see good results in the gym and could get discouraged and quit."
Life sometimes can get in the way of even the easiest of tasks. And often the coping mechanisms we use to help us schlep through those trying times are more harmful than healing. No one knows that better than Lynn Cofield. "In January 2014, I was sick of myself," she says. "I was so tired of being tired, and when I looked in the mirror, I no longer recognized the overweight, sad face looking back."
After several marriages that ended in divorce, the single mom had no self-esteem left and was taking antidepressants, drinking a box of wine a week, and attempting to quell her depression with popcorn, chips, crackers, cookies, burgers and pizza. "The worse I felt about me, the more junk I ate, and the more junk I ate, the bigger I got," she says. At her heaviest, Cofield weighed in at 266 pounds. "I was wondering where I was going to buy my clothes, as the size 24 pants and 3X top were getting snug. It was very scary."
Then Cofield read an article on Facebook about the negative effects of sugar on the human body, and something just clicked. "I went straight to the kitchen with a trash bag and completely cleaned my home of sugary foods," she says. "That single action completely changed the course of my life."
Cofield's initial goal was to lose 50 pounds by her birthday in June, giving her six months to transform; by the end of August, she had lost 74 pounds through diet alone. Now, she decided, it was time to bring exercise into the mix. After much researching, Cofield deduced that lifting weights would be her best bet for fat loss, and as she slowly burned off her body fat and added lean muscle, she discovered that something bigger was happening. "The barbells transformed me on the inside as well as on the outside," she says. "Lifting empowered me and made me feel strong. And as much as I gained in muscle, my mental gains were even more tremendous."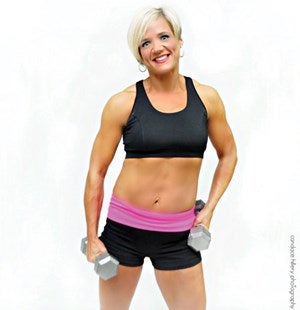 It took a total of 19 dedicated months, but Cofield lost 123 pounds and got her body fat down to 14 percent. "A year ago, I could barely do a bodyweight squat, and now I squat 185 pounds for four sets of 15," she says.
To help and encourage other women, Cofield started a health and weight-loss support group on Facebook called Fabulously Empowered Women, which has grown to more than 900 participants. She also launched a business called Barbell Butterfly to help women learn how to eat clean, change the way they think of themselves, and how to lift weights to transform their bodies and love themselves again.
"I don't want to share my story to say 'look what I did' — I want to share it to say 'look what YOU can do!'" she says. "Anything is possible. Anything."
Were you always overweight?
I struggled with my weight most of my adult life. In my early twenties I was about a size 12/14 and just gradually got bigger from there. By my late 30s I was a good 22/24. By the time I hit 40, I was wondering where I was going to buy my clothes as the size 24 pants and 3x top were getting snug. It was very scary to think about.
Were you ever athletic?
I was absolutely never athletic! When I was a child, I was a big reader. My parents said that I was the "musical one" and my sister was the "athletic one." I played the piano and was in the band in school. No team sports, no individual sports.
What role did diet have in your weight gain?
Huge! I lived on junk food — popcorn, wine, fast food, pizza, and Mexican food. My favorite dinner was popcorn and wine. I never ate anything healthy! My body was constantly being infused with sugar — sweet tea, sodas, wine, junk food, etc. It didn't have any choice but to turn all that sugar into fat!
Were you under the impression that the things you were eating were good for you?
Not at all! I knew it was all bad for me, but I was so caught up in being depressed and hating myself that I simply fed my emotions with food. The worse I felt about me, the more junk I ate.
Did anyone help you with your transformation?
No. I was a single mom and I did it on my own. My journey has been lonely at times, but I believe it's because I did it on my own that I learned to find my strength and push through the hard days. I'm very thankful that I took this journey alone.
What changes did you make to your diet and nutrition program after you started lifting weights?
When I started weight lifting, I was still living on Lean Cuisines and Adkins protein shakes. I still wasn't eating very healthy and began to feel very fatigued. My body needed more because of the stress I was putting it through in the gym. Then I watched a food documentary called "Hungry for Change." It was an eye-opening moment for me and pointed me in the direction of eating clean. When I began changing to a clean diet, eating six small meals a day and fueling my body with real food, my body began to respond almost immediately. I had more energy, could push harder in the gym, was sleeping better, feeling stronger and really began to hit my stride.
What was the hardest part about changing your eating habits?
Honestly, I would have to say it was cutting out the wine and fast food. Those things were deeply ingrained habits that were a struggle to kick. There were many days in the beginning that I felt as though I were just barely making it. Some days I failed, but I learned to just pick myself up the next day and keep going.
What is your favorite bodypart to train?
I love training my back. One of my favorite exercises is the T-Bar Row. It makes me feel like such a beast!
What is your weekly training split?
Monday: Legs
Tuesday: Chest/Triceps
Wednesday: Back/Biceps
Thursday: Legs
Friday: Shoulders
Every day I do at 30–40 minutes of fasting interval training cardio, with Saturday being cardio only. Sundays are my rest day.
What advice would you give someone who has a lot of weight to lose?
Build your nutritional foundation first and learn how to eat healthy before starting a workout routine. When we try to do everything at once, I think we just end up setting ourselves up to fail. By building a strong foundation, we feel better in the gym and will see fantastic results.
Did your family support your transformation?
My sister, Beth, is my biggest supporter! She lives 1,000 miles away, but she has always been healthy and fit and encouraged me every step of the way.