Rock Hard at 41!
Learning how to build muscle in the gym was a turning point for Melissa Filmore.
Heading out the door? Read this article on the new Outside+ app available now on iOS devices for members! Download the app.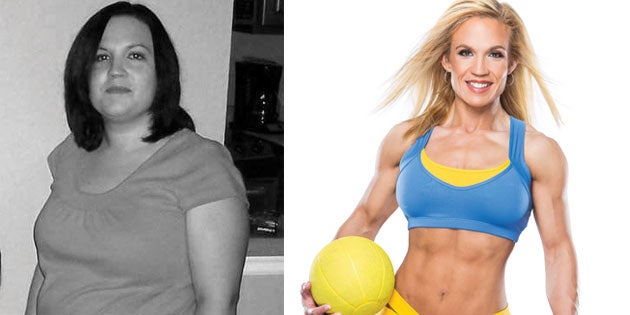 Name: Melissa Filmore | Hometown: Pasco, Washington
Age: 41 | Height: 5'3" | Old weight: 209 lb | Current weight: 125 lb
Occupation: School teacher, personal trainer
Favorite mantra: Make your goals bigger than your obstacles.
Picture this scenario: It's your anniversary and you take a rock-climbing class with your husband to celebrate. You're excited to do something new. You get outfitted with your harness, face the climbing wall, take hold of the grips to pull yourself up — aaaannnnd not gonna happen. "At that moment, I wanted to get strong," says Melissa Filmore, who experienced just such a failure at age 34; at the time, she weighed more than 200 pounds and was 46 percent body fat. "The very next week, I hired a trainer at the gym."
Her trainer immediately introduced her to lifting weights, which was a whole new experience for Filmore: She had spent a lifetime dieting and doing ineffective cardio to try to lose weight. "I had no idea that there were different types of exercise or how to train different muscle groups," she says. "I'd just sneak into the gym, do 30 minutes on the elliptical and sneak out. Lifting literally changed my life."
Around that same time, a season of "The Biggest Loser" was starting, and they were using a bodybugg to track activity and nutrition. Filmore went right out and bought one and began tracking her food intake. She was unfamiliar with clean eating and thought processed breakfast bars and fat-free candy were a good solution for her vices of chocolate and fast food. "The bodybugg made losing weight more of a science instead of a guessing game, and I learned that it was not just about the quantity but the quality of the calories that mattered," she says. "I also loved the idea of competing with myself to see if I could beat my goal of 10,000 steps a day or meet my caloric deficit."
Filmore lost 80 pounds in nine months with consistent exercise and clean eating. But having reached her goal, she lost momentum and began to slide back into old habits. "I needed a new focus," she says. "I knew a couple of people who had competed and thought it would be a great new goal to shoot for." She hired a coach, and several months later, she was onstage in a bikini for her first physique show. "I was beyond nervous, but I loved it!" she says. "You work so hard for those few moments, and the suit is a uniform — everyone is wearing one just like you are, so it wasn't as scary as it could have been."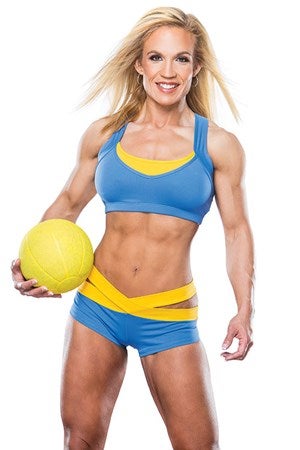 Filmore has done nine local shows and two Junior National competitions so far, and she has several more planned for 2016. She has also become a certified trainer and holds dozens of training sessions each week. "I have the unique perspective of knowing how to deal with the majority of obstacles my clients will face since I have literally been in their shoes," she says. "I'm on a mission to empower as well as educate, and I want to change the world, one amazing woman at a time."
Were you always overweight?
Always. I went on my first diet at age 12 with my mother. My mother is still searching for a miracle answer.
Were you ever athletic?
I was not athletic nor particularly coordinated. I tried volleyball and track in high school but struggled.
What kind of things did you used to eat?
Tons of fast food, and chocolate with every meal. Growing up, my mother worked full time. I learned to prepare quick and easy.
Was eating a way of coping for you?
Definitely. I ate because I was stressed or bored. That guilty cycle of using food to feel better then feel horrible about it. I was out of control.
What was the hardest part about changing your eating habits?
Cutting out sugar. I love chocolate and still to this day when I feel stress, I crave chocolate.
Do you have any role models from Oxygen that helped you in your transformation?
I've always loved Jamie Eason. She is so spunky and has lived through some intense obstacles in her life.
What can you do now physically that you could not do before?
Anything and everything. I'm willing to try new physical activities. Before, I hated exercise. Now I know what it does for me.
What is your favorite body part to train and your favorite move for that part?
Although I absolutely hate leg day, I am most proud of the shape that I have built. The stiff-legged deadlift is my current favorite.
Legs were hard for you to develop?
Legs have always been and still are my weakness. I have a pear-shaped body, which means I hold fat in my hips and thighs. But they are also my proudest body part. They have had the most change and reshaping through the last couple years. What has been a weakness has become a strength.
What is your weekly training split?
It has changed over time. And these days I put more time into my weaknesses. I do 45-60 minutes of fasted cardio every morning and lift on a six-day rotation, making sure I take 2 days off during the week.
Chest & front delts
Quads & calves
Back and rear delts
Hams & glutes
Delts & arms
Core & Lats
What advice would you give someone who has a lot of weight to lose?
Don't try to change too many things at once. Start with increasing your water one week, then cut out soda the next, things like that. It's easy to get overwhelmed. Your goal is to make this a healthy lifestyle and not just get the weight off but to keep it off.
You were at 46% body fat when you started — what are you now?
I stay fairly lean these days. When I did my first competition in May of 2012 I was still at about 23-25% body fat. I'm now 11% off-season and 6-7% on stage. It has taken me three years to change my shape.
Did your family support your transformation?
Yes my family has been my biggest support. My husband has carried me up the stairs when I was too tired and depleted to do it myself. My children have helped me do food prep and have been patient with me when I need to get my workouts in.
Did any of them have a transformation of their own?
My kids are much more active now. And my husband joins me at the gym.
What supplements (if any) do you take?
I am a firm believer that you can't out-supplement a bad diet. I do utilize extra BCAAs and a pre-workout drink as well as multi-vitamins.
Anything else?
There will always be obstacles to maintaining this lifestyle. I still struggle with time, balance and motivation. There are good days, and days I have to dig deep. I have physical limitations that frustrate me on a regular basis. But I can choose to use them as excuses or I can give it my all and do it anyway. I choose the latter. Someone, somewhere is giving it a try because they watched me do it — how can I ask for anything more fulfilling?