Running Strong
Tragedy led April Alexander to a 116-pound weight loss.
Heading out the door? Read this article on the new Outside+ app available now on iOS devices for members! Download the app.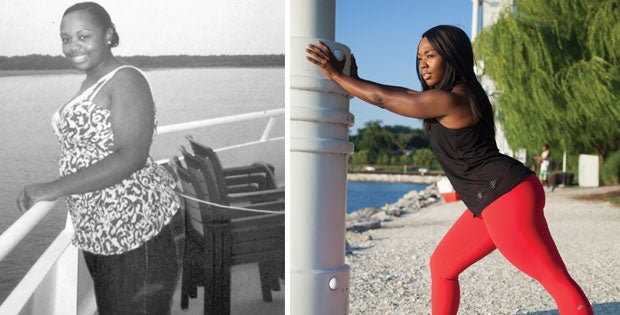 Name: April Alexander | Hometown: Sterling, Virginia | Age: 33 | Height: 5'3" | Old weight: 260 lb | Current weight: 144 lb | Occupation: Personal trainer | Preworkout words: "I'm a spiritual person, so I like to say a prayer before I work out. It's really helped me along my journey."
It's awesome to have a strong family connection, sharing anything and everything with those closest to you — except when it comes to illness. April Alexander saw many of her family members pass from diabetes, but it wasn't until 2013 when her own mother lost her battle with the disease that she knew she had to change her path.
"I started to gain weight when I was just 11 years old," she says. "Fast food played a major part in my weight gain, and I never wanted anything healthy." Alexander didn't have many friends because of her size, and she was picked on and bullied — even by her own teachers.
"When I was in gym class, I always complained because I didn't want to exercise," she says. "So when my 10th-grade gym teacher told us this would be the last day we would have to run a mile, she could tell I was happy. She told me in front of everyone that I had no passion or motivation and that I would probably never run again after leaving her class. And I believed her. I thought I would always be overweight and that I had no passion, motivation or drive to change my life."
But her mother's death provided just the impetus for Alexander to get up and get moving. She joined a gym and began doing cardio. But she wasn't seeing the results she wanted and started researching fitness and weight loss. She discovered that lifting weights was the way she was going to develop the body she wanted and set out to learn everything she could. Alexander also learned about eating healthy and ditched her go-to fast foods and sugary meals and drinks.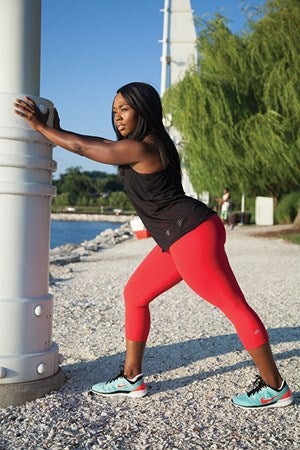 Social media was also a great source of information. "On Instagram, I followed Massy Arias, who was inspiring to me and made herself available to answer questions, and Nicole Mejia, a personal trainer who helped me learn that it's OK to be the shape you are," she says. "My body frame is not a size zero, and she helped me cope with that."
Her journey was not without trials, but whenever she found herself flagging, she turned to her mother for help. "When I felt like giving up, I remembered a conversation with my mother I had prior to her death about my weight," Alexander says. "She told me I could achieve anything in my life if I put my mind to it, and her words kept me going."
It took two full years of hard work and dedication, but Alexander lost a total of 116 pounds and has recently given up her position as a government recruiter to become a personal trainer. "I'd really love to work as a trainer and be the inspiration for someone like me who has been told they can't do it," she says. And speaking of naysayers: "Recently, I ran a 5K, and as I was running, I could hear my gym teacher's voice telling me I would never run again," she says. "Instead of being angry or hurt, I simply smiled and finished the race in a time of 27:45."
What were your goals when you first started your weight loss journey?
When I initially started all I thought about was that I wanted to be skinny and lose some weight. I didn't put a number on it, because I wasn't sure where I wanted to be.
Did you join a gym?
Yes. At first I was worried that everyone was looking at me, and what they were going to think of me, but over time those feelings faded. Not to mention there were some really helpful people that showed me about having good form.
What changes did you make to your diet and nutrition program?
I cut out all processed foods, soda, butter, sugar, bread, and I cut down on the salt. I started cooking my meals and eating 4 to 6 times a day.
What do you do now when you come face-to-face with some of your old food vices?
I do not deprive myself; I do have one cheat meal a week, but for the most part I've learned to simply just say no thank you. The way I look and feel is much better than eating foods that are unhealthy for me.
What is your favorite bodypart to train and your favorite move for that part?
I love leg day. I like doing squats, lunges and deadlifts.
What advice would you give someone who has a lot of weight to lose?
Be consistent, don't be afraid to try new things, be patient with yourself and always stay positive. Because losing weight isn't going to happen overnight, just like gaining weight doesn't happen overnight. Never give up!
What supplements (if any) do you take?
Cellucore protein, Cellucore C4 Extreme Preworkout, and BCAAs.
Did you ever compete or are you considering competing now?
I have never competed, but I am seriously thinking about it. Several of my gym friends that do compete think I should.
Weekly Training Split
| | |
| --- | --- |
| | |
| Monday | Legs |
| Tuesday | Back and Biceps |
| Wednesday | Chest, Triceps & Shoulders |
| Thursday | Rest |
| Friday | Legs |
| Saturday & Sunday | Core |
April does HIIT cardio 3 times a week for 30 to 45 minutes.