Teresa Burkett on Why Silver Is the New Strong
At 62, this bodybuilder is proving that age is just a number.
Heading out the door? Read this article on the new Outside+ app available now on iOS devices for members! Download the app.
Teresa Burkett lives just outside Columbus, Ohio in a little cabin in the woods with her husband. She has her own home gym, 123k followers on Instagram and an ever-growing motivation to prove that strength can come at any age.
After her children had grown up and moved out, Burkett went through a divorce and faced the question: What now?
"I kept thinking, 'Well, I'm going to sink or swim,'" Burkett says. "And I chose to swim."
Burkett was active earlier in life, whether it was kickboxing, aerobics or cardio — but she'd never though twice about lifting heavy. One day, she was walking on the treadmill flipping through an Oxygen Magazine when she saw a figure competitor and decided then and there she wanted to start strength training.
She began lifting heavy weights and focusing on her nutrition. Soon after that, she entered her first bodybuilding competition at 51 years old.
"I worked with a bodybuilder who really taught me how to lift and how to compete," Burkett says. "I was definitely the oldest on the stage, but I was well-received and encouraged."
Burkett, thus far, has competed in five shows. Most recently, though, she took on a Pump & Run Challenge at the 2022 Arnold Classic. This involves chest pressing up to 30 reps before running a 5k.
"I like to find challenges like that," she says. "For instance, I did Claire P. Thomas' pull-up challenge when I first got on Instagram and now I do pull-ups all the time — I have to give credit to her for that."
I'm (Not) Getting Too Old For This….
Burkett isn't immune to injuries and pains that come with reaching a certain age. She herself has issues with her foot and arthritis in her neck and wrist. But she has yet to let it slow her down.
"I started falling into that category of thinking, 'I'm getting too old for this,'" she says. "It's one of the reasons I did the Arnold this year. I almost wanted to use my hurt foot as an excuse, but I decided that even if I may not be able to run as fast as I once did, I could still run. I wasn't going to let those excuses to sneak in."
Her training has adjusted, however, throughout the years. For example, she no longer sets a heavy bar on her back due to her arthritis. Instead, she performs goblet squats in leu of bar squats and uses a hex bar for deadlifts. She also loves yoga, but now avoids poses that involve looking up and exacerbating her arthritis.
This Is 62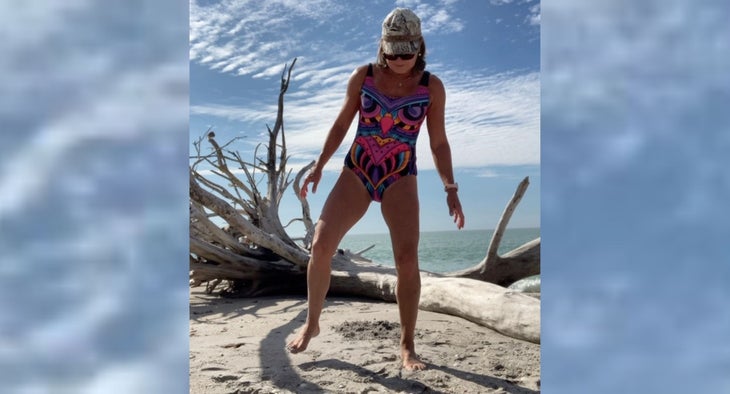 When Burkett decided to stop dyeing her hair, her brand' was born.
"I wanted to embrace my silver/gray hair," she says. "Youthfulness doesn't have anything to do with hair color. You can have wrinkles on your face and have gray hair and still be youthful."
While some people have an image of what 62 looks like, Burkett smashes that stereotype with her impressive weight training, pull-ups and calisthenics all over her Instagram. People of all ages reach out to her to tell her how she's changed their perspective on life.
"That means more to me than anything," she says. "I truly feel like I'm living my purpose; it's rewarding and humbling."
While 62 looks like strength, beauty, family, challenges and success, 63 can only bring more of everything for Burkett.
"Our bodies are much stronger than we think they are," Burkett says. "I do not fear growing older."
Quick Q&A with the Silver Queen
Coffee order?
"Starbucks blonde with heavy whipping cream."
Breakfast?
"I fast a lot of days, but when I don't, I eat oatmeal with vanilla protein powder (makes it creamy!), egg whites and an egg."
Favorite form of cardio?
"The steps at the park near me. It's about 109 steps."
Favorite muscle group to work out?
"Back and shoulders."
Drink of choice?
"Red wine in moderation. I also always have my water jug filled with branch chain amino acids, glutamine and collagen."
Post-workout meal?
"Protein pudding. I use Beverly International protein powder and mix it in water, add some peanut butter and sometimes throw a banana in."
What's something you do everyday?
"Meditate."
Do you have a mantra?
"Change the way you look at things and the things you look at will change."