Suffer From Discipline, Not Regret
Read how the stress of business and travel derailed a former fitness instructor's healthy lifestyle and how she got back on track.
Heading out the door? Read this article on the new Outside+ app available now on iOS devices for members! Download the app.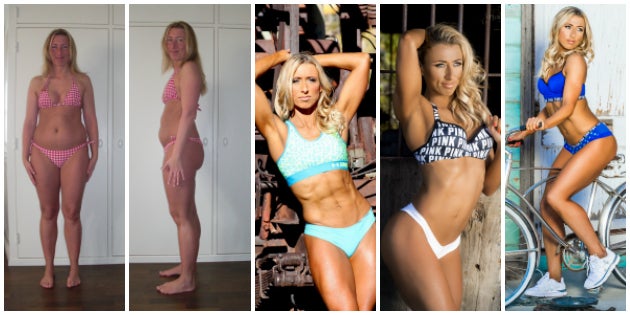 Name: Jana Kovacovic | Age: 40

Old weight: 141 lb | Current weight: 117 lb
Occupation: Self-employed personal trainer, nutrition consultant and writer
OXYGEN: What was your life like before your transformation?
Jana Kovacovic: I've worked in the fitness industry since I was 16 years old. I've always been athletic, and I taught 20 hours of group fitness classes each week for over 12 years. Fitness was my life. I began working out less because I had just started a business and had less time. A few years later, I was hired by a big franchise fitness chain to help them open new gyms. I traveled six to seven days per week and often spent 12 hours on the road on any given day. While working for that company, I was so busy that I struggled to eat clean and stopped training completely. I was exhausted when I got home at night.
Within two to three years, I'd gained over 20 pounds and none of my favorite pants or dresses fit anymore. Some of my co-workers began to ask me if I was pregnant. That shocked me, but it was a turnaround point. I told myself I had to change my life immediately! I didn't want to feel uncomfortable anymore.
OXYGEN: Have you had any significant life experiences that set you down that path?
JK: I have suffered panic attacks for over four years, and a change in my job left me out of control of my regular fitness schedule.
OXYGEN: What was the turning point? How did you make the change?
JK: I remember the date: February 1, 2011 — it was just before my 34th birthday. I began my journey back to a healthy lifestyle, and I looked for fitness role models and inspirational people on the Web. I printed their photos and stuck them on my wall, and I hung my favorite pants where I could see them every day to motivate myself to fit into them again.
I also started by organizing myself much better. I made time to go to the gym five to six times per week, prepared my meals and brought food with me when I traveled. When everything was already planned, there was no excuse for me to eat poorly or skip the gym. After the first few months, I had already lost some weight.
I visited a fitness competition camp in April 2011 in Florida and some of my friends were there preparing for a competition. They asked me if I would compete with them at the end of the year. My first thought was: What? Me and competition? Never! But after considering it, I decided to go for it. My competition coach Michele Levesque made a program to help me achieve this new goal.
OXYGEN: What is your current training regimen?
Monday: Legs + Abs
Tuesday: Shoulders + Triceps + Chest + 30-Minute Stair Workout
Wednesday: Back
Thursday: Off
Friday: Glutes + Abs + Biceps + 30-Minute Stair Workout
Saturday: CrossFit
Sunday: Plyometrics + Sprints
OXYGEN: What are your favorite exercises?
JK: Walking lunges, squats, and shoulder presses and raises are some of my favorites!
OXYGEN: What would you impart on someone reading about your journey?
JK: Dream it. Believe it. Achieve it. Never stop believing in yourself, and never give up! Surround yourself with positive people who support you. Also, be patient — nothing happens overnight. If you struggle with training or nutrition, remember why you started. It's better to suffer from discipline than suffer from regret.
OXYGEN: How do you stay motivated and on track?
JK: It's a challenge against myself. It's interesting to see what is possible with healthy eating and workouts. I do a body selfie every two months, and it's nice to see so many changes and improvements in my strength. And the best thing: It feels great to have a fit body and be in shape.