Cover Girl Confidential: Koya Webb
Fitness model, life coach and Oxygen cover model Koya Webb discusses why she didn't go to the Olympics, how she got into yoga and why she went vegan. Plus, she shares a couple of her favorite yoga moves.
Heading out the door? Read this article on the new Outside+ app available now on iOS devices for members! Download the app.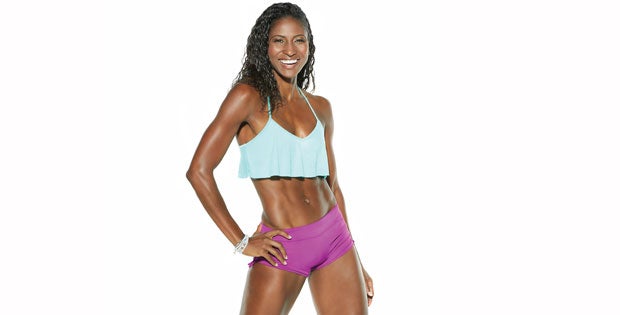 You were a collegiate track athlete. What were your events?
I did the heptathlon. That's high jump, long jump, shot put, javelin, 100-meter hurdles, 200-meter dash and an 800-meter run.
What was your best event?
The high jump was the one I went to State for, but funny enough the 800 meters became one of my better events. It was always last in the lineup, and I am a go-getter. So if I was in like 5th place coming into the 800, I would haul ass and move up to 3rd place!
Why didn't you end up going to the Olympics?
I was training for it in San Diego at the Olympic training center when I pulled my hamstring. While I was healing I started modeling and got more into yoga and never really went back to track competition.
Do you still run?
Totally. I usually run a mile a day in the morning after I do yoga. I don't run as much these days because I tend to lose too much weight.
How did you become a life coach?
I was personal training for a long time and came to realize that I was more concerned about the person inside than the one outside. Yes, I love training and nutrition, but I think there is something deeper that people are yearning for — a spiritual and mental connection. I found peoples' stories fascinating and wanted to do what I could to help them.
How did you come to be doing seminars in such exotic locations?
I started getting booked because of my Instagram postings, actually! I posted a yoga pose every day as well as positive affirmations and people loved them. Organizers started asking me out of the blue to teach in different places around the globe and it all had to do with the power of social media.
Do you think people have a problem with balance in their lives?
Oh, yeah. Everyone wants to be healthy but unfortunately self-care is always last on the list of priorities. But self-love is the beginning of loving others, and loving everything you do and everyone around you starts with taking care of yourself and your health.
How did you come to be a vegan?
I love trying new things and experimented with being vegetarian first. It was like a journey, literally going down a list and letting one thing go at a time. Beef, pork, poultry, dairy and so on. As I cut things out I looked better and felt better as an athlete and my digestion improved a lot. And I found I could still get all the nutrients I needed without eating meats. I feel the foods I eat now feed my mind and my body and my energy levels are higher than they have ever been.
What happens when a vegan goes home for the holidays in the south?
[Laughs] Oh, I make a bunch of raw vegan things like lasagna and ice cream and bring them to the party. People were wary at first of my weird foods but now they look forward to what I will make. I don't push my diet on anyone; I am non-judgmental. But I will share it with those who want to learn.
Is it challenging to get adequate protein?
That's where supplements come in. To be honest, you build muscle faster with animal-based protein. But at the same time, meat is also harder on the liver and harder on the universe, so if you look at it that way, plant-based protein is better. If I didn't want to be as muscular as I am now, I would not use the supplements. But when I want to put on a little more muscle, I find supplementation gets me the results faster.
Two Great Yoga Moves from Koya Webb
Lolosana (Pendant Pose)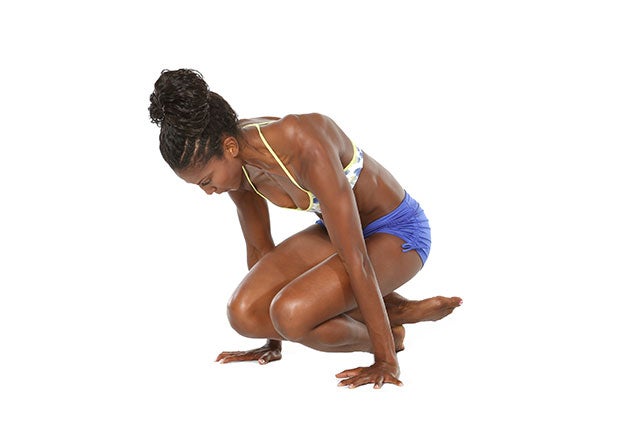 This move is great to strengthen the arms and core. It looks simple but it's really challenging, especially for me since I have such long legs!
Knee on the floor and cross your ankles. Sit onto your heels and place your hands on the floor on either side of your knees. Imagine you're a ball as you press down into your hands, round your back, spread your shoulder blades apart. lifting your body and legs off the floor as high as you can. Hold steady, or as you improve, rock back and forth like a pendulum between your arms.
Warrior 3 to High Knee and Extend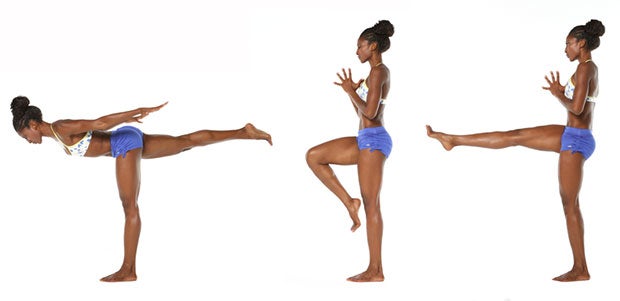 This move works the glutes, back, arms, quads and hips while also challenging your balance and core strength. Remember to breathe and hold each pose for several breaths.
Stand on one leg with your arms along your sides. Keeping your other leg straight, hinge at your hip and fold forward, lifting your leg behind you until your upper body and leg are parallel to the ground, arms reaching behind you. Slowly return to standing, bringing your leg through to the front and lifting your knee to hip height as you bring your palms together in front of your heart. Find your balance then straighten your leg in front of you, getting it as close to parallel as you can without rounding your back or leaning backwards. Replace foot on the floor then repeat on the other side.
Pick up the November 2015 issue of Oxygen, featuring more of Koya Webb, on newsstands now.