Exercise Your Eyes
You lift weights, do cardio and stay flexible with yoga. But have you ever thought of keeping your eyesight sharp?
Heading out the door? Read this article on the new Outside+ app available now on iOS devices for members! Download the app.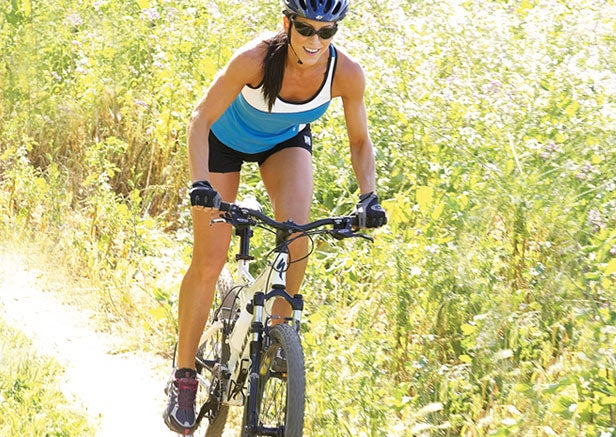 Experts say that sports performance is directly related to visual skills. Improve your visual skills and you'll see the payoff-in your performance. Sports vision training works the nine muscles of the eye to improve balance, focus, reflexes and scanning ability-whether you're navigating a gnarl downhill on your mountain bike, hitting a ball, reaching for a secure handhold on a rock face or skiing down a crowded slope.
According to Dr. Thomas Wilson, sports vision consultant with the United States Air Force Academy, USA Shooting and the University of Colorado ski team, researchers estimate that more than 20 percent of the optical fibers go to the brain's balance centers. "Any time you have a more efficient visual system, we feel it improves your ability to perform athletically," he adds. Visual training is similar to strength and conditioning resistance training. By stressing or overloading the visual system during sports-specific exercises, you build visual strength, stamina and speed for the intense optical challenges you face in your sport. Whether you're biking a rocky descent or skiing a black diamond, you want your eyes to make accurate, lightning-quick decisions to guide your body and not be so overwhelmed that thye tire and lose focus. To speed up your reflexes and increase your visual coordination and endurance, Dr. Wilson recommends doing balance activities—on a teeterboard, balance beam or mini-trampoline-and juggling as you work your eyes.
While training is often done with specialized tools and computer programs, many eye exercises can be performed with readily available equipment. Practice these simple exercises for up to 20 minutes at a time, three to five times a week.
Eye Jump
Improves focus from near to far.
How to: Place a tennis ball four inches away and a second target two to ten feet away. Look at the near target, then at the far target, and back to the near target. Make sure that both eyes come into focus on the near target and diverge when looking at the far target. Do 30 to 40 near-far eye jumps each day.
Balancing Act
Integrates eye focusing and balance.
How to: Stand on a two-by-four, with one foot in front of the other, and hold a pen with lettering in your fully extended arm at eye level. Staying focused on the pen, make wide, sweeping figure eights without moving your head. As your balance improves, practice walking forward and backward on the beam. Rest after five minutes and repeat.
*Vision drills courtesy of Dr. Thomas Wilson's
Sports Vision: Training for Better Performance
and Dr. Burton Worrell.