Your Guide To A Fit Pregnancy
Baby on board? We've got the latest research about exercise while you're expecting.
Heading out the door? Read this article on the new Outside+ app available now on iOS devices for members! Download the app.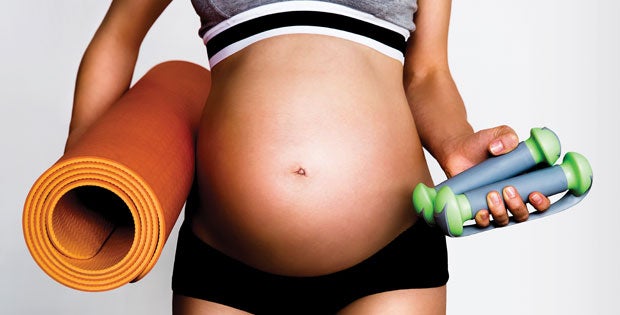 Avoid walking lunges.
Don't raise your heart rate above 140 beats per minute.
Skip the weights altogether.
The good news is that all of the above commonly heard pieces of pregnancy advice are total nonsense. The bad news is that the inconsistencies and conflicting information about pregnancy and fitness is enough to make your barbells spin. Much of what we think we know about pregnancy and exercise is based on myth instead of scientific research and expert advice. So we did some serious digging to uncover the truth — especially for the über-fit set. Prepare to have your mind blown!
1. True or false: Always listen to your doctor. True, but …
Absolutely listen to your doctor, but don't be afraid to question, challenge and dig deeper. Doctors are used to doling out advice to the average woman, not fit and fierce gals who crank out scorpion push-ups for fun. "I was doing sledgehammers and deadlifting when I was pregnant, which would scare most doctors," says Cassandra Forsythe, Ph.D., RD, CSCS, co-author of The New Rules of Lifting for Women(Avery, 2009).
2. True or false: Use high reps and low weights.
False, but …
The Canadian Society for Exercise Physiology suggests high repetitions and low weights, but not all experts agree. "There isn't enough research on strength training during pregnancy to give a 'formula,'" says Lanay Mudd, Ph.D., assistant professor of kinesiology at Michigan State University, who tells women to keep on doing what they were doing before pregnancy, as long as they listen to their body and decrease intensity as needed.
3. True or false: Pregnancy compromises your balance. True and False
Pregnancy changes your center of balance, but it doesn't automatically mean you'll topple over doing walking lunges. Exercise seems to protect against poor balance in pregnancy and can even keep you from falling as frequently as non-exercisers. "My theory is that pregnant exercisers are more familiar with the changes in their body and adapt to it better than ones who don't work out," says Jean L. McCrory, Ph.D., assistant professor of exercise physiology at West Virginia University.
4. True or false: Avoid maximum-intensity exercise. True, but …
"Going all-out in pregnancy may not be the same as going all-out when you're not pregnant, but it's still pretty intense," says Forsythe, who did full-on Tabata workouts after her first-trimester nausea passed. Although no upper limit of safe pregnancy exercise has been set, a study published in the British Journal of Sports Medicine reported that no adverse effects on the fetus were found with exercise intensity of 81 percent of maximum heart rate. "The point of exercise during pregnancy is to keep you and your baby healthy and maintain your fitness level, not necessarily to make huge gains in strength and fitness," Mudd adds.
5. True or false: Avoid jerky movements. True, but …
It's true that pregnant women are more prone to joint injuries than non-pregnant women — blame relaxin, a pregnancy hormone that causes joints and ligaments to loosen — but that doesn't mean you have to sideline the sledgehammers and clean-and-jerks. Just be aware. "I would argue that pregnant women need to be stronger during pregnancy in order to protect against joint dislocation because one of the roles of muscles is to stabilize joints," McCrory says.
6. True or false: Avoid ballistic, bouncy stretching. True
Ballistic stretching is a pregnancy no-no. "Stretch until you feel the stretch, no bouncing, no holding," says Michelle F. Mottola, Ph.D., FACSM, associate professor of anatomy and kinesiology and director of the Exercise and Pregnancy Lab at the University of Western Ontario in Canada. In fact, the American Academy of Orthopedic Surgeons doesn't condone ballistic stretching, pregnant or not, because it can lead to injury.
7. True or false: Don't let your heart rate go above 140. A big, fat false
Keeping your heart rate below 140 beats per minute is the biggest pregnancy myth going, but how high is too high? So far, no "safe" upper limit has been set, but according to anecdotal evidence, elite women athletes have been known to work out in the 170s with no ill effects.
8. True or false: Overheating during pregnancy puts the baby at risk. True, but …
Unfortunately, the data on the effects of exercise on core temperature during pregnancy is limited, but we do know that well-hydrated, fit pregnant women are better at regulating their core temperature than non-exercisers and even undergo less temperature variation during exercise. Still, experts say to use caution: "Women should avoid exercising in hot, humid environments when pregnant, especially for prolonged endurance exercises," Mudd says.
9. True or false: You'll be sucking wind on the elliptical. False
Shortness of breath is one of the things we come to expect with pregnancy (blame the pressure the growing baby is putting on your lungs), but some fit pregnant women experience no changes in maximum aerobic power during exercise. What's more, a study published in Experimental Biology shows that exercising during pregnancy can actually help fetal lungs mature.
10. True or false: The less weight you gain during pregnancy, the better. False
Gaining weight when training for a figure competition is bad, but watching the scale creep up in pregnancy is good. "You could eat super healthy during pregnancy and still gain 35 or 40 pounds," says Nicole Avena, Ph.D., author of What to Eat When You're Pregnant(Ten Speed Press, 2015). That said, don't confuse weight gain with fat gain: An increase in body water is responsible for the largest portion of pregnancy weight gain.
11. True or false: If you're eating healthy, you're getting all the pregnancy nutrients you need. False
Your iron needs jump from 18 milligrams a day to 27 milligrams during pregnancy, but even if you're getting the recommended daily dose, it doesn't mean you're getting enough, says Allison Tannis, MS, RHN, co-author of The 100 Healthiest Foods to Eat During Pregnancy (Fair Winds Press, 2009). Not only does your blood volume nearly double during pregnancy, hard training and sweating can zap iron stores. In addition to taking a prenatal vitamin, eat leafy greens, beans, cashews, dried apricots and lean red meats, which are all good sources.
12. True or false: You need to crank out the crunches during pregnancy to keep your six-pack. False
"Continue core training in pregnancy, but exercises you might think of as 'ab exercises' aren't going to be as effective," says Jessie Mundell, a personal trainer and nutrition coach out of Canada who specializes in pregnancy. That means sidelining crunches, leg raises and planks, because they can put too much pressure on already-stretched connective tissue, in favor of side planks and side-lying crunches.
Getting Back Into Working Out After Labor And Delivery
Tips from Kim Lyons, mom and former trainer on NBC's hit show The Biggest Loser.
Don't wait too long.
Kim says: "It's so easy to get wrapped up in the excitement of a newborn and think you'll focus on yourself 'later.' However, the best time to get back into shape is as soon as the doctor clears you. Your newborn sleeps so much, you can get out and walk or start a simple home routine."
Keep your expectations in check.
Kim says: "Getting back your pre-baby body isn't always easy. It takes time. The weight won't just 'fall off,' leaving you fit and toned. However, the time it takes to get back in shape is 100 percent worth it and far more rewarding than any competition I've ever dieted down for."
Forget the "go hard or go home" mentality.
Kim says: "You'll be a bit slower at it in the beginning. Keep things in perspective and respect what your body has just done — it's incredible!"
Each postpartum recovery is unique.
Kim says: "Everyone's body is different. For example, I lost most of my body fat after I finished breast-feeding. Be consistent and don't get discouraged."
Don't just focus on one type of training.
Kim says: "You'll need to include strength training, cardio and flexibility with special attention on core work such as planks."
Don't sit down to lift
Kim says: "Stay on your feet and work up to complex moves like a squat with an overhead press."