No Limits. For Real.
Adaptive athlete Misty Diaz takes on the Red Bull 400, the toughest short race in the world.
Heading out the door? Read this article on the new Outside+ app available now on iOS devices for members! Download the app.
Misty Diaz was born with myelomeningocele, the most serious form of spina bifida. To date, she has undergone 28 procedures, and by 2012, Diaz was weak, depressed and dependent on pain pills. Rather than giving in to a medicated haze, Diaz took charge of her future, ditched the pills and simply started walking.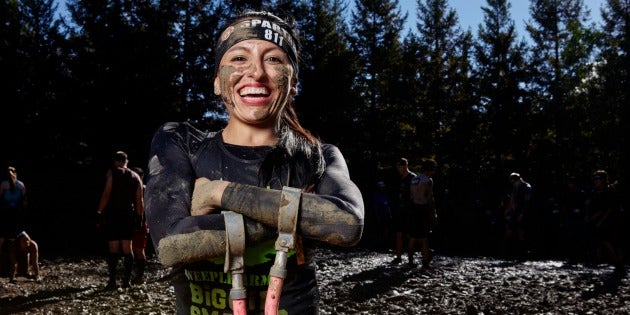 She walked a block. Then she walked two blocks, and four years later, she has completed an impressive 140 races and is one of the most recognized adaptive athletes in the Spartan circuit.
This weekend, Diaz will be taking on the Red Bull 400, the most exhausting short race on earth in which athletes sprint 400 meters straight up a ski slope at elevation. We caught up with Diaz as she entered the final preparations for her race to chat about her training and how she thinks she'll fare in this most brutal of sprint competitions.
Oxygen: Why did you decide to compete in the Red Bull 400?
Misty Diaz: A year ago, someone posted a Red Bull video and immediately I knew I wanted to do it. I love a challenge. I love something that tests my mind and body, and I knew this would be an amazing way to test my limits.
Oxygen: Have you ever done anything like this before?
MD: I've never done a Red Bull event, but I did climb Koko Crater in Hawaii, which is 1,208 feet.
Oxygen: How do you think you'll make out?
MD: I train regularly and do a lot of Spartan races, so I am feeling pretty good. Remember, I'm on crutches 24/7, so I am always carrying my weight and lifting myself. I know that if my legs won't carry me across that finish line, my upper body will. I think it's going to be a bit of a struggle, but mentally, I'm ready. I got this.
Oxygen: Are you racing solo or with a team?
MD: Team #TurtleElites is always my team at any race I do. I have people all over the world who contact me asking how they can be a part of my team or if they can help in any way. This race, I'll have one runner by my side.
Oxygen: What kind of training did you do to prepare for this particular event?
MD: I've been training on Hill Street in Long Beach, [California], that's about 2 miles long. I also got into rowing to help prepare — something I never knew I could do. I also did a lot of upper-body workouts, since my upper body will carry me.
Oxygen: Is there anything you cannot do because of your condition, or are there ways you have to modify your training?
MD: If I can't do something as an adaptive athlete, I modify it. I figure out a way. Like rowing for example: I can't put my feet in the straps because I don't have the balance to push off. So I sit as far back as I can and row.
Oxygen: Do you have special sports crutches for your events?
MD: I've been able to do all my races on regular forearm crutches, which is far more than I ever expected to do. But I'm currently working with a designer on my own prototype with shocks.
Oxygen: Do you do any gym/CrossFit training? If so, how often do you go?
MD: I hit Metroflex Gym about three times a week, and the rest is outside or on my adaptive bike. My adaptive bike is sit-down, and I ride it by using my upper body to crank.
Oxygen: What is your favorite bodypart to train?
MD: My arms! That's what I want you to see — this tiny girl and big arms. BOOM!
Oxygen: What is your fave race-day breakfast?
MD: Oatmeal mixed with Justin's Peanut Butter topped with almonds or nuts, and toast. I also drink a few FitAids on race day to get me going.
Oxygen: What is up next for you this season?
MD: I'll be tackling the Spartan Tahoe World Championship, Spartan Texas Sprint and Super, Spartan SoCal Sprint and a handful of local 5Ks and half marathons. Oh, and the Rock 'n' Roll Half Marathon in Vegas!
Oxygen: Any big competitive plans in 2017?
MD: I would like to get into climbing a lot more next year and possibly training for the Boston Marathon in 2018. There's so much I want to do, honestly the sky is truly the limit. We got this!
Follow along with Misty Diaz on Instagram as she runs alongside the likes of CrossFit champion Camille LeBlanc-Bazinet, U.S. Olympic ski jumper Sarah Hendrickson and big-mountain freeskier Johnny Collinson.