Omegas And Fat Loss
Upping your fish intake can help you lose weight. Here's some research that will surely get you hooked.
Heading out the door? Read this article on the new Outside+ app available now on iOS devices for members! Download the app.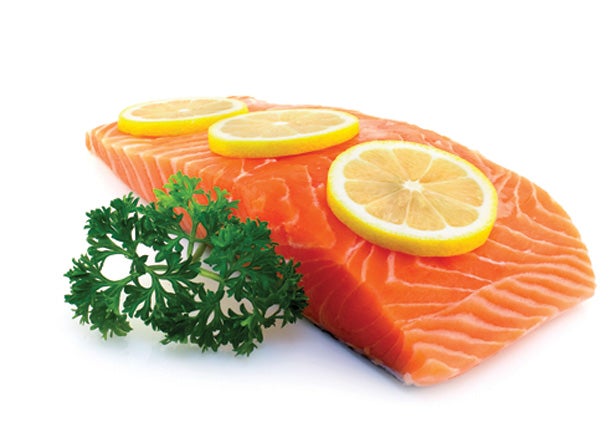 There is no question that two specific essential fatty acids in fish oil, EPA and DHA, have anti-obesity properties, according to Susan Kleiner, Ph.D., RD, Oxygen advisory board member.
While human studies have yet to be conclusive, animal studies have shown that these omega-3s trigger several anti-obesity processes. "There are some studies that indicate omega-3s enhance the efficiency of leptin," says Kleiner, "one of the hormones that tells us when to stop eating." Leptin is actually produced by fat cells, which then sends a signal to your brain to suppress hunger.
Another process is omega-3 fatty acid's ability to improve glucose metabolism, says exercise physiologist Fabio Comana, MA, MS, ACE-CPT. Omega-3s direct our bodies to temporarily store carbohydrates as glycogen instead of body fat. Glycogen (sugar) is the first place the body turns to when it requires quick energy between meals. So when you need to pump out a last set, the glycogen will be there for you – allowing you to exercise longer. In a nutshell, "They appear to conserve carbohydrates while stimulating a little more fat usage," says Comana.
Ongoing research suggests that essential fatty acids may be able to flick genetic "switch on" keys in our bodies that control both inflammation and conversion of food to body fat. But these switches can only be activated if there is a balance of both omega-3 and omega-6 fatty acids. Unfortunately, most people consume much more omega-6s. This can lead to systemic inflammation, which Kleiner believes can lead to weight gain. Eating more fish can balance out your levels, allowing your body to flick on those switches that reduce tissue triglycerides (stored fats) by slowing down fat synthesis, says Comana.