Is Reebok's New Campaign Inspiring or Morbid?
Is looking at the timeline of our lives with a finite perspective not only more realistic but ultimately also more beneficial?
Heading out the door? Read this article on the new Outside+ app available now on iOS devices for members! Download the app.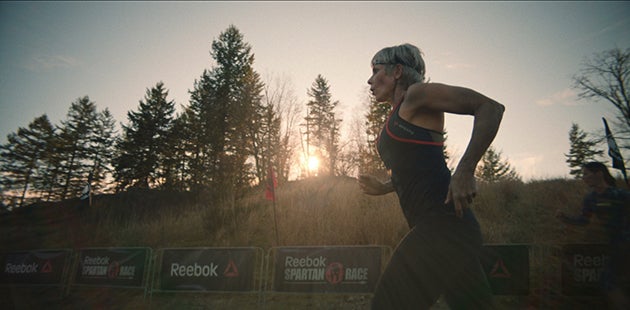 Reebok's new "Honor Your Days" one-minute ad opens with a gritty shot of a 60-something woman charging through a Spartan obstacle course. She scales a wall and takes off ahead of a pack of runners half her age as the number 3,412 floats beside her and disappears. Seconds later, the same woman sprints through the rain, sandbag in tow. She's younger looking — mid-40s — and a little faster, but her intensity is recognizable, as is the curious number that's been nipping at her heels. It's at 9,472, but rises to 13,120 in the next frame, which shows her trail running. We follow her across a college campus all the way to a backyard race with a neighborhood boy, which she wins. Only in the final shot of a freshly swaddled newborn and the message "25,915 Days in the Life of the Average Human" do we understand that we've been watching the highlight reel of her lifelong fitness journey in reverse.
https://www.youtube.com/watch?v=bcJGh32e2Mw
In an attempt to get us to honor our days, Reebok has numbered this woman's; she's made the most of every moment she's been given, so we should, too. To sharpen the point, the campaign invites viewers to calculate their remaining days via a socially integrated calculator. (You can pair your number with a photo and share on Facebook or Twitter.) Caption suggestion: "Here's me doing AcroYoga on the beach. Also, here's how many days until I die."
"The spirit of the campaign is not one of fear but one of hope and opportunity," explains Yan Martin, Reebok's vice president of Global Brand Communications. I have to admit that my initial reaction was closer to the former, though "creeped out" is probably more accurate. I asked a handful of friends to watch the ad and found that the "numbered days" message hit people in all kinds of ways. My friend Anna and I were on the same page; she found the countdown component particularly "morbid." Sam appreciated the "slap-in-the-face reminder" of what she was "here to do." Kara said, "I thought it was an impactful reminder of how our time on earth will not last forever."
There's no shortage of meme-worthy motivational quotes that address this last point: "Live life to the fullest because tomorrow is never promised." "We all have two lives. The second one starts when we realize we only have one." And, for better or worse, "YOLO!" They're all within my own comfort zone, as they say "honor your days" without getting too close to death, a topic that most of us prefer to ignore until we're forced to confront it.
But is looking at the timeline of our lives with a finite perspective not only more realistic but ultimately also more beneficial? We admire those who have been told they have six months to live and then go on to bravely tick off every last item on their bucket lists. But it was only once they gained certainty of their "number" that they started to get serious about their goals. Maybe our euphemisms, while comforting, are actually holding us back. Official prognosis or not, we are going to die. Our days are numbered — perhaps we should be living them with that in mind.
Too heavy for a review of a sneaker commercial? Let's end on a lighter but still practical note: SMART goals. They're the antidote to those "someday" aspirations with vague parameters that assume time is unlimited — "One day I'll get in shape," or "I'm going to start eating healthy."
To start making the most of your days, take one of your goals and pass it through the SMART litmus test. Is your goal
Specific
Measurable
Achievable
Realistic
Time-bound?
"Getting in shape" can mean anything, while something like "Running 3 miles (specific) in less than 30 minutes (measurable and achievable) in six months (realistic and time-bound)" leaves little to interpretation. SMART goals require more planning and commitment than vague ones, but that's what makes them more effective.
What's your current SMART goal? How do you feel about Reebok's "Honor Your Days" message?