Shape Up Your Brain
Train your "mental muscle" today to stay sharper, healthier and fitter for life.
Heading out the door? Read this article on the new Outside+ app available now on iOS devices for members! Download the app.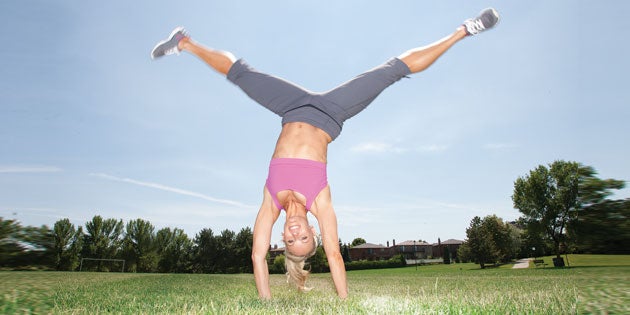 Like any active woman who spends Sundays grilling Tuesday night's chicken breast and Thursday nights writing out Friday's abs routine, you know that planning can make or break your fitness. From uploading the music you'll be sweating to during your next gym session, to picking out a slinky maxi dress that'll show off your biceps come summer, you stay in control of your fit future by taking action right now.
But planning ahead doesn't just benefit your arms or your lunch tray: turns out, there's also plenty you could be doing today to strengthen your brain — your "mental muscle" when it comes to your workouts, and the key to a boosted mood and a no-quit attitude — for the rest of your life.
A healthy brain can help you stay sharp, focused and productive in reaching your fitness goals, and employing the right habits now can help you ward off trouble in the years to come. "Research is finding that memory and other brain issues we associate with old age actually take decades to develop," says Ann Kulze, MD, author of Dr. Ann's 10 Step Diet (Top Ten Wellness and Fitness, 2004). In addition, new studies are increasingly linking lifestyle factors – not just the genes you were born with — to a risk of mental decline as you age. "That's why making changes today that benefit your brain can prevent those problems from cropping up down the road."
Here are 43 research- and expert-backed tips to jump-start your healthy brain routine, starting today.
Boost Your Brain Power
Taking steps to power up your brain will help you think more clearly, increase productivity and improve your concentration. Watch your health — and your fitness — progress.
1. Lift weights. Not only does it build your muscle cells, it boosts brain cells, too. Resistance training may increase levels of brain-derived neurotrophic factor (BDNF), which sparks neurogenesis — or the growth of new neurons in the brain — and may aid in learning and memory.
2. Shed excess pounds. Following weight loss, participants in a Kent State University study showed significant improvements on memory tests. Researchers credit other health benefits associated with slimming down, such as lower blood pressure and improved blood sugar, which can help boost brain function.
3. Chill out. After an important meeting or personal training session, give yourself a five- to 10-minute break to allow the info you just learned to sink in, or download, into your brain. Activity between two key areas of the brain involved in memory and learning — the hippocampus and neocortex — increases during periods of wakeful rest (such as when you are sitting quietly, taking a coffee break or going for a short walk), suggests a study published in the journal Neuron.
4. Train outdoors. Spending time in nature is one of the best ways to calm your mind and beat stress, which is toxic to the brain, says Kulze. "When you're chronically stressed out, excess cortisol hormone may impair your body's insulin function, which can impede blood flow to the brain and affect your ability to focus, think clearly and retain new information."
5. Get your Om on. Meditating for as little as 12 minutes per day can increase brain activity in areas involved in retrieving memories, reports a study in the Journal of Alzheimer's Disease.
6. Take a nap. In a Harvard Medical School study, researchers gave adults a memory test that involved memorizing and navigating a maze. What they found: participants who took a 90-minute nap before being re-tested showed improvements on the second test, compared to those who didn't get any shut-eye. (If they dreamed about the task during their naps, their scores were even higher.) Translation? Taking a nap may help boost your memory.
7. Go online. A recent study found that periodically taking breaks during your workday to surf the web, ironically, increases productivity. Checking out your favorite fitness website (hint: oxygenmag.com) or updating your Facebook status is more restorative, pleasurable and rejuvenating than, say, sifting through your email, which can be cognitively draining.
8. Take a pottery class. "Staying intellectually engaged and challenging your brain can significantly lower your risk for impaired memory by up to 63 percent," says Cynthia Green, PhD, author of 30 Days to Total Brain Health (Memory Arts LLC, 2011).
9. Impress your boss. A study in the Journal of Occupational and Environmental Medicine reports that employees who get ample physical activity outperform their less active coworkers. Being fit improves your endurance, so you're less likely to get fatigued and can be more productive while on the clock.
10. Eat your carbs. "Your brain cells are 100 percent dependent on glucose for fuel, which carbohydrates readily provide," says Kulze. Just one week into a low-carb diet, study participants performed significantly worse on a memory test than those who followed a nutrient-balanced, low-cal plan, the journal Appetite reports. So don't cut them out of your diet entirely, even as you're trying to lean out.
11. Don't bite if it's white. Fill up on three servings of whole grains per day, such as a half cup of cooked brown rice, one slice of whole-grain bread and one cup of whole-grain cereal. "They are full of nutrients that your brain requires, including magnesium, zinc and vitamin B6," explains Kulze.
12. Ditch diets. Repeatedly losing and gaining back weight through on-again/off-again diets is bad for your body and brain, according to an animal study. Mice with a history of yo-yo dieting ate more grub when stressed than those that never dieted, indicating a change in their brain that altered the response to stress.
13. Remember people's names. Here's how: make a connection between something you're learning (like "Florence," the name of your latest gym buddy) and something you already know (such as the Italian city). The more you do this, not only will you improve your daily recall when you need it, but it will stick in your brain for years, says Green.
14. Stay social. Maintaining strong and varied social networks (such as having groups of work friends, college pals and gym buddies) enhances brain health, says Kulze.
15. Watch a Will Ferrell flick. Not only will it put you in a better mood, feeling happy allows you to think creatively when you've got a problem to solve, reports a new study.
Boost Your Brain Health
DNA alone doesn't determine your mental density. In a new study in the journal The Lancet Neurology, researchers found that lifestyle factors, such as physical inactivity and mid-life obesity, account for 54 percent of diagnosed Alzheimer's cases in the U.S. Simple diet and lifestyle changes may help in the prevention of Alzheimer's. Here's what you can do to make your mind a steel trap:
16. Visit your dentist. Getting your teeth professionally cleaned every two years reduces your risk of stroke by 13 percent, according to a study from Taiwan. Scrubbing your pearly whites helps cut down on oral bacteria that can lead to inflammation and damage throughout your body, including the brain.
17. Eat more omega-3s. In a recent study out of Ohio State University, participants who swallowed omega-3 supplements experienced a 20 percent decrease in anxiety. Aim for 1,000 milligrams total of the omega-3 essential fatty acids eicosapentaenoic acid (EPA) and docosahexaenoic acid (DHA) daily from capsules or foods such as oily fish (salmon, tuna, sardines), walnuts, canola oil and omega-3-enriched eggs.
See AlsoOmegas and Fat Loss
18. Get treated if you're experiencing depression symptoms. Women are almost twice as likely as men to develop depression, which can leave you vulnerable to dementia later in life, researchers have found. The sooner you seek help, the lower your risk of complications may be.
19. Fill your plate with antioxidant-rich foods. "Due to its fatty structure and the tremendous amount of oxygen it processes, the brain is especially susceptible to free-radical damage," Kulze says. Fortunately, consuming antioxidants, which you can accomplish by reaching for plant-based foods, can protect your noggin. Here, antioxidant-packed foods and beverages that research shows are especially beneficial for the brain:
20. Fruits, such as berries, pomegranates, plums, oranges, red and purple grapes, kiwi, cherries and red grapefruit.
21. Veggies, including kale, spinach, broccoli, Brussels sprouts, avocado, red peppers and purple onions.
22. Freshly brewed tea.
23. Dark chocolate (about one square per day). Don't go overboard.
24. Extra virgin olive oil.
25. Unsalted sunflower seeds.
26. Spices, such as cinnamon, turmeric, rosemary, parsley and thyme. Use them in any form — dried, fresh or powdered.
27. Be heart smart. "The same behaviors that protect your heart also protect your brain," Kulze says. "Your brain is dependent on robust blood flow, so taking steps to safeguard your blood vessels will ensure your brain gets the enormous amounts of oxygen and nutrients it needs to stay healthy." Here, steps you can take to care for your heart and your head:
28. Quit smoking. No ifs, ands or "butts."
29. If your blood sugar levels are in the normal range, get them tested every three years. If they're high, take steps to lower them to prevent type 2 diabetes, which can damage your blood vessels. Thirty minutes per day of moderate physical activity, plus a five- to 10-percent reduction in your body weight can decrease your diabetes risk by 58 percent.
30. Keep your blood pressure in check. One way: watch your sodium intake. Avoid packaged, processed foods, which are often stuffed with salt, and keep the salt shaker off the dinner table.
31. Eat the right fats. Fill up on heart- and brain-healthy monounsaturated fats found in foods such as nuts, seeds, avocados and olive oil; reduce saturated fats like those in fatty cuts of beef, butter and whole-fat dairy products; and avoid trans fats found in fried and packaged foods, which impair blood flow, says Kulze.
32. Move it. A study of older women with vascular disease or risk factors found that the more they moved, the better they performed on memory tests, reports the journal Archives of Internal Medicine. Women who took a 30-minute brisk walk regularly experienced a less gradual cognitive decline than their couch potato peers.
Boost Your Brain-Body Connection
"Get your head in the game" takes on a whole new meaning when you realize just how much your "mental muscle" can influence your training. Use these strategies to bolster your brain.
33. Write it out. To push past mental walls that lead you to call it quits, spend 10 minutes before a workout writing down your worries. "This allows you to download your mental obstacles, making them less likely to throw you off track," says Sian Beilock, PhD, a psychologist at the University of Chicago and author of Choke: What the Secrets of the Brain Reveal About Getting It Right When You Have To (Free Press, 2011).
34. Mind your music. When lifting, turn up the tunes during the really challenging parts of your routine.
35. Stay positive. Focus on your goal — such as performing an extra set of crunches — rather than worrying about not being able to do it. "Studies show that shifting your focus in this way changes how the brain works to support a successful outcome," Beilock says.
36. Forget stereotypes. When you're aware of negative stereotypes (such as "women can't do pull-ups"), you're more likely to perform to them, even if you don't believe them to be true. Think about your past achievements!
See Also The Hang Of It
37. Don't dwell. If you failed at a tough move in the past, your brain — not your body — could lead to a repeat performance. See your failures as fresh chances to improve.
38. Fire up a playlist. Listening to tunes during your workout can improve your endurance by 15 percent, according to research from the U.K. It can also make your workout seem less demanding, so you'll push even harder. The best music for moderate to vigorous exercise is between 120 and 145 beats per minute. Pack your playlist with these songs, which fall in that range:
39. Sexy and I Know It: LMFAO (130)
40. On the Floor: Jennifer Lopez (feat. Pitbull) (130)
41. Good Feeling: Flo Rida (128)
42. We Found Love: Rihanna (feat. Calvin Harris) (127)
43. Just do it. Stop overanalyzing your actions. "Under pressure, people start worrying, which leads them to try to control their performance," Beilock says. In other words, once you've learned how to do a move correctly, allow your body — not your mind — to take over.