Taking the Helm
After a devastating car accident, Geri Helm used fitness to steer her life back on course.
Heading out the door? Read this article on the new Outside+ app available now on iOS devices for members! Download the app.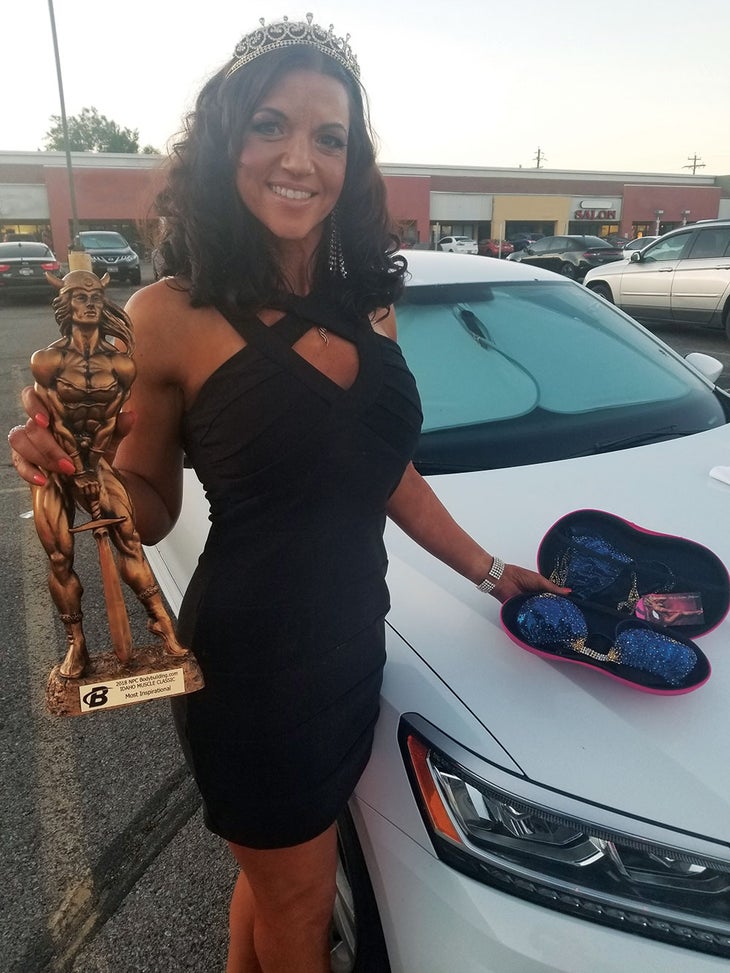 Geri Helm was always involved in sports, and while she never struggled with weight, she did struggle with her body composition: Helm spent a lot of time at the gym doing cardio but noticed that she never really looked any different. She decided to subscribe to Oxygen magazine and began lifting weights — and the changes began to come. "That fueled my passion for competing, which I began doing at age 42," she says. "Although I didn't really have a clue what I was doing, I fell in love with the sport, the way I looked, the way people looked at me and the way it made me feel, inside and out."
Her competitive career was off to a great start — she won the Idaho Muscle Classic masters and tall figure class in 2012 and placed top five in almost every show she entered. The sky, it seemed, was the limit.
All Stop
On July 6, 2016, Helm's world came to a very abrupt halt, as did her vehicle on the way home from work: She collided head-on with another car on a two-lane highway, and both cars careened into a ditch. After nearly two hours, the first responders pulled her body from the pile of mangled metal and she was airlifted to a hospital.
Three days later, Helm woke to discover she had a broken left femur, a broken tibia and fibula on her right leg, a ruptured spleen, a broken nose, a broken bone in her left hand and three pelvic fractures. When all her surgeries were completed, she was left with two metal rods, a metal plate and six screws in her once strong, healthy legs.
"I've always been an upbeat, positive person and this situation, although devastating, was no different," she says. "I took into account all my injuries and thanked God that I was still here. I needed to get ready for whatever work was in my future, and I needed to get back to health as quickly as I could."
Rehab and Results
Although she was not allowed to walk for almost four months, Helm was determined to fight her way back to the stage. Her husband, Brian, began taking her to the gym a month after the accident at her normal 5 a.m. workout time in her wheelchair; he knew she needed the flow of endorphins and the love and support of her gym family to help her heal. Helm completed upper-body workouts three times a week, along with her regular physical therapy sessions.
But the road to recovery was far from easy. "I tried to eat healthy, but sometimes when you're bound to a wheelchair and a sofa, you just want some comfort food," Helm says. "My weight crept up 15 pounds, and I lost more than 10 pounds of hard-earned muscle."
The Comeback Kid
Helm set smaller goals to reach her ultimate goal to get back onstage, and every time she went to the gym, she journaled her workouts and pushed herself just a little bit more each session.
Less than two years after her accident, Helm was back onstage at the NPC Idaho Muscle Classic in June 2018. Though she wasn't quite lean enough to place top five in the masters bikini division, she did win the Most Inspirational Award — an honor she won't soon forget. "I saw this as a second chance to inspire others who have been dealt a hand they didn't expect and to show them that with a little faith, some strength and perseverance, you can accomplish great things," she says.
Stats
Geri Helm: Twin Falls, Idaho
Age: 52
Height: 5'6"
Occupation: Mortgage loan officer
Geri's Guidelines
Find your cheerleaders. Surround yourself with those who support your efforts to follow your dreams.
Morning mantra. I have a plaque that I read every morning before I go to the gym that says, Look in the mirror. That's your only competition.
Healthy snacks. I love to mix Dymatize Casein (cinnamon bun flavor) with just enough water to make it pudding-like, then I sprinkle it with sea salt and eat it.