The Upside of Injury
Hate being sidelined? You're not alone. Oxygen tells you how to turn injury into opportunity.
Heading out the door? Read this article on the new Outside+ app available now on iOS devices for members! Download the app.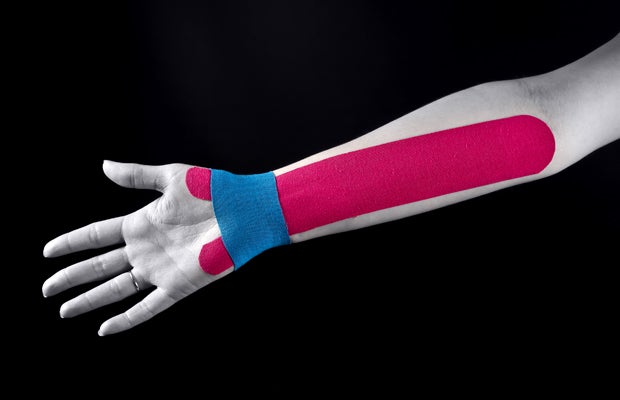 Whether you're suffering from a nagging overuse injury or a broken bone, the road to recovery can be long, lonely and uncertain. But difficult as it may be at the time to understand, recovering from an injury can prove to be a positive experience.
Sports-related injuries hamper athletes of all levels and create untold anxiety — you may fear you'll never return to your training as strong as you were or be frustrated and impatient at taking time off at a critical part of your training. But often these injuries can have silver linings.
In fact, there are definite upsides to getting injured. For instance, you may be so intent on a goal that you ignore warning signs of a potential injury or fail to see troubling patterns in your training or nutrition. An injury makes you slow down, contemplate where you are exactly in your training and re-examine your goals. In addition, a forced break from your routine gives you a chance to try new things. "The break — albeit involuntary — can offer critical rest away from the sport and may offer a fresh perspective upon returning," says Gregory Chertok, MEd, director of sport and exercise psychology at The Physical Medicine and Rehabilitation Center in Englewood, N.J.
Heidi Kloser, 21, a U.S. Olympic mogul skier, knows only too well the frustration of injury. She blew out her knee on the final training run at the 2014 Sochi Olympics, leaving her unable to compete. "Although it's frustrating, it was great to have my parents there every step, and all the encouraging notes via texts, Facebook and Twitter helped me stay positive," she says. Some of the most powerful messages came in handwritten form from a class of second-graders. Kloser also picked up a few (much-needed) new sponsors, and her Twitter followers skyrocketed.
Most overuse injuries have an insidious onset, due to progressive micro-stresses causing tissue failure and injury," says Dr. Mark Klion, a board-certified orthopedic surgeon at Manhattan Orthopedic and Sports Medicine Group in New York City. He advises athletes to stay in tune with their bodies and watch for overuse signs.
He suggests runners replace shoes every four to six months (or 300 to 500 miles), stretch, cross-train and strength-train — with extra focus on the core. "Due to the repetitive nature of endurance sports, a weak core can result in poor trunk control when fatigued, leading to abnormal running biomechanics and injury," he says. "In my view, strength training is the No. 1 preventive technique to avoid injury."
Stress Fractures, ACL Tears Plague Women
Klion, co-author of Triathlon Anatomy (Human Kinetics, 2012), says that women are particularly prone to stress fractures because of hormones that may be affected by menstrual irregularities, eating disorders and drastic weight loss, which can lead to bone weakness. They are also three times more likely to have ACL injuries than men, reveals a review article in the January 2013 Journal of the American Academy of Orthopedic Surgeons.
Kloser knows all too well about knee injuries. Her Sochi crash resulted in a torn ACL, partially torn medial collateral ligament and fractured femur. "My first goal was to focus on recovery, and although I knew it would take a lot of work, I was determined to come back just as strong," she says. "I missed being out there competing with my friends, but it made me so hungry to heal and rebuild."
Build Strong Hamstrings
Most ACL injuries occur in activities with sudden deceleration, jumping and uncontrolled landings like in skiing, soccer and basketball. So it's important to strengthen hamstrings to help control deceleration on landings and prevent injuries.
"Its common to think we heal quickly, but most injuries can take six to eight weeks of proactive actions," Klion says. Use that time off to constructively analyze your training or try something different — a painting or cooking class you've always wanted to take but haven't had the time.
Set Your Own Goals
Although injury may prevent joining weekly runs, rides or swims, Chertok recommends setting daily goals (in place of your training schedule). Take long walks, go to physical therapy, practice yoga, and find new ways to stay involved with training partners and teams. "Drastic, sudden and complete change in routine can be pretty traumatic," says Chertok, who suggests volunteering at events, training sessions or joining group dinners. "It will help to feel a part of something and less isolated, which is quite therapeutic."
Meditation can help you feel calm and hopeful during recovery, according to a study published in the Journal of Sport and Health Science. So will staying connected to friends and family — and not go solo warrior. Having a strong social support system and positive outlook during rehab can enhance healing results, noted an article published in the National Athletic Trainers' Association Journal of Athletic Training.
"Sometimes it's hard to stay positive, and when I get really negative or feel sad, I try to turn it into a positive by knowing I got there once and I can do it again," Kloser says. "Calling my friends always makes me happier." She recommends focusing on the PT to get stronger and back to exercise — while helping to not go "stir-crazy."
Klion suggests keeping a training-recovery log "to help visualize the road to recovery." After workouts, scribble down what you did and gauge pain from 0 to 10 (0 no pain; 10 worst).
Eat To Recover
It's also important to continue eating a balanced diet to help your body heal. "The body needs a lot more calories to function daily than to exercise," says Nancy Clark, MS, RD, CSSD, a board-certified specialist in sports dietetics. "During injury, women need to trust their bodies, which can intuitively adjust calorie need — they just need to listen." She explains that we need about 10 calories for every pound of bodyweight to function. So 140-pound woman needs 1,400 calories per day just to live healthy.
Clark recommends eating adequate protein to "live healthy" and "heal when injured." She suggests that a 140-pound woman get 70 to 90 grams of protein per day in small, equal increments. "I tell clients to think of daily eating in four buckets — breakfast, early lunch, late lunch and dinner, and in each of those buckets goes about 20 grams of protein."
Good sources of protein include Greek yogurt (calcium bonus), salmon, lean meat and chicken. Clark suggests adding cheese to kick up protein and using tumeric, ginger, cocoa, garlic and green tea for their natural anti-inflammatory compounds, while vitamin C (in citrus, kale and red bell peppers) and zinc (in seafood, beef and nuts) are also helpful healers.
"Often, injury allows an athlete to realize she doesn't need to exercise to 'earn' eating," says Clark, author of Nancy Clark's Sports Nutrition Guidebook (Human Kinetics, 2013). "For many, it's a good time to explore new ventures and prove that missing a day or two of exercise won't translate to lost fitness, so in healthier times women may deliberately take a day off and use that time to try new things."
3 Strategies to Turning Injury Into Opportunity:
Use your injury as a chance to try something new.
Don't wait for injury to change up your routine — listen to your brain and body.
Never stop thinking of your-self as an athlete, and find ways to stay active, which may lead to amazing adventures.