Train & Turn On
More evidence proves that getting to the gym is good for your sex life.
Heading out the door? Read this article on the new Outside+ app available now on iOS devices for members! Download the app.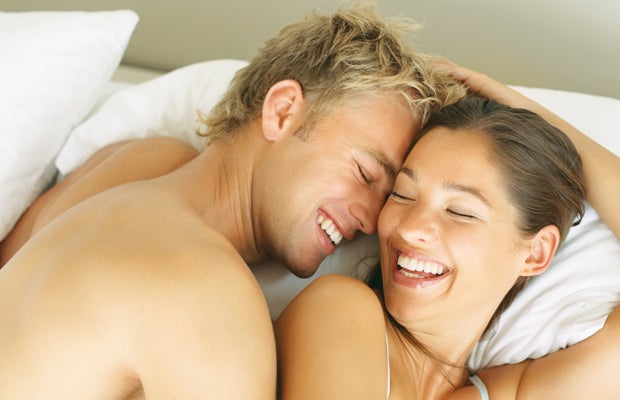 Working out is proving, more and more, to be the one truly magical bullet around. It makes you healthier and stronger, of course, but there's another bonus: a better sex life. This is significant because science has shown that your sexual health is vital to your well-being.
Recent research makes the link even clearer. A study conducted at the University of Texas, Austin, found that 30 minutes of cardio and strength training three times a week boosted desire and improved orgasm function in women who take antidepressants — even more so for women who exercised just before having sex. This is big news because antidepressants are notorious libido killers: At least 70 percent of women experience sexual problems while taking these meds.
Timing Is Everything
Here's how it works: Working out improves sexual arousal by boosting sympathetic nervous system activity, which is the part of your nervous system that coordinates the fight or flight response and prepares you to respond to arousal — of any kind. "Women taking antidepressants tend to have very low SNS arousal, which is helpful for reducing depression but can make it difficult to become aroused during sex," says the study's co-author, Tierney Lorenz, a postdoctoral research fellow at the Kinsey Institute at Indiana University.
The arousal-boosting effects of cardio last about 10 minutes for women taking antidepressants, Lorenz explains. Strength training, on the other hand, has a longer-lasting effect, increasing arousal for up to 45 minutes.
But you don't have to time your exercise so closely to sexual activity to reap its rewards. And you don't have to be taking antidepressants either. In fact, previous studies have shown that physically active women have greater blood flow to the genitals when aroused than women who are inactive. (Read: more pleasurable orgasms.) In addition, working out releases feel-good endorphins and adrenaline, which not only increase sex drive but also help prevent the stress and fatigue that prompt so many busy women to default to "I'm just too exhausted" night after night.
Looking Good, Feeling Great
At the Women's Institute for Sexual Health in Nashville, Tenn., clinical director Brooke Faught, MSN, regularly recommends an exercise Rx — and yoga, specifically — for her patients with female sexual dysfunction (i.e., persistent, recurrent problems with sexual response or desire). "Stereotypical 'Type A' personalities have a hard time shutting off their minds due to everyday life stressors," Faught says. "Yoga promotes slowing down, focusing on breathing and clearing the mind."
Most noteworthy, perhaps, is that exercise can lead to better feelings about your body, according to a 2010 Journal of Sexual Medicine study. These positive feelings, in turn, lead to a more satisfying sex life. Faught confirms that women who feel good about their bodies also feel sexy. "I have many patients who admit that their loss of sex drive occurred when they stopped working out," she says. "But when they make even minor changes to their lifestyle, such as exercising, amazing things can happen in the bedroom!"
Bottom line: Getting to the gym means better health, bounding energy, lower levels of stress, higher sex drive, more intense orgasms and greater sexual pleasure. Pack that gym bag, now!