How Ashley Horner Found Empowerment in Fitness
"The moment I touched the iron, it changed my life."
Heading out the door? Read this article on the new Outside+ app available now on iOS devices for members! Download the app.
Ashley Horner does all the things.
Given her track record as an influencer, athletic powerhouse, motivator, coach, mother, wife and business owner, it's safe to say Horner could move mountains if she felt it would benefit other people. One of her biggest influences in the fitness world is as a coach, reaching people across the country with her undying enthusiasm, encouragement and all-around badassery.
Horner is a functional athlete with experience in everything from Brazilian Jiu-Jitsu and MMA, to CrossFit and powerlifting.
"I want to inspire people, lead people," Horner says. "What I love doing is sharing my story of everything I have going on with the hopes of getting across the message that the only limits you face are the ones you put on yourself."
"The moment I touched the iron, it changed my life."
Horner was an athlete growing up, but she says everything changed after she gave birth to her first son 14 years ago.
"I didn't want to fall into that stigma of giving up your body when you become a mom," she says. "I was scared of losing my body in the beginning. I had a c-section and stretch marks and didn't love who I was."
However, when she began training, the "why" behind her efforts changed.
"I felt so empowered," she says. "Within that journey, I found beauty within my own strength. It doesn't matter what the scale says — you have to train to be strong for yourself and make your own definition of what perfect is."
"The moment I touched the iron, it changed my life not only physically, but emotionally and mentally. That's what I want to share with the world, especially women."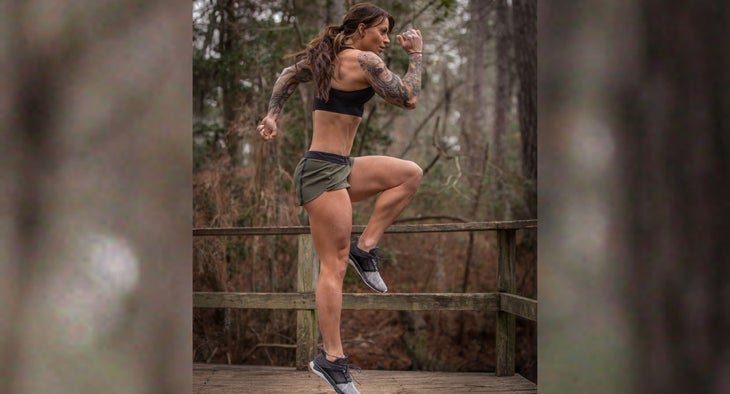 Stacked and Jacked
Let's be honest, one look at Horner and you want to know exactly how you can get as 'stacked and jacked' as her. So, we asked for you. (Totally not for ourselves or anything…)
"You've gotta look at your nutrition," Horner says. "You can't train for an hour in the gym and go home and eat like crap."
She also stresses the importance of being patient. Fitness takes time and growing muscles requires tons of it.
"As humans, especially now in this day and age, we're programmed to want results immediately," Horner says. "Often when we seek those avenues, it doesn't stick with us through the course of our life. I want to create systems in your life that will get you where you want to be and, most importantly, to keep you there forever."
Like many of us, Horner has tried out just about every dietary strategy there is, everything from paleo to keto. Through everything, she's learned the importance of balance.
"I have pizza once a week — I have all boys so we're big on pizza night," she says. "I have a beer probably three nights out of the week, sometimes two. It's all about having that balance. I say it's better to eat 80 percent clean all the time than to approach a new fitness lifestyle saying, 'I'm never going to eat ____ again.'"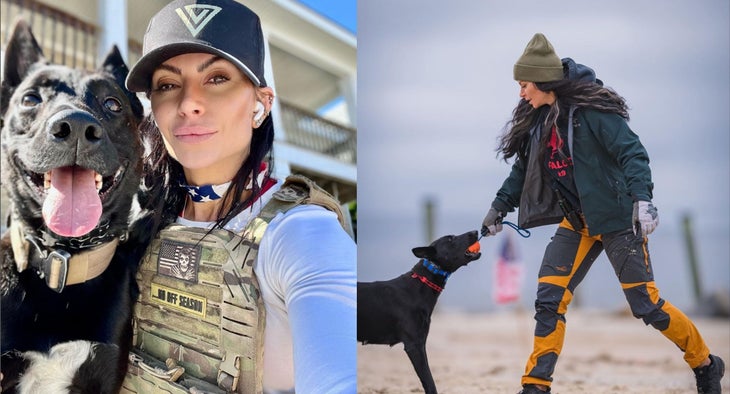 K9 Crazy
If you know Horner, you know her two dogs, Bones and Raven. Never away from her side, these two have become another passion in Horner's life.
"I started getting into K9 training and immediately was blown away," Horner says. "What they can do is incredible."
Horner, being competitive with herself, was looking to learn something new when she discovered the world of dog training. Already being extremely close to her dogs, it was almost second nature to start K9 training.
The training varies and she's learning how to be a better handler for her dogs every day. Currently, she's working with Raven on tracking work.
"I've been guided and molded by a lot of awesome trainers," she says. "We're going to Florida for a Canine Social Summit to keep learning more. Maybe my future is in dog training — who knows!"
One way she's married the two passions is by raising funds and awareness for Spikes K9 Fund, a nonprofit that provides working K9s with ballistic vests, protective equipment, medical bill assistance and training equipment.
On March 14, Horner took part in the 25-Hour Row Challenge for Spikes K9 Fund. In her third year of the challenge, Horner made a goal of rowing an incredible 150 miles in 25 hours. The 25 comes from the (approximately) 25,000 working K9s across the U.S.
Last year, she was able to meet one of the K9s who benefited from the donation she made. The K9 got into an altercation while on the job and the vest donated by Spikes K9 Fund saved his life.
Quick Q&A with Ashley Horner
Favorite protein powder?
1st Phorm Phormula-1 Cookies and Cream.
Beverage of choice?
"Corona? *laughs* I probably should't say that. I drink a lot of LaCroix. I'll drink the entire pack in a week."
What workout makes you get that omg-this-is-so-hard-I'm-gonna-puke feeling?
"I love barbell complexes. You can literally get an entire workout in with a barbell. And you can push yourself! You can do five rounds, five different exercises without putting the barbell down. It'll kick your ass."
What are you wearing when you work out?
"Leggings and a sports bra. I have my own private gym. If I go to a public gym, sometimes I can't take my shirt off and I feel so claustrophobic."
How do you take your coffee?
"With a little bit of milk."
Who inspires you?
"My mother is the strongest person I know. She has so much resilience."
What are you listening to when you're smashing a workout?
"Silence." *mic drop*