Color Yourself Fit
You need more colorful produce in your diet for a tight and healthy body. Here, the top five hues plus an all-in-one recipe.
Heading out the door? Read this article on the new Outside+ app available now on iOS devices for members! Download the app.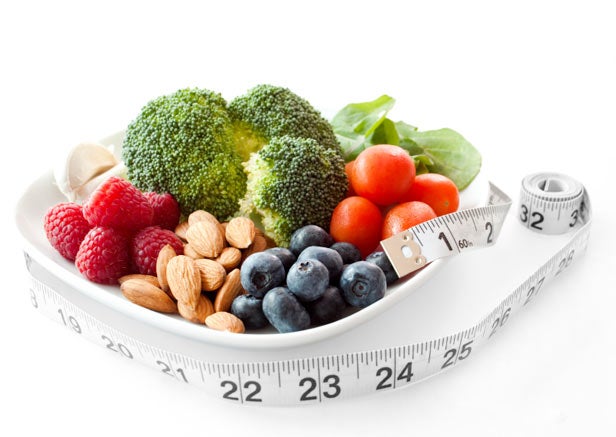 Ah, fruits and vegetables. You know you should be eating them, but you're probably not getting enough. While the standard set by the USDA is a minimum of five servings a day, "Seventy percent of Americans are not consuming the recommended amount," says Rebecca Scritchfield, MA, RD, a Washington-based registered dietitian specializing in healthy weight management.
With a list of benefits as long and impressive as Michelle Obama's resume, fruits and veggies are fiber all-stars that fight it all: Heart disease, stroke, cancer, cataracts, hypertension, obesity, diabetes, asthma and muscle soreness (phew!). One easy way to hit your quota is to get a variety of color in your produce picks. Experts estimate that the average person eats only one to three color groups of fruits and vegetables each day, but upping that number to five is optimal because — get this — there are 25,000 chemicals in the combined color groups, which work synergistically to provide unique benefits. Don't shortchange yourself by eating monochromatically – color up your plate with the following tips.
Lean Out With Blue
There are more than 600 different types of flavonoids in the plant world, many of which are found in blueberries, blackberries, black soybeans, eggplants, beets, figs, plums and purple grapes. These unique phytonutrients act as powerful antioxidants that protect cells from damage. And blue fruits and vegetables can blast fat, too: A recent animal study found that blueberries reduced inflammation associated with obesity.
Red For Recovery
Seeing red after exercise is a good thing. "Dried and frozen tart cherries and 100 percent tart cherry juice all show anti-inflammatory benefits," Scritchfield says, so a serving of red cherries after a workout may help speed muscle recovery. Tart cherries have also been shown to reduce body fat after three months of regular munching. Also try red-fleshed blood oranges – juice from this sweet fruit was found to reduce weight gain in animals, even while they were fed a high-fat diet. Other must-have reds: Raspberries, strawberries, pomegranates, red cabbage, watermelon, grapefruit, radishes, red peppers and tomatoes.
Orange And Yellow Healing
Get sick often? Seek out sunshine-colored foods. Carotenoids, the pigment responsible for the orange and yellow colors of fruits and vegetables, is converted to vitamin A in the body. This fat-soluble vitamin works to improve immune system functioning. Stock up on sweet potatoes, pumpkin, yellow tomatoes, carrots, peaches, mango, apricots and pineapple.
Green To See
Going green can preserve the health of your peepers, thanks to the carotenoid lutein. Lutein works with another abundant carotenoid, zeaxanthin (found in corn, red peppers, oranges, grapes and egg yolks). Together, these chemicals may help reduce the risk of eye disorders as you age. Keep your vision razor sharp with green peppers, peas, zucchini, celery, kiwifruit, green beans, broccoli, spinach, romaine lettuce and all types of dark leafy greens.
Right Whites
Steering clear of white, processed flour and sugar should not deter you from white fruits and vegetables. A pigment called anthoxanthin contains health-promoting chemicals such as allicin, found most notably in garlic. Allicin supports cardiovascular health, boosts the immune system and reduces cancer risk. In addition to garlic, cauliflower, ginger, jicama, mushrooms, onions, potatoes and turnips help keep your ticker in tip-top shape.
Now that you've colored yourself fit, try this five-color high-protein "sundae" for a light meal or postworkout snack.