The Benefits of Pea Protein
If you don't want protein from animal sources, you have more choices than ever. Put the power of plant-based supplements toward your fat-loss goals.
Heading out the door? Read this article on the new Outside+ app available now on iOS devices for members! Download the app.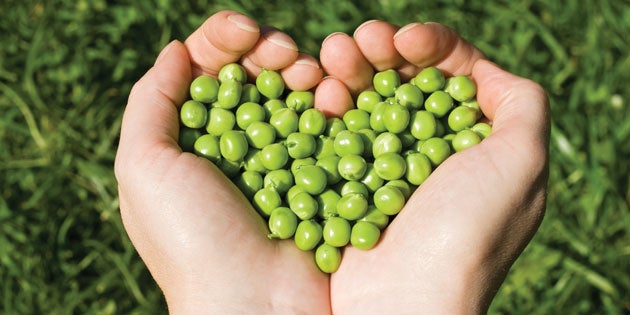 Plant-based supplements can fill your protein needs. Milk proteins (whey and casein) monopolize the protein-powder market, but is there any hope if you're a vegetarian? The short answer is yes! Scientific research has unequivocally proven that daily protein supplementation can help improve your physique and support fat loss.
Pea protein isolate is becoming increasingly popular among vegan athletes, those who prefer proteins from non-GMO (genetically modified organism) sources, and/or those who can't tolerate milk proteins. Most pea protein supplements are non-GMO. Good-quality pea protein isolate contains high levels of the branched-chain amino acids (comparable to whey isolate) in the ideal 2:1:1 ratio of leucine to valine and isoleucine. Furthermore, like whey isolate, pea protein isolate is highly digestible and extremely high in glutamine and arginine. Good products generally tend to be 80 to 85 percent protein and contain only small amounts of fat (about 2 grams) and about 1 gram of fiber in a 30-gram scoop.
Nutrient Timing
You may have a few types of protein in your supplement arsenal, but because each form of protein works somewhat differently, you need to choose them with the same care you would when mapping out your training regimen. Here's a sample starter menu that takes into account the best times you should take each powder, according to research. Try any of these supplement ideas as a part of a balanced diet that includes whole-food sources of protein.
Breakfast: Mix a scoop of pea, hemp, soy or whey protein powder into your morning oatmeal. Consuming whey protein, especially, can help stop the muscle wasting (catabolism) that your body goes through when it "fasts" all night long.
Preworkout: Make a blended protein shake for a morning workout. Whey protein digests pretty quickly and casein will stay with you as you train. You may even want to include a medium-digesting protein source like soy or egg for a well-rounded shake.
Postworkout: Whey protein provides the spark for recovery by sending a flood of muscle-building aminos through your bloodstream. Your muscles are actively seeking out these building blocks at this time. But blending casein into your postworkout shake can have a greater impact on muscle gain by extending the muscle-building window and hitting protein synthesis at different rates.
Bedtime: Add casein protein to a cup of nonfat milk.
Meal replacement: If you find yourself in a pinch to get in a meal, look for a protein powder blend that offers more calories, carbs and fats. As a snack, you could try MHP's Fit & Lean Power Pak Pudding — ready-to-eat, it offers a rich, creamy taste with 15 grams of protein, only 100 calories, low carbs and zero sugar. It's also lactose-free and low in fat.