Healthier Holidays
Three delicious holiday recipes courtesy of "The Muscle Chef."
Heading out the door? Read this article on the new Outside+ app available now on iOS devices for members! Download the app.
You eat clean, you train hard — wouldn't it be great to be able to have seconds at your holiday table? To guarantee that additional heapin' helpin' of potatoes doesn't cost you a month's worth of workouts, try one of these healthy and delicious recipes created by chef, restaurant owner and IFBB bodybuilder Carlo Filippone, aka "The Muscle Chef." Filippone composed these recipes exclusively for Oxygen readers and they're as healthy as they are tasty. Dig in!
Orange-Cinnamon Sweet Potato Mash 'n' Bake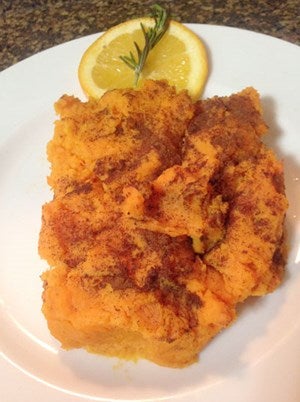 Packed with vitamins, fiber and flavor, this dish is a great alternative to standard mashed white potatoes.
Makes 6 servings
Ingredients
2 pounds (32 ounces) sweet potatoes or yams, cleaned and scrubbed
Juice of ½ orange (freshly squeezed)
1 tablespoon extra virgin olive oil
1/8 teaspoon sea salt
2 pinches black pepper
Cinnamon
Olive oil spray
Directions
Preheat the oven to 400 Degrees.
Place the sweet potatoes on a baking sheet and cook for 45 minutes to an hour. Remove from the oven.
Lower oven heat to 350 degrees.
Cut down the center of the sweet potatoes and scoop the flesh into a mixing bowl. Add the remaining ingredients except the cinnamon. Mix well.
Spray a baking pan with the olive oil spray. Pour the sweet potato mixture into the baking pan. Sprinkle with cinnamon.
Place into the oven and bake for 12-15 minutes.
Nutrients per serving: Calories: 218.5, Total Fat: 2.5 g, Carbs: 33 g, Protein: 19 g
Turkey Breast Cutlets with Brussels Sprouts and Cranberries
Skinny up your bird this year with the unique spin on turkey and fixins.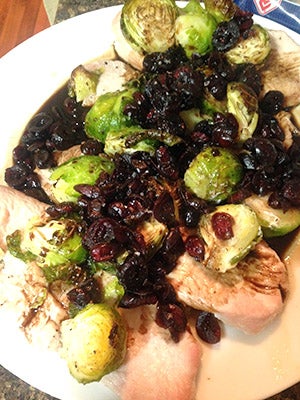 Makes 8 servings
Ingredients
2 pounds turkey breast cutlets
1 pound Brussels sprouts, halved
½ cup balsamic vinegar
1 cup dried cranberries
1/8 teaspoon sea salt
2 tablespoons extra virgin olive oil
2 pinches black pepper
1 teaspoon chopped fresh basil
Directions
Preheat oven to 400 degrees.
Place the Brussels sprouts in a mixing bowl. Add the extra virgin olive oil, salt and black pepper and toss.
Layer the turkey breast cutlets in a baking pan and spoon the Brussels sprouts atop the cutlets.
Place in the oven for 25 to 30 minutes.
Remove and let stand.
In a small saucepan, heat the balsamic vinegar, basil and cranberries over low-medium heat for 5 to 7 minutes.
Pour the balsamic mixture over the turkey cutlets and sprouts. Serve.
Nutrients Per serving: Calories: 225, Total Fat 2.3 g, Carbs: 23 g, Protein 27.8g
Pomegranate Chicken and Potato Salad
Why have plain potato salad when you can serve a dish like this? The chicken adds some extra protein to your table, the greens some vitamins and fiber, and the pomegranate seeds a healthy dose of antioxidants.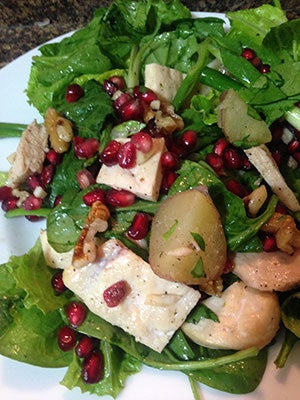 Makes 4 servings
Ingredients
8 ounces grilled chicken breast, cooked and cubed
½ cup pomegranate seeds
8 ounces red skin potatoes, skin on
¼ cup sliced scallions
1/8 cup walnuts
2 cups baby spinach
2 cups romaine lettuce, chopped
1 tablespoon extra virgin olive oil
2 tablespoons white balsamic vinegar
1 teaspoon minced garlic
1/8 teaspoon kosher salt
2 pinches black pepper
1 teaspoon chopped fresh parsley
Directions
Boil the potatoes for 10 to 15 minutes, or until potatoes slide off a fork when pierced.
Drain potatoes and allow to cool, then cube.
Put chicken, potatoes and remaining ingredients into a mixing bowl and toss.
Nutrients Per serving: Calories: 238, Total Fat: 8.4 g, Carbs: 19.7 g, Protein: 21 g