How to Eat Healthy When Dining Out
Sticking to your diet doesn't have to end when you leave your kitchen. Here's how to stay on track when eating out.
Heading out the door? Read this article on the new Outside+ app available now on iOS devices for members! Download the app.
Life happens. From Friday nights out with your co-workers to the convenience of grabbing a bite to eat on the go, it's impossible to control every aspect of your diet. Cheat days aside, making smart, educated decisions when dining out can prevent morning-after regret when you step back on the scale.
From supersize portions to a lack of nutrition, restaurants can pose a significant risk to your waistline without a pre-emptive plan. But don't let this keep you from enjoying yourself — just follow these guidelines the next time you eat out to minimize the impact.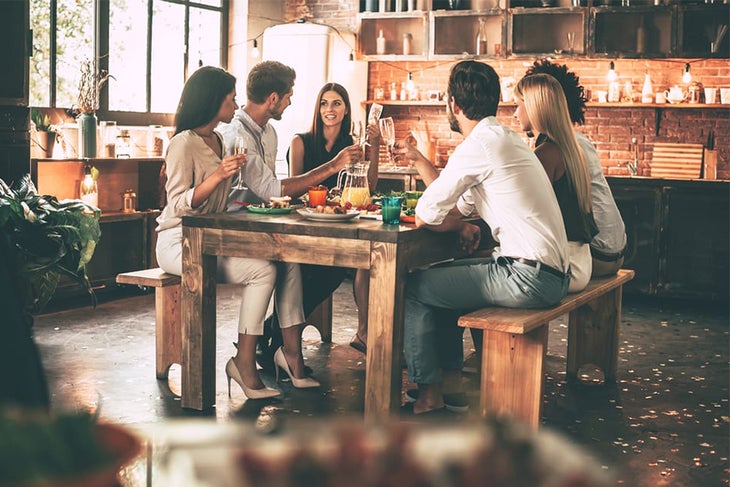 Be Seen
Sure, sometimes it's a wine-and-chocolate cake kind of night, but people tend to restrain themselves from judgment when out in public. Choose a table near the bar or in the middle of the room (not the booth in the corner) so other patrons can see what you're eating. They're likely not paying any attention, but it may give you the extra boost to lay down the dessert menu.
Eliminate Guesswork
Many restaurants now display calorie counts in their menus, so finding lighter options is easier than ever. Be aware, though, that sometimes added ingredients (like cheese or sides) aren't included in the grand total.
Eat Before
Showing up to a restaurant ravenously hungry can lead to binge eating and unnecessary calories. Have a granola bar or high-protein snack before entering the restaurant to curb any emotional food decisions. Not only will this lead to fewer consumed calories, but it's also cheaper.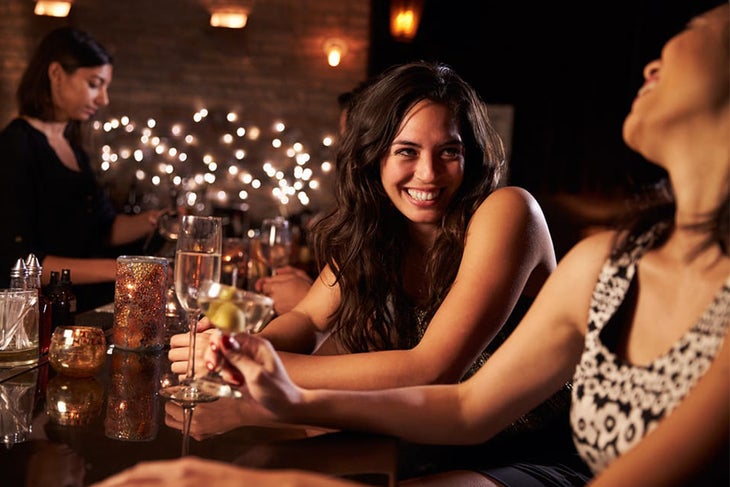 Use the "One-Drink" Rule
Surprisingly, alcohol has a significant number of calories — when paired with a meal, the grand total can be off the chart. We're not saying to eliminate drinking alcohol altogether, just be aware of the effects multiple rounds can have on your diet. Plus, once you start "feeling good," you can lose sound judgment and self-control when it comes to the menu.
Forgo Bread
Carbs have their place in everyone's diet, but loading up on complementary greasy, buttery bread (or chips) before your main course is a recipe for disaster. Forgo the basket of bread and opt for a lighter, more nutritious alternative to kick-start your metabolism.
Doggie Bags Are Your Friend
It's easy to feel obligated to finish your meal when you pay restaurant prices for the mountain of food on your plate. If self-control isn't your forte, ask for a doggie bag when you order and immediately portion off half the plate when your food arrives. Not only will this save you from yourself, but you'll also have a meal for tomorrow's lunch.
Green Isn't Always Good
That green salad that comes with your meal is fine, right? Wrong. Heavy dressings, croutons and cheeses can turn a nutritious addition to your meal into a calorie-ridden disaster. Same goes with green juices and smoothies — added sugar can exponentially increase the calorie count. Be aware of the ingredients before you order.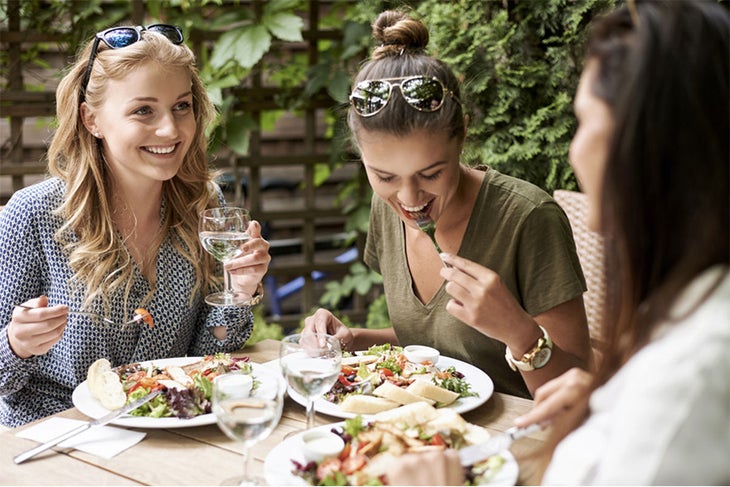 Choose Healthy Restaurants
Stay away from those wings-and-beer chains and opt for a more nutritious and health-conscious alternative. Restaurants like Clean Eatz offer clean, nutritious options customizable for all diet restrictions. Not only is it healthy and delicious, but it's also affordable. Clean Eatz also offers properly portioned meal plans that can be picked up at its locations for restaurant-style dining at home.
Use Cash
Next time you go out, leave your wallet in your car and only take in a limited amount of cash. If you know you only have $10 to spend, that eliminates the potential to buy appetizers, desserts and alcoholic beverages.