Is Your Diet Rock-Solid?
This trio of trace minerals could hold the key to improved endurance, function and speed.
Heading out the door? Read this article on the new Outside+ app available now on iOS devices for members! Download the app.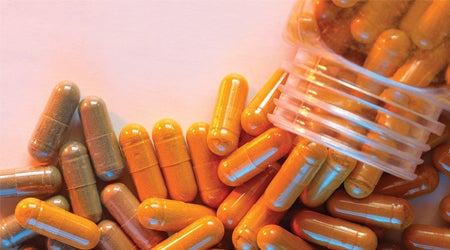 Most people focus on the big players in the vitamin and mineral game — E, D, B, magnesium, calcium and the like. However, it might just be the little guys that can ultimately help you achieve your goals.
Case in point: the trace minerals iron, zinc and copper. This trio is essential for helping the body transport oxygen, repair muscle and improve immunity, and although the Recommended Daily Allowance for each is pretty small, female athletes often don't get enough. "Minerals are understudied or underappreciated in terms of sports nutrition," says Robert DiSilvestro, Ph.D., professor of human nutrition at The Ohio State University. This, he adds, is likely the reason they aren't on many athletes' radar.
But they should be: DiSilvestro studied the effects of minerals in a recent paper published in the Journal of the International Society of Sports Nutrition. The study followed 42 fit women for four weeks as they took a supplement containing iron, zinc and copper. At the end of the study, most athletes shaved an average of 54 seconds off their 3-mile run times and increased the distance they could ride on a stationary bike post-run.
Doctor's Directive
It is difficult to get enough trace minerals from food alone — even more so if you are a plant-based athlete — but still, there is no need to overdo it when supplementing. "No evidence exists that intake above the RDA will enhance performance," says Michael J. Ormsbee, Ph.D., associate director of the Institute of Sports Sciences and Medicine at Florida State University.
Since some nutrients can be toxic at megadoses, a multivitamin is often a safer bet than a single-mineral supplement. "The RDAs for nutrients are set for a reason," says Melinda M. Manore, Ph.D., a registered dietitian and professor of nutrition at Oregon State University. "Not only for the amount needed for good health but for how each nutrient impacts another."
All experts agree: Investing in a quality multi that contains high levels of vitamins and minerals means your nutrition — and your results — will be rock-solid.
The Trace Trio
Iron (RDA: 18 milligrams)
Good food sources: Lean beef, chicken, oysters, tofu, lentils, cashews, fortified cereals
Iron helps your body metabolize energy by facilitating the transport of oxygen to your tissues, and requirements for endurance athletes are as much as 70 percent higher than for nonathletes, one study found. "Athletes have higher iron requirements due to higher red blood cell mass, increased losses via sweat, and also possibly due to strenuous exercise or impact such as foot strike while running," Ormsbee says.
Your risk for iron deficiency increases if you're a vegetarian, have heavy periods or train at high altitudes. But even if you're not technically deficient, shortchanging your iron intake impairs muscle repair.
Zinc (RDA: 8 to 40 milligrams)
Good food sources: Oysters, beef, fortified cereals, almonds
Zinc is essential for the growth and repair of muscle tissue and a healthy immune system, and a diet low in protein and high in carbs could spell deficiency, leading to decreased performance, muscle strength and endurance. However, too much zinc can impair the absorption of iron and copper, so don't go hog-wild with supplementation. A good multivitamin will provide enough zinc for most people, and DiSilvestro recommends taking it with food to slow absorption.
Copper (RDA: 900 micrograms)
Good food sources: Shellfish, whole grains, beans, nuts
This mineral works with iron to form red blood cells, aid blood vessel function and improve bone health. Copper also helps streamline energy production: Macronutrients go through a series of reactions, and copper and iron enzymes are needed for the final step in energy production. Some research suggests that copper might reduce one particular free radical that causes fatigue. "Antioxidants get rid of free radicals, and it now appears that free radicals are one of the ways muscles fatigue," DiSilvestro says.