5 Ways to Use Parsnips
As is evident from their silhouette, parsnips are a close relative of carrots but with a sweeter, nuttier taste.
Heading out the door? Read this article on the new Outside+ app available now on iOS devices for members! Download the app.
Though they aren't as popular as their orange cousin, parsnips are super-versatile root veggies and can be eaten boiled, baked, mashed, spiralized or raw. Choose parsnips that are on the smaller side because they are sweeter and more tender, then try them these five ways.
As a Fiberful Snack
Parsnips have soluble and insoluble fiber, which have been shown to lower blood cholesterol, reducing the chances of developing diabetes. Fiber also helps prevent the release of ghrelin — the hunger hormone that tells your brain to eat — reducing the likelihood of snacking between meals. Substitute cooked and pureed parsnips for chickpeas in your favorite hummus recipe and serve with carrots for the ultimate fibrous snack!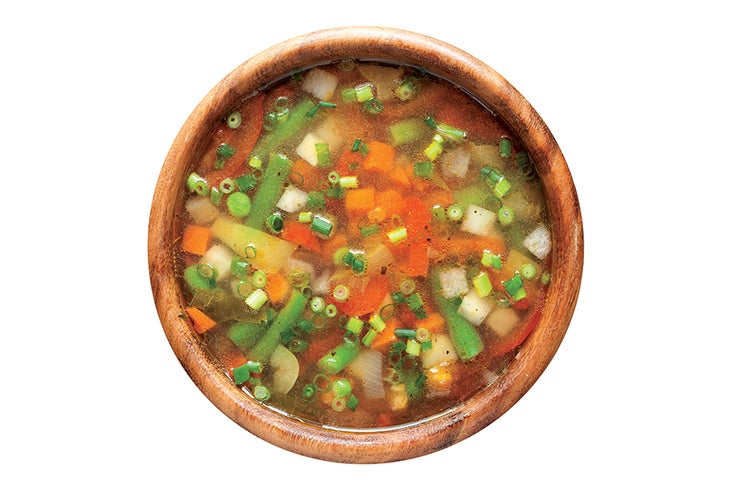 As a Smile-Friendly Soup
Parsnips are high in folate, which most people know as an essential compound in the prevention of birth defects. But folate also helps prevent gum disease and gingivitis, giving you that healthy 100-watt smile. Each ½-cup serving of cooked parsnips contains 45 micrograms of folate, equal to about 11 percent of the Recommended Daily Allowance. Dice two parsnips into a soup made with vegetable or chicken stock, canned tomatoes, carrots, celery, garlic, parsley, onions and dill to get your daily fix.
As a Calorie-Slashing Mash
Combine mashed parsnips with your traditional holiday potatoes to cut the calories in half and beef up the fiber content.
As an Energizing Add-In
Parsnips contain copper, a trace mineral that is essential for the production of ATP in your cells. Shred raw parsnips and add to coleslaw, or spiralize them onto your preworkout or postworkout salad to boost the energy factor while adding a distinctive sweet-tasting crunch.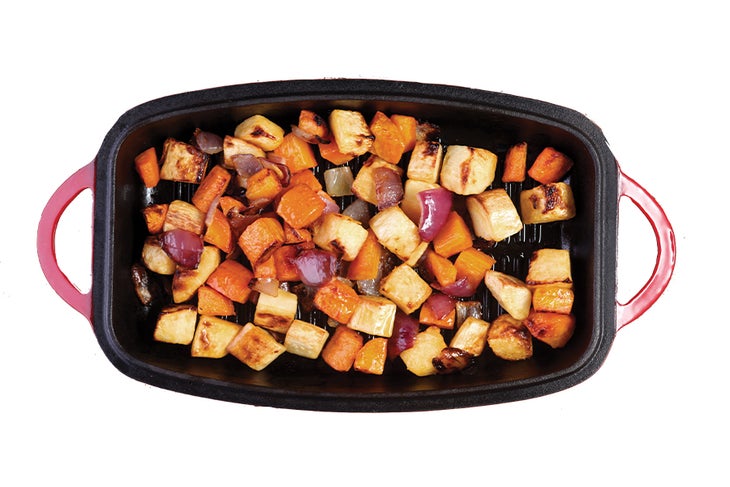 As a Recovery Root Roast
Potassium is plentiful in parsnips, which acts as a vasodilator, helping deliver oxygen and nutrients quickly to your muscles while helping flush out toxins and assisting with recovery. Take 5 to 6 cups of raw, diced root veggies (parsnips, carrots, rutabaga, potatoes) and toss with three cloves of minced garlic, ½ cup of white wine, 2 tablespoons of chopped fresh thyme, olive oil and a dash of vinegar. Spread evenly in a single layer in a roasting pan and bake at 450 degrees for 45 minutes, stirring often for even cooking.
Calorie-Slashing Mash
Makes: 4 servings
2 lb parsnips, peeled and cut into 2-inch pieces (6 medium)
2 tbsp olive oil
2 tsp balsamic vinegar
½ tsp salt
Bring large pot of water to a boil. Add parsnips and cook until very soft, about 15 to 20 minutes. Use a slotted spoon to transfer parsnips to food processor, reserving the cooking water. Add olive oil, balsamic vinegar and salt and puree until smooth. Add cooking water as needed if the mixture is too thick.
Nutrition Facts (per serving): calories 211, carbs 36 g, fat 7.5 g, fiber 9 g, protein 2 g, sodium 310, sugar 10 g