Power Booster
Smash fatigue and take your performance in the gym to the next level with beta-alanine.
Heading out the door? Read this article on the new Outside+ app available now on iOS devices for members! Download the app.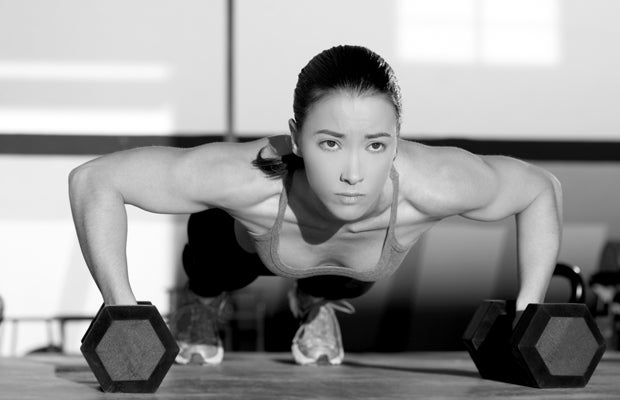 You know the feeling. You're mid-set when your muscles feel like they've caught on fire. That burning sensation is often dismissed as lactic acid buildup, but it's actually the accumulation of acidic compounds, including lactate, that cause your muscle fibers to cease contracting. But your muscles know how to deal with this sensation, and with proper supplementation they can reduce it even more.
During exercise, your muscles generate force and heat. This disrupts the pH balance in the cells and contributes to fatigue during and after a workout. Your performance quickly worsens as you experience that deep burning sensation and can barely squeeze out another rep. In order to continue training through this onslaught, your body turns to buffering.
"Buffering is our ability to remove byproducts, such as hydrogen ions and lactate, during and after exercise," says Abbie Smith-Ryan, Ph.D., CSCS*D, FISSN, assistant professor at the University of North Carolina, Chapel Hill. "This allows our muscles to continue to function and maintain intensity, as well as helps us recover more quickly." Without buffering, our workouts would be pretty short (and painful). Muscle cells can buffer acidic compounds naturally; however, supplements like beta-alanine can help increase buffering potential.
Related:Your Muscle-Fatigue Fighter
The benefit of beta-alanine is not uncharted territory. Dozens of studies have proved its efficacy. In fact, there are a number of products already on the market that contain beta-alanine as an active ingredient. So it's not that people aren't using it, theorizes Smith-Ryan, but more likely they aren't taking enough of it. Even though beta-alanine might be an ingredient in your preworkout formula, you're probably not getting an effective dose to take full advantage of its ability to boost training, improve recovery and reduce fatigue.
The Carnosine Connection
Beta-alanine is a nonessential amino acid, meaning your body makes it naturally. The key to improving buffering abilities is carnosine, and beta-alanine is the rate-limiting component to how much carnosine you can produce. With more beta-alanine in your system on a consistent basis, you can increase carnosine levels in muscle cells.
"Ultimately, beta-alanine's role is to enhance muscle carnosine levels," says Smith-Ryan. "When supplementing with beta-alanine, it takes about three weeks for carnosine to be elevated. Once elevated, carnosine consumes hydrogen ions, helping to maintain the pH of our body, thereby increasing training volume."
So what does all this mean for your workouts? Beta-alanine helps alleviate built-up compounds in the muscle that cause fatigue during your workouts so you can train harder and longer. This is especially true for women and vegetarians.
"To date, the literature suggests that both men and women will see a rise in muscle carnosine from beta-alanine supplementation. However, because most women have less muscle mass compared to men, they may respond better, resulting in greater increases in muscle carnosine. This would also be true for a female vegetarian," Smith-Ryan says. Being a female in and of itself gives you the upper hand, but then again, we already knew that.
Supplement BFF's: Beta-Alanine & Creatine
Creatine and beta-alanine seem to go together like peanut butter and chocolate, but without all the fat and calories. Each provides the user the ability to squeeze out a few more reps — creatine by recharging cellular ATP and beta-alanine by buffering compounds like lactic acid — making workouts much more effective.
A study performed at the College of New Jersey at Ewing showed that a group of athletes who took creatine and beta-alanine experienced a greater effect on lean tissue and body-fat composition, not to mention improved strength performance, than those who took each either creatine or beta-alanine separately.
Tip: Some people experience paresthesia, a tingling sensation on the skin, when taking beta-alanine. While it is completely harmless, it can be annoying during a workout. To reduce this effect, take beta-alanine with food.
Tip: It is nearly impossible to get enough beta-alanine from food alone. In fact, you would need to eat 4 to 6 pounds of beef to attain an effective daily dose.
Beta Testing
What is the best dose of beta-alanine for women who train regularly and eat clean? "Start with 6 grams a day in three divided doses — 2 grams at breakfast, lunch and dinner — for three or four weeks," says Abbie Smith-Ryan. Once you get past the initial loading phase, you can lower your daily dose to about 2 grams per day for maintenance. Below is a sample meal plan and dosing strategy to incorporate beta-alanine.
•Meal 1: 3 egg whites, 1/3 cup dry oatmeal, ¼ cup blueberries, ¼ teaspoon flax meal, 1 serving beta-alanine
•Meal 2: 1 serving nonfat plain Greek yogurt, 1 ounce cashews, 1 tablespoon shredded coconut
•Meal 3: 4 ounces grilled chicken breast atop mixed greens and veggies salad, 1 tablespoon olive oil, 1 tablespoon balsamic vinegar (as dressing), fruit smoothie of your choice including 1 serving beta-alanine (blended in)
•Meal 4: 1 scoop whey protein powder mixed with water
•Meal 5: 4 ounces grilled salmon, 1 cup steamed broccoli, ½ cup cooked quinoa, 1 serving beta-alanine
Daily totals: calories 1,455, protein 124 g, carbohydrates 127 g, fat 51 g