Skim Milk vs. Milk With Fat
What's the best type of milk for you to drink if you're trying to shed body fat? Read on to find out.
Heading out the door? Read this article on the new Outside+ app available now on iOS devices for members! Download the app.
Many adult women don't drink a lot of milk, but others take in plenty. Women trying to get lean and ripped may drink milk alone or add it to protein shakes. But here's the skinny on what type of milk you should consume while trying to shed body fat.
You may be trying to reduce calories by cutting back on the dietary fats in your milk. But this may not work in your dietary favor. Milk fat helps slow insulin release, reducing the amount of carbs that are driven to fat storage. If you mix milk with your preworkout or postworkout shake, then you want to spike insulin release to drive muscle repair. At other times of day, though, skim (aka nonfat — a bit of a misnomer), may encourage unwanted insulin release.
Yet you may not want all the calories that come with whole milk.
So what is the best choice?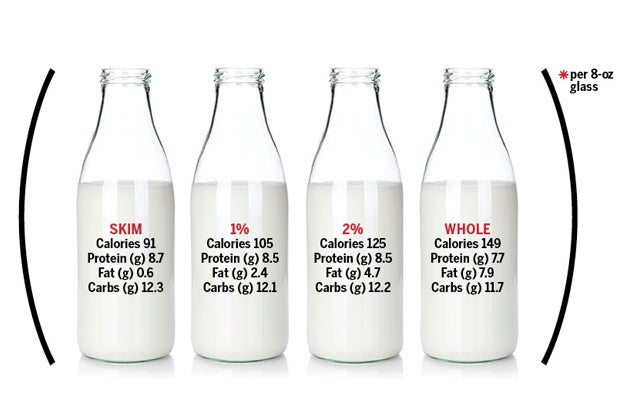 Winner: It's A Tie
Choose 1%- or 2%-fat milk. But go with skim before or after workouts, and avoid this type at other times of day. (If you want to get the insulin-spiking benefits of milk around workouts but avoid it other times, then buy skim and 2 percent milk. You can mix them together in a 1:1 ratio to create the equivalent of 1 percent milk.)