The Power of Pumpkin
Love pumpkin, but not sure how to use it? These simple ingredient swaps will help you reap the nutritional benefits of this fall staple, all year round.
Heading out the door? Read this article on the new Outside+ app available now on iOS devices for members! Download the app.
Pumpkin is more than a seasonal treat: With only 50 calories per cup, tons of vitamins and minerals, and a host of significant health benefits, it should appear plate-side all year round. Here are five ways to enjoy this fall favorite.
As a Recovery Agent
Ounce per ounce, pumpkin has more potassium than bananas, helping you rebound from a hard workout by restoring electrolyte balance and reducing blood pressure. Some studies even link pumpkin to preservation of muscle mass and improved bone density. Add ½ cup of pumpkin to your post-workout smoothie to reap the recovery rewards. 
As a Vision-Boosting Breakfast
According to the National Institutes of Health, one cup of pumpkin contains 200 percent of your daily need for vitamin A, helping protect the surface of your eye, promoting healthy vision, and slowing the decline of retinal function in those with certain degenerative eye diseases. Pumpkin also contains a ton of beta-carotene which converts to Vitamin A in the body, and which may quell inflammation and reduce the risk of certain types of cancer.
Pumpkin Chia Pudding
Makes: 6 servings
INGREDIENTS
2 cups plain unsweetened almond milk

½ cup pitted dates

1/3 cup chia seeds

¾ cup unsweetened pumpkin puree

3/4 teaspoon pumpkin pie spice

pinch sea salt
DIRECTIONS
In a large jar or bowl, combine milk, dates and chia seeds. Mix well then cover and refrigerate for four to eight hours. Then pour into a blender and process on high until very smooth, about two minutes. Add pumpkin puree, spice and salt and blend until combined. Divide mixture among six 4-ounce jars with lids. Refrigerate for 1 hour then serve.
As a Healthy Recipe Swap
Pumpkin puree is a super swap for oil or butter when baking, reducing calories and adding an abundance of vitamins, minerals and fiber. Use a 1:1 ratio when swapping for oil, and trade ¾ cup of pumpkin for every 1 cup of butter.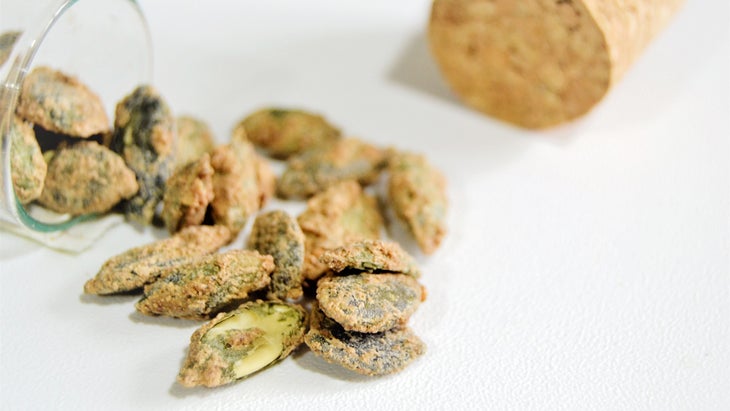 As a Fiber-Full Snack  
Pumpkin seeds contain 1.7 grams of fiber per ounce, helping lower the risk of coronary heart disease while boosting meal satiety and promoting healthy digestion. Buy raw, hulled seeds at the store, or save your jack-o-lantern guts and roast your own: wash the seeds, then bring to a boil in a saucepan. Reduce heat and simmer for about 10 minutes, then drain seeds and pat dry. Toss with a little olive oil and a pinch of salt, then roast at 325 for about fifteen minutes, tossing once.
As a Soothing Soup
Move over turkey: Pumpkin also contains tryptophan, the amino acid that helps produce serotonin, a brain chemical that plays a large role in mood regulation, relaxation and sleep quality. 
Easy Pumpkin Soup
Serves: 4
INGREDIENTS
2 yellow onions, chopped

3 garlic cloves, chopped

1 tablespoon avocado oil

2 cups chicken (or vegetable) broth

2 ¼ cups pumpkin puree

½ cup coconut milk 

1 teaspoon salt

¼ teaspoon pumpkin pie spice

black pepper, to taste
DIRECTIONS
Add onions, oil and garlic to a saucepan and cook on medium heat until translucent. Add remaining ingredients and bring to a boil, then reduce heat to low and simmer for 15 to 20 minutes. Remove from heat and use an immersion blender to blend until smooth. Serve immediately. 
Fun Fact: The largest pumpkin pie ever baked was 2020 pounds!