Turkey Burger and Sweet Potato Chips
Craving the taste of fast food? Cook up this quick and easy turkey burger that will fool your taste buds without adding extra fat or sodium.
Heading out the door? Read this article on the new Outside+ app available now on iOS devices for members! Download the app.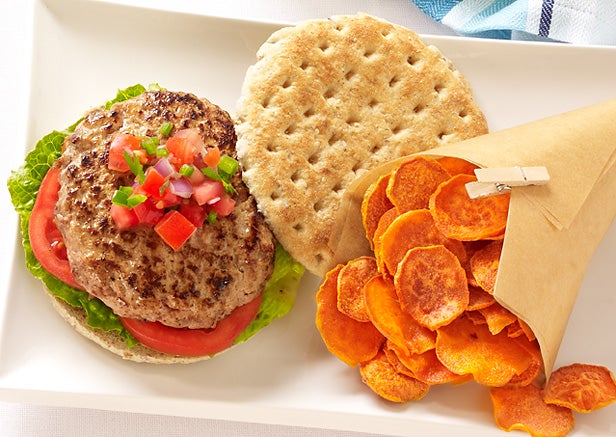 Turkey Burger and Sweet Potato Chips Recipe
Ready in 30 minutes • Makes 2 servings
Ingredients
Non-stick olive oil spray
1 medium sweet potato, sliced thinly (1/8″ thick slices)
Sea salt, to taste (optional)
8 oz lean ground turkey
¼ cup salsa, divided
4 slices tomato
2 Romaine lettuce leaves
2 whole-grain, thin burger buns, toasted
Instructions
Preheat oven to 400°F. Lightly spray a baking sheet with olive oil spray. Spread sweet potato slices on baking sheet and lightly sprinkle with sea salt, if desired. Bake 20 to 25 minutes until cooked through, stirring once halfway through.
Meanwhile, lightly spray a large saute pan with olive oil spray. Mix ground turkey with 2 tablespoons of salsa, divide in half and form each half into a patty. Cook patties over medium-high heat until lightly browned on one side (approximately 4 minutes). Flip burgers over and continue cooking until done, approximately 3 more minutes.
On half of each bun, place a lettuce leaf and 2 tomato slices; place burgers on the opposite bun and top with remaining salsa (1 tablespoon each). Place lettuce and tomato side on top of burger and salsa and serve immediately with the sweet potato chips.
Nutrients per serving: Calories: 353, Total Fats: 11 g, Saturated Fat: 3 g, Trans Fat: 0 g, Cholesterol: 0 mg, Sodium: 150 mg, Total Carbohydrates: 41 g, Dietary Fiber: 8 g, Sugars: 9 g, Protein: 27 g, Iron, 2 mg