Watermelon's Wow Factor
Boost your nutrition with these five refreshing summertime recipes.
Heading out the door? Read this article on the new Outside+ app available now on iOS devices for members! Download the app.
Mark Twain said, "When one has tasted watermelon, he knows what the angels eat." So when's the last time you indulged in this heavenly fruit? If it's been a while, make sure to stock up in time for National Watermelon Day, which falls on August 3 this year.
"National Watermelon Day is a chance for everyone, everywhere to appreciate and share their love for watermelon," says Stephanie Barlow, senior director of communications at the Watermelon Board. "Whether shared around a pool or picnic table this summer, watermelon evokes happiness, healthiness, family and fun."
More Than Just a Summertime Sweet
Sure, watermelon is a refreshing treat during pool parties and barbecues, but there are many reasons to enjoy this fruit beyond festive outdoor gatherings. According to the Watermelon Board, it's packed with health benefits, which include the following:
Vitamin A. Important for optimal eye health, vitamin A boosts immunity by enhancing the infection-fighting actions of white blood cells.
Vitamin B6. This B vitamin helps the immune system produce antibodies, which are needed to fight many diseases. Vitamin B6 also helps maintain normal nerve function and form red blood cells. Finally, the body uses vitamin B6 to help break down proteins — so the more protein you eat, the more vitamin B6 you need.
Vitamin C. Help bolster your immune system's defenses against infections and viruses with vitamin C. This vitamin also can protect the body from harmful free radicals that can accelerate aging and conditions such as cataracts.
Potassium. A 2-cup serving of watermelon is also a source of potassium, a mineral found inside every cell and necessary for water balance. People with low potassium levels can experience muscle cramps. After a tough workout, grab some watermelon because this electrolyte will help with replenishment and recovery.
Lycopene. This antioxidant, which gives watermelon its red color, is important for protection against free radicals, and it has been studied for protection against harmful UV sun rays.
Citrulline. Watermelon is a heart-healthy choice thanks to its citrulline content, an amino acid that helps blood flow.
Hydration. At 92 percent water, you can't spell watermelon without water. It's one of the most hydrating foods you can eat, which is especially helpful during these hot summer months.
Low calorie. Watermelon is a guilt-free sweet treat at only 80 calories per 2-cup serving.
5 Refreshing Recipes
When visiting your local farmers market or grocery store, look for a firm, symmetrical watermelon that's free from bruises, cuts or dents. When you lift it up, it should feel heavy for its size and should have a creamy yellow spot from where it sat on the ground and ripened in the sun. Now that you've picked your perfect melon, you could just cut it up and eat it straight from the rind. Or try using it in one of the following recipes:
Stacked Curried Chicken With Watermelon and Jicama Salad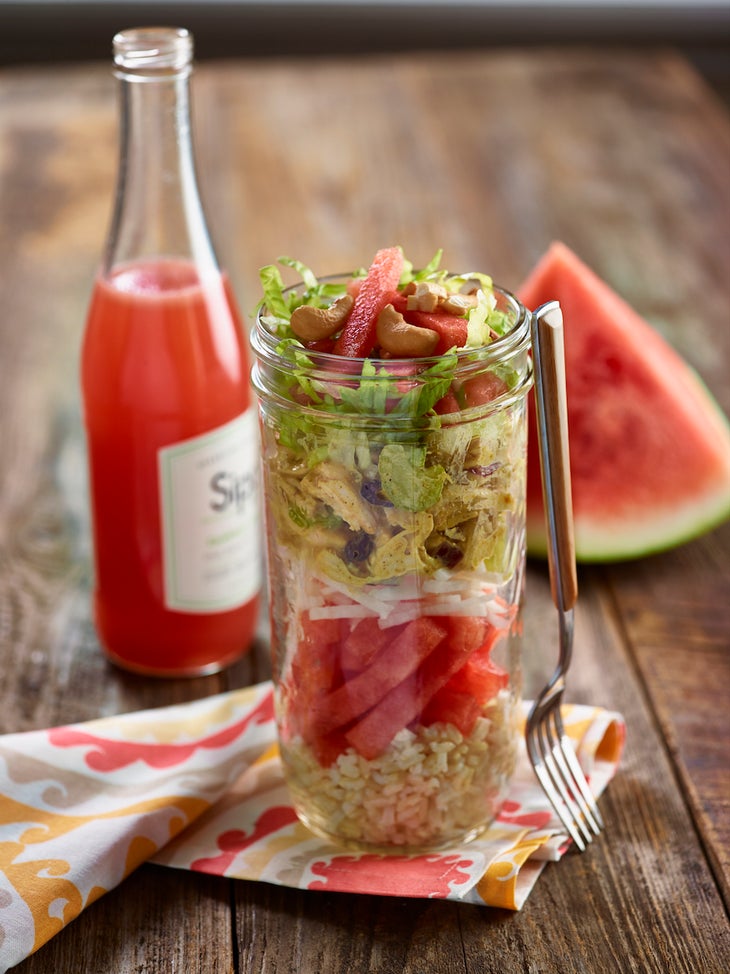 If you're in meal-prep mode, a jarred salad makes a great lunch or snack option. This on-the-go dish is packed with protein, fiber and water — three ingredients that fill you up before you can overindulge. You also get a hefty dose of antioxidants (thanks to the watermelon, jicama and curry powder) that protect you from inflammation and most age-related diseases, a third of your daily need for magnesium (a mineral that helps calm the stress response), and potassium to keep your heart and blood pressure in tiptop shape.
Ingredients
1 lb cooked, skinned and boned chicken breasts, shredded
1 cup instant brown rice
⅓ cup mayonnaise
¼ cup chutney
2 tsp curry
⅓ cup diced (or sliced) celery
2 tbsp diced red onions
¼ cup raisins or craisins
2⅔ cups thin strips watermelon (no longer than 2½ inches)
1 cup thin strips peeled jicama (no longer than 2½ inches, matchstick size)
4 tbsp chopped cashews
1 handful shredded romaine
4 pt wide-mouth Mason jars
Instructions
Cook rice according to directions on box. Refrigerate to cool. In a medium bowl, blend mayonnaise, chutney and curry until thoroughly blended. Add chicken, celery, onions and raisins. Blend and refrigerate. Divide rice and chicken mixture into 4 equal batches. Starting with the rice, layer approximately ¼ cup rice followed by ⅓ cup watermelon, ¼ cup jicama and ⅓ cup chicken. Repeat and top with 1 tablespoon chopped cashews and shredded romaine. Serve or screw a lid onto jar and refrigerate.
Serving size: 4
Watermelon Poke Bowl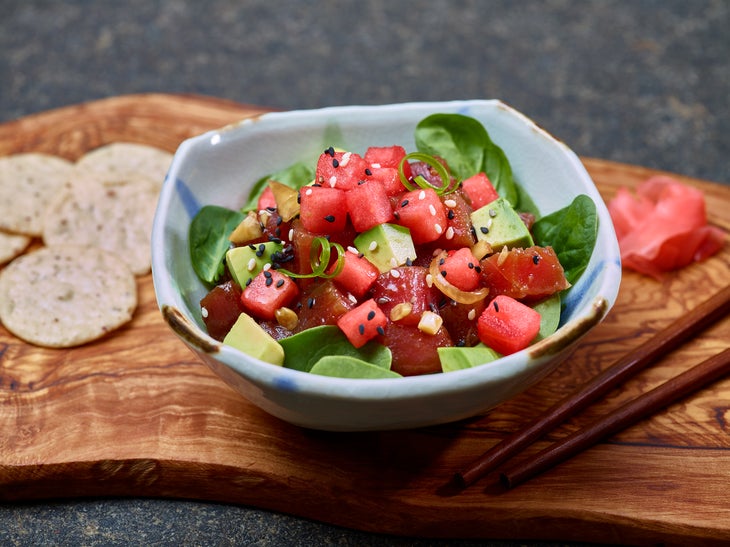 If you're seeking Hawaiian vibes without the plane ride, try your hand at an easy poke dish. This raw fish salad is often served as an appetizer or entree in Hawaiian cuisine. It is also rich in the omega-3 fats that are good for your brain and heart. Be sure to use frozen and thawed fish if you are concerned about harmful bacteria because freezing kills those germs.
Ingredients
¼ cup low-sodium soy sauce
¼-½ cup watermelon juice
1 tsp Sriracha chili sauce
1 tsp sesame oil
2 green onions, cut on the diagonal with whites and greens separated
3 medium cloves garlic or 2 large cloves garlic, minced
½ tbsp minced ginger root
⅓ white onion, thinly sliced
¾ lb ahi tuna, cut into ½-inch cubes
1 small avocado, diced
⅔ cup diced watermelon
¼ tsp sesame seeds
pickled ginger (sushi ginger or gari)
Instructions
In a medium bowl, mix soy sauce, watermelon juice, chili sauce, oil, the white portion of green onions, garlic, ginger root and onions. Add tuna, toss and refrigerate for 30 minutes. Ten minutes before serving, add avocado and return to refrigerator. Plate (over rice seasoned with a touch of rice wine vinegar, if desired) and top with watermelon and green onions, then sprinkle with sesame seeds. Serve with pickled ginger. Garnish with dried seaweed for extra Hawaiian flair.
Serving size: Makes 4 cups
Watermelon Beet Postworkout Smoothie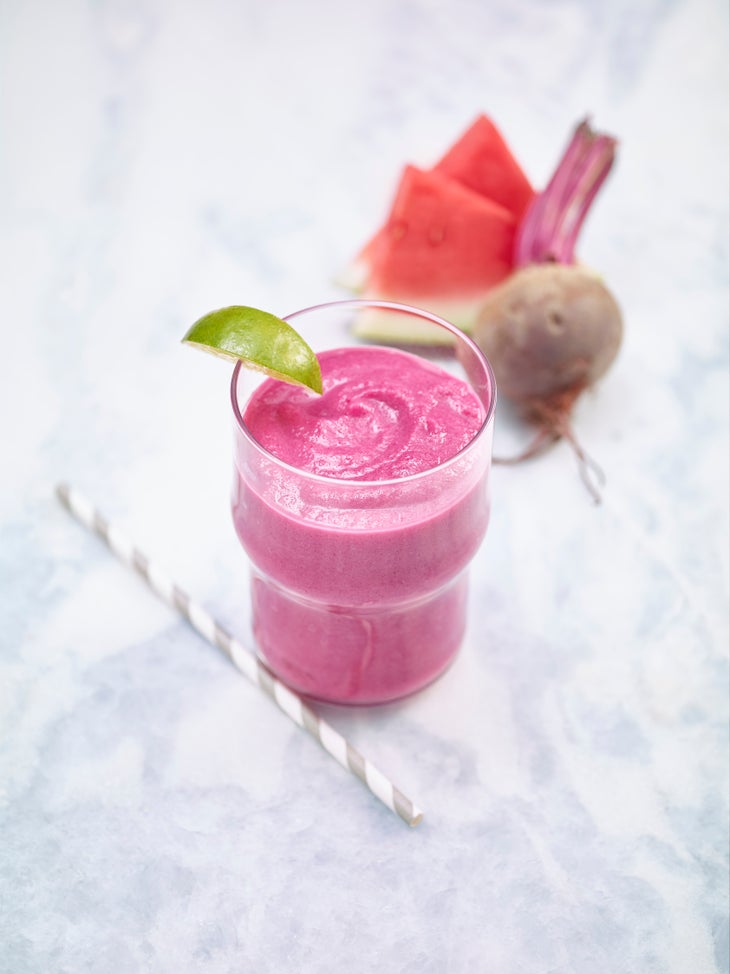 Killer workout? Now it's time to refuel. This postworkout smoothie supplies the right amount of protein to repair and build muscle, is low in artery-clogging saturated fat, and has the carbs necessary to restock glycogen stores. It also comes chock-full of the tissue-repairing nutrients vitamin C, calcium, iron, magnesium and B vitamins.
Ingredients
½ medium beet, chopped
1 cup chopped watermelon
1 banana, peeled
½ cup coconut water
1 cup nonfat, plain kefir
½ lime, peeled
2 tbsp honey
1 tsp vanilla extract
2 tbsp vanilla protein powder
Instructions
Place all ingredients in a blender and blend until smooth.
Serving size: Makes two, 2-cup servings
Watermelon Collagen Creamsicle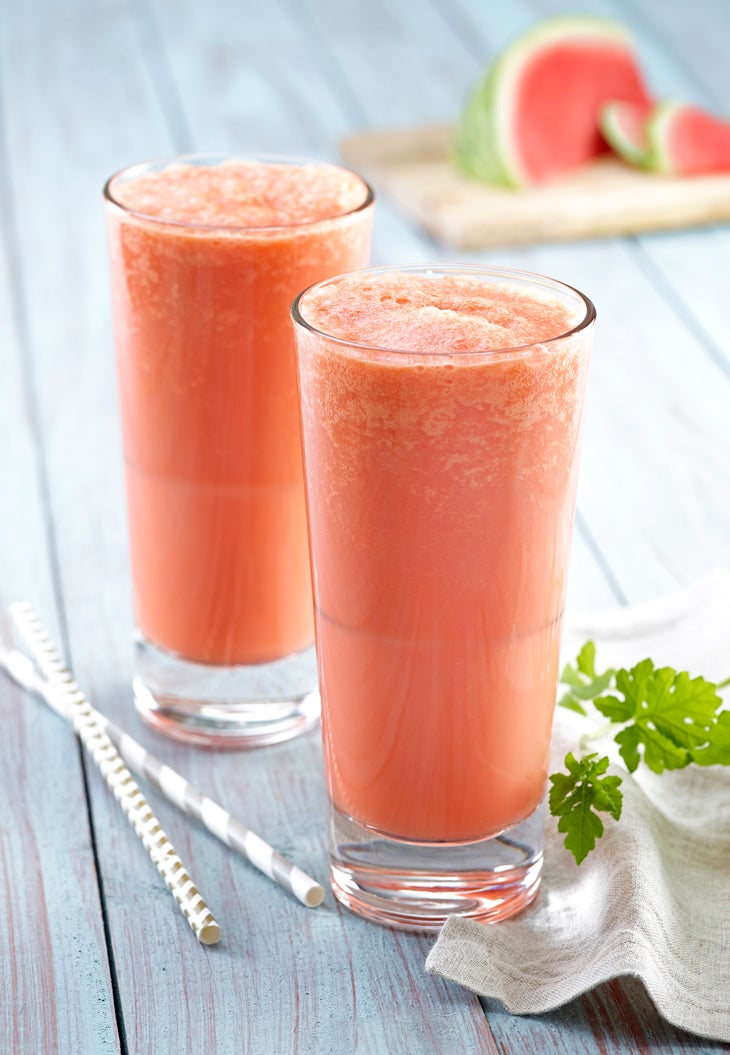 Craving a Creamsicle? Whip up a more nutritious version of a childhood favorite that's perfect for postworkout or your midafternoon slump — it's hydrating and packed with collagen protein.
Ingredients
2 cups cubed watermelon
2 rounded tbsp collagen
2 tbsp heavy cream
Instructions
Place all ingredients in a blender and blend.
Serving size: 1
Shrimp Watermelon Sate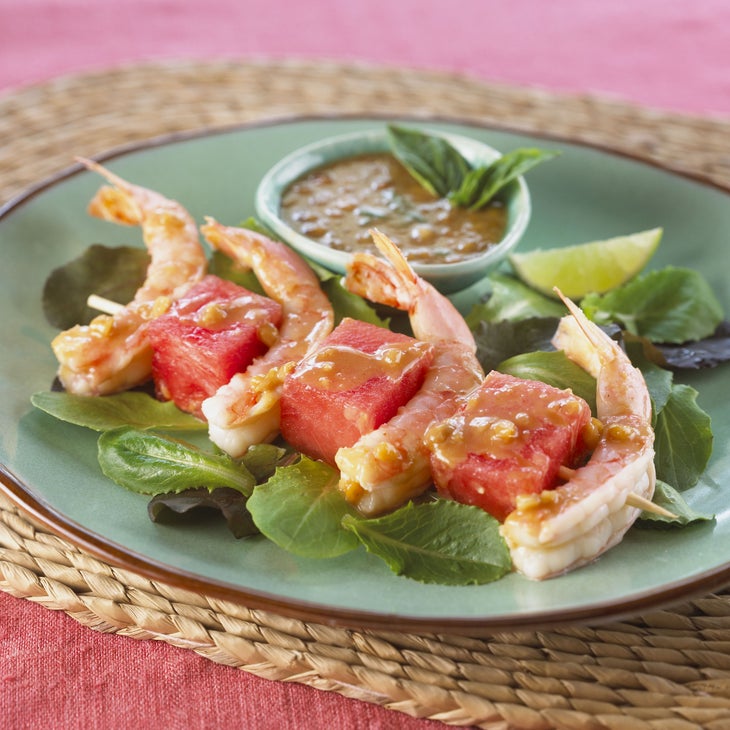 Did you know that shrimp and watermelon are actually a perfect pairing? Plus, the addition of Asian flavors (rice vinegar, ginger and soy sauce) will work in harmony to bring out the best in both ingredients. If you're seeking a little extra protein, this sate has a double dose — making it the perfect appetizer choice.
Ingredients
½ cup seasoned rice vinegar
½ cup chunky peanut butter
1 tsp minced fresh garlic
1 tbsp minced fresh ginger
1 tsp soy sauce, to taste
dash hot pepper sauce, to taste
16 jumbo shrimp, cleaned, poached and chilled
16 (2-inch) cubes seedless watermelon
1 serving fresh basil leaves or baby romaine leaves for garnish
Instructions
Slowly blend seasoned rice vinegar into peanut butter until completely blended. Stir in garlic, ginger and soy sauce until mixed well. Season with hot pepper sauce (to taste). Pour all but 2 tablespoons of dressing over shrimp and toss to coat them well. Chill for 1 hour. To serve, alternate shrimp and watermelon cubes on 4 skewers and baste with remaining dressing. Serve over fresh basil leaves or romaine leaves.
Serving size: 4