Karina's Favorite Seafood Recipes
OC4 Coach Karina Smirnoff shares two of her favorite easy seafood recipes that provide the protein you need to fuel healthy muscle growth without extra calories and fat.
Heading out the door? Read this article on the new Outside+ app available now on iOS devices for members! Download the app.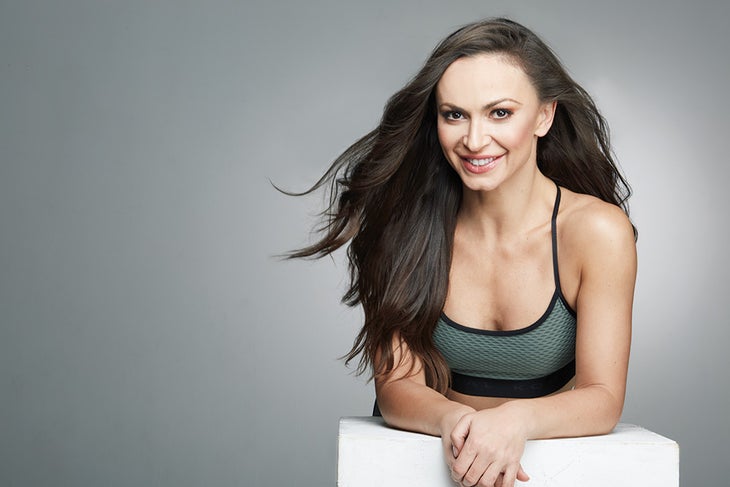 Zucchini Swordfish
Serves 2
Ingredients:
1 large zucchini, sliced into thin, 3-inch strips
½ tsp black pepper
1 box precut white or oyster mushrooms
Handful black olives, chopped
1 tbsp canned jalapenos, minced
2 1-lb swordfish steaks, fresh or frozen
2 tbsp extra-virgin olive oil
1 tsp black truffle oil
1 tsp balsamic glaze
1 bunch thyme, stems removed
Instructions:
Turn on broiler to 550 degrees
In a medium pan, add oil and thyme. Cook for 2 minutes on medium, then add zucchini. Season with pepper. Cook, stirring frequently, for 10 minutes.
Heat a separate pan to medium, add oil and mushrooms and cook for five minutes.
Add olives, jalapenos and balsamic glaze and heat through.
Remove from heat. Cover a baking sheet with aluminum foil. Season swordfish with truffle oil and black pepper on both sides. Place on baking sheet and back in the oven until fish starts to sizzle, about 7 minutes
When the outside turns golden brown, remove from oven. Divide zucchini between two plates then place fish on top. Divide mushroom mix and pour over the top of each fish.
Miso Glazed Salmon with Broccolini
Serves 2
Ingredients:
2 6-ounce salmon filets
¼ cup brown sugar
2 tbsp low-sodium soy sauce
1 tbsp minced fresh ginger
Sprig parsley
1 bag broccolini
½ tsp black pepper
2 tbsp olive oil
1 tbsp mirin
Juice of one lemon, divided
Instructions:
Preheat oven to 375 degrees.
In a small bowl mix sugar, soy sauce, miso, mirin and half the lemon juice. Add salmon to bowl and turn to coat.
Place salmon on baking sheet covered with foil and cover with remaining sauce. Bake until golden brown, about 15 minutes.
Steam broccolini until desired tenderness, then season with pepper. Place salmon on top and top with remaining lemon juice and parsley.
Now in its fourth year, The Oxygen Challenge 4 has helped thousands of participants all over the world transform their bodies and their lives. This summer, we are bringing you two of television's most celebrated experts: Jen Widerstrom of NBC's The Biggest Loser and Karina Smirnoff of ABC's Dancing With the Stars!
So what are you waiting for? Start transforming your life and body now.
Join the challenge today!