Meet The Oxygen Challenge 6 Category Winners
These four OC6 athletes stepped up to the challenge and came out on top.
Heading out the door? Read this article on the new Outside+ app available now on iOS devices for members! Download the app.
In previous Oxygen challenges, we awarded a single grand prize to one deserving contestant, who then landed the cover of Oxygen. However, not everyone is interested in being a cover model, and with every Challenge, there are so many amazing athletes, incredible transformations and inspiring stories that we decided there should be more ways to win. Here are the worthy women who won OC6 Best Masters Athlete (40+), Biggest Transformation, Best Team Player/Motivator and Fittest Mom.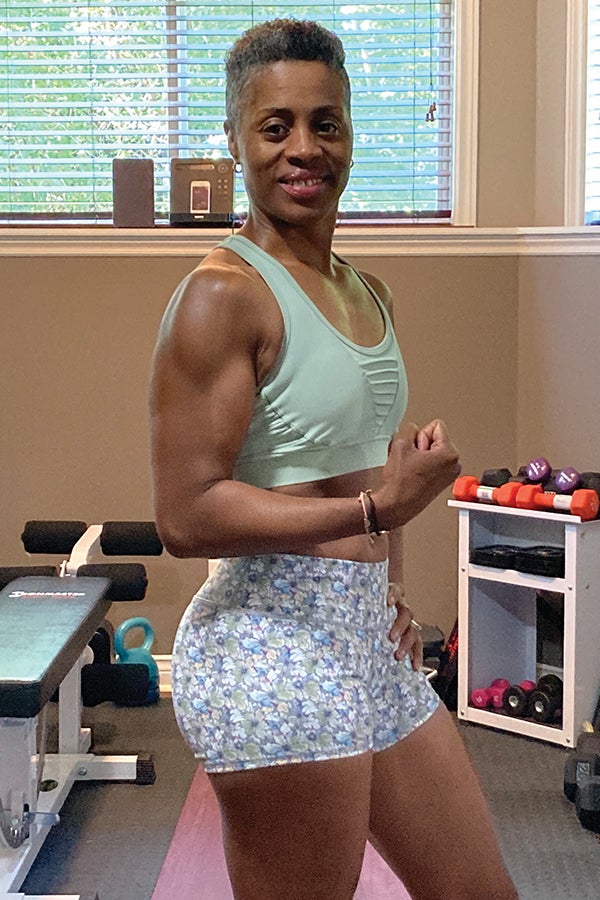 Best Masters Athlete (40+)
Danielle Paris
Age: 48
Location: Dartmouth, Nova Scotia, Canada
Occupation: CPA
Team: Both
Having maintained her weight and muscle mass since completing The Oxygen Challenge 5, Danielle Paris was starting OC6 in a great position. "One of my goals is to continue to improve year over year," she explains, "never starting over but extending my journey."
She purchased both programs and spent the first month following Nikki Snow's program, but when a previous shoulder injury flared up, she switched to Jen Esquer's program for mobility and slow, controlled workouts. "Jen provided great cues for proper execution to avoid injury and aid in repair, which is particularly important after 40," Paris notes. "Her flossing workouts especially made such a difference to my injured shoulder."
During OC6, Paris was finally able to find balance with her nutrition, settling on a macro percentage breakdown of 35/30/35 of protein/carbs/fat. And this time around, she engaged more with the Facebook group. "The women are so supportive of each other and make you feel comfortable," she says. "I posted and commented more this time around and was told by many that I inspired them, which warms my heart and motivates me. We understand the challenges of life, being women of all ages, sizes and backgrounds. And when it's time to hit those kick-ass workouts, there is always someone there to get you going."
Advice for Other 40+ Women
It is never too late to invest in your health. Get to know your body and what it is capable of. If you have limitations, modify the activity to work for you.
Latest Accomplishment
I can hold a plank for one minute.
Where I Find Motivation
I want to be an example for my boys to stay healthy and active.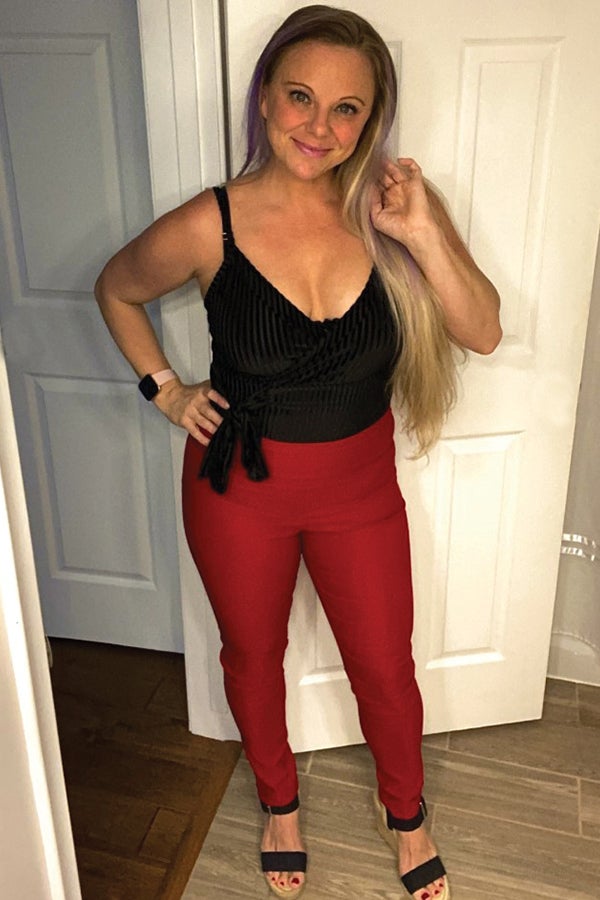 Biggest Transformation
Natasha Colombe
Age: 40
Location: Stoney Creek, Ontario, Canada
Occupation: First-grade teacher
Total Inches lost: 20
Team: Both
OC6 came at a pivotal time for Natasha Colombe — she was two months into quarantine and was living a life of inactivity and overeating. "This was my very first challenge, and I was just hoping to drop some weight," she recalls. "I had no idea what I was getting into!" Colombe signed up for both coaches because she didn't want to miss out on either option.
Colombe tracked her progress by taking photos every three weeks. "I knew these programs were working wonders and that there was no way that I was giving up," she says. "[In the end], I couldn't believe the changes in just 90 days. I went from being soft and squishy to having visible muscles."
The most touching aspect of Colombe's transformation was its positive influence on her 10-year-old daughter. "She watched me transform my body through hard work and dedication and became more interested in what it takes to live a healthy lifestyle," she says. "She started eating healthier and even worked out with me a few times."
Upon completing the program, Colombe immediately signed up for another challenge. "I ended up coming out of this challenge confident, healthy and happy," she concludes. "As an added bonus, I found my tribe of likeminded soul sisters that I now call friends."
Secret Weapon
I cook every day and meal-prep on Sunday for the week.
Mantra
Pain is temporary. Quitting lasts forever.
Next Goal
To be able to do 10 consecutive unassisted pull-ups.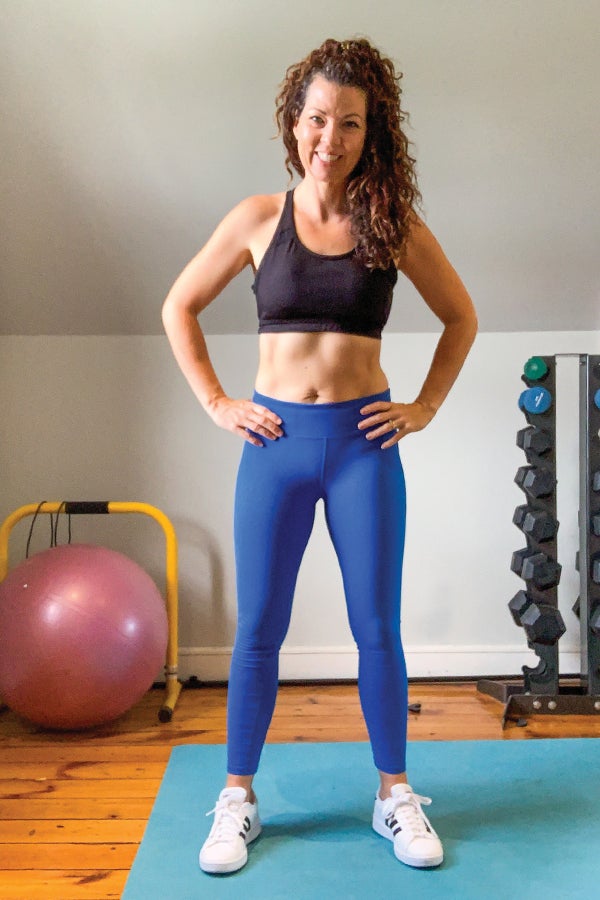 Biggest Team Player/Motivator
Carla Goodfellow
Age: 44
Location: Exeter, Ontario, Canada
Occupation: Landscape designer
Total Inches lost: 15
Team: Both
For Carla Goodfellow, the fifth time was the charm for earning a top spot in a challenge. "I chose #TeamBoth because I have serious FOMO," she explains. "I love learning from different coaches and getting to know the other participants. I was pumped to start this year because I knew it was just what I needed to light that fire again and help me stay committed to my goal."
Goodfellow was hoping to use OC6 for accountability and support to lose the 20 pounds she'd gained over the previous months. She gravitated toward coach Jen Esquer's workouts because they focused on mobility and proper form, but she also loved coach Nikki Snow's "firecracker" style and efficient strength workouts. "It's kind of ironic that I won 'team player' because I did not enjoy team sports growing up," she muses. "I was so insecure and always felt like I was letting someone down if I didn't perform well. But as an adult and especially as a mom, I want to be an example to my kids that being a team player isn't about being the best on the team — it's about showing up, being there and doing your best. When you show up and encourage and support other people, you help them more than you know."
Favorite Joke
I asked a personal trainer, "Do you need to eat chicken to get muscles?"
He said, "No whey!"
Motivational Phrase
Ten years ago, I picked up a copy of Oxygen magazine and read a quote that stuck with me: "We all have things in life we don't want to do. Those who are successful do them anyways."
3-Song Playlist of Must-Have Tunes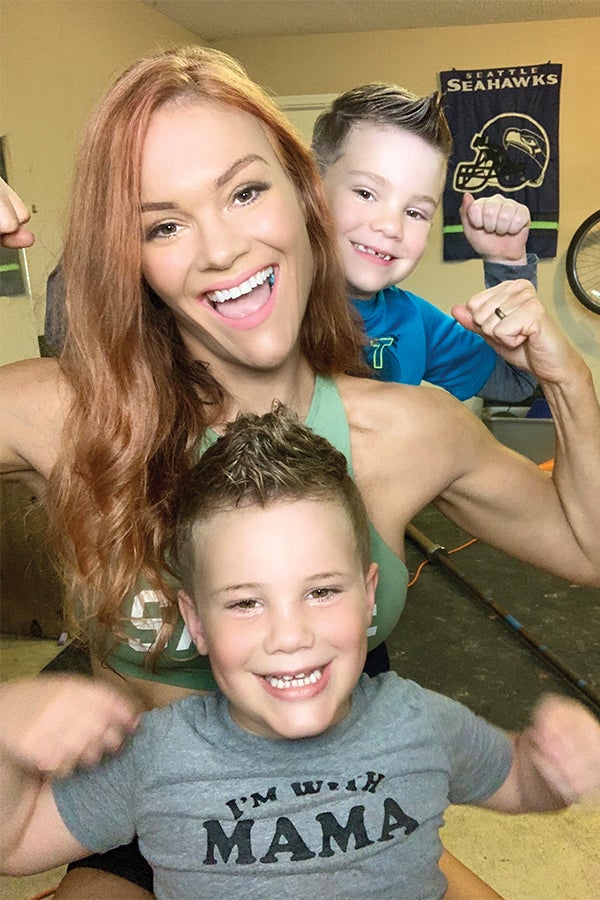 Fittest Mom
Quinn Challinor
Age: 36
Location: Lakeland, Tennessee
Occupation: Naval officer
Team: Nikki
Between working from home and juggling the albatross of "virtual learning" with her 4- and 6-year-old sons, Quinn Challinor was in desperate need of motivation and balance. "The gym, my running and all the obstacle course races I do had been canceled," she says. "And sweatpants, takeout and wine deliveries were becoming all too regular."
She signed up for OC6 and found that coach Nikki Snow was her spirit animal. "I loved the workouts," she raves. "Complexes, compounds, circuits and supersets — it fit with my preferred style of training."
Her favorite part of the workouts, however, were the work-ins. "Nikki puts just as much emphasis on the mental and emotional aspects as the physical," Challinor says. "That helped so many women stand taller and feel more confident in their own skin."
Challinor also loved the supportive aspect of the Facebook group. "It was a game changer for me," she says. "The community and accountability kept me coming back for more. It's an unbelievable group of women who empower each other." Challinor was also motivated to cook more and do family workouts with her husband and kids. "I want my boys to know that health and wellness are an important part of everyday life," she says. "I also talk to them about my goals, so they see me working hard toward that goal. Strong is beautiful and normal to my boys."
Advice for New Moms
Give yourself some grace. Don't compare yourself to an unrealistic standard of beauty, and know that your worth is not tied to your weight.
3-Song Playlist of Must-Have Tunes
Family Workouts
My boys work out with me in the garage. We also go for runs, bike rides and play sports.