Oxygen Challenge 8 Coach Sohee Lee's Journey to Strength
With a laundry list of certifications and the degrees to match, Sohee Lee has come a long way from her start in fitness.
Heading out the door? Read this article on the new Outside+ app available now on iOS devices for members! Download the app.
Oxygen sisters, the time is almost here — The Oxygen Challenge 8 kicks off on May 2, and this year's coaches have some hardcore training plans in store for you.
If you participated in OC7 last year, you already know that you'll have access to both coaches' programs with your Outside+ membership. This year, OC8 will launch on our all-new Outside Learn platform, an online education hub available exclusively to Outside+ members.
This year's coaches, Sohee Lee and Carmel Rodriguez, each have a unique style. But one thing's for sure: No matter whose plan you follow, you're in for some great workouts and can expect to build serious strength in the three months they'll be coaching you.
Learn more about the programs and the OC8 digital cover contest here.
Here, meet coach Sohee Lee, whose program centers on strength gains thanks to steady progressive overload and tried-and-true movements with a focus on form.
Sohee Lee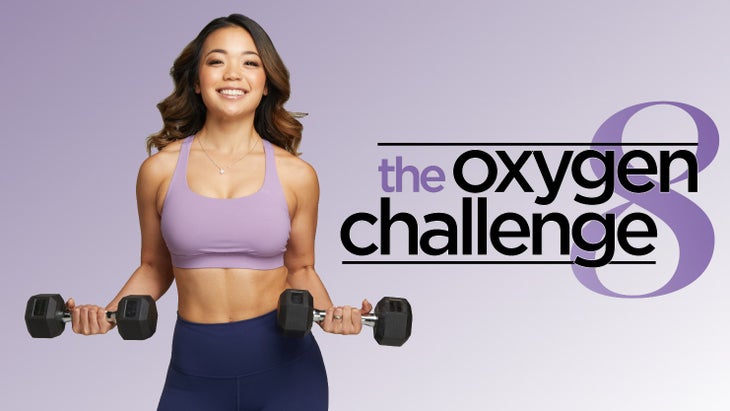 Stronger, Not Smaller
Early on in life, Lee had a positive relationship with food and exercise, always playing sports and enjoying an active lifestyle. It wasn't until she was about 14 that she even started to notice, let alone care, what she looked like. But once she started, she stumbled down a difficult path. 
Lee was living in South Korea at the time, in a culture with harsh beauty standards, particularly for young girls who were encouraged to be thin. So, even as a cross-country runner, she started to feel too big. "As a young teen, you're very impressionable, and you care so much about what other people think about you," she says. 
Skipping meals became a regular thing for Lee, and it soon spiraled out of control. She struggled with anorexia for a year and battled bulimia into her college days despite returning to a healthy weight.
"I didn't know anything about nutrition, and didn't really know anything about exercise besides doing more cardio. That's all I knew," she says.    
Not Quite Out of the Woods 
Lee's mindset began to change when she spotted a fitness model on the cover of an Oxygen magazine at the grocery store one day. 
"I forget who it was, but I thought, 'Wait, she's got muscle — what is that?' And this was in 2008, where it just wasn't common to have women looking like that." Of course, within those pages she found that lifting weights is the way to a strong, athletic physique. 
She started on a better track, at least from a workout perspective. Lee also dove headfirst into the science of macronutrients and how to fuel her muscles. But she didn't become the bona fide expert she is today overnight.
"I started lifting weights for the first time ever," Lee says. "And even though I was doing routines that were not really good — like bicep curls for an hour and stuff like that — I was still doing something right." We all start somewhere, after all.
Even as she made progress, Lee still struggled with disordered eating throughout her undergraduate years in college, and her obsession with exercise became unhealthy. "I was probably orthorexic," she says in hindsight.  
Finally, she shifted her focus and realized that the rigid behaviors to which she'd grown accustomed weren't bringing her closer to her goals and, more importantly, weren't doing her mental health any good. 
That's when she made the most important change she'd made to date. 
Building Habits, Not Restricting Behaviors
After years of nutritional pitfalls and disordered eating habits, Lee began to consider the psychology of behavioral change and forming habits in her first few years out of Stanford University, where she earned a bachelor's degree in human biology with a concentration in psychosocial and biological determinants of health. 
"I always thought, 'You just need more self control,' because that's what I've always been told — that if you fall off the wagon on your 'diet,' it's because you don't have enough willpower," she says. "But I told myself that for about four years straight, and it wasn't helping." 
She opted to kick the rigidity of the typical diet plans trainers would prescribe at the time. Relaxing her routine actually led her to drop about 10 pounds healthily over the course of a few months without really trying — and without the harmful habits she'd relied on for so long. In the time since, she's competed in bikini competitions and in powerlifting while taking a more flexible approach to nutrition. 
Lee went back to school at Arizona State to earn a master's in psychology, writing her thesis on the psychology of eating behavior. Now, she's on her way to a doctorate in strength training in women. 
Now, armed with all the knowledge and certifications you could ever want, Lee's philosophy with her many online coaching clients and social media followers is all about scientifically proven methods and balance. In her OC8 program, her no-nonsense approach to getting strong as hell is guaranteed to yield results. And no matter what a client's goal is, mental well-being is a crucial piece of it. 
"I've really tried to take a step back from obsessing over things like the best diet or the best workout and consider how [fitness] should fit into the context of everyone's life. Instead, what's the best way to approach fitness that actually makes your life better?" she says. "If I helped you get abs but your mental health now sucks, I haven't really helped you. I've actually done you a huge disservice."
As her audience on social media continues to grow, Lee feels a responsibility to speak out on topics like weight stigma (discriminating against someone based on their size), the harm of demonizing food groups and even sexual predators in the fitness industry. 
She knows that her willingness to speak out on industry issues is bound to ruffle feathers, but the louder her message is, the more likely it is to reach young girls who may need to hear it.
"I don't want to not speak up about it just because I'm afraid of someone saying something negative, because that, to me, is just letting them win," she says. "And you're never going to make change unless you're pushing for it."