Teresa Magula: The Oxygen Challenge 6 Cover Winner
Teresa Magula is a glass-half-full kind of gal, but she wasn't always this way. Here, she shares her journey and how she finally landed in a place of peace and fulfillment.
Heading out the door? Read this article on the new Outside+ app available now on iOS devices for members! Download the app.
Longtime Oxygen reader Teresa Magula embodies everything a cover winner could possibly represent. She is fit, active and empowered. She is supportive, forward-thinking and funny. She's a role model for her kids, her peers and her family — and, of course, she's in kick-ass shape.
However, she was not always this way. Magula spent years seesawing between being overweight and over-obsessed, and growing up she was not at all athletic. Sure, she remembers watching her mother do Jazzercise classes at the YMCA, but Magula herself was the last to finish the mile in PE and got cut in the first round of tryouts for her junior high basketball team. What's more, her weight yo-yoed throughout the years, and while in college at the University of California, Los Angeles, Magula hit her all-time high of 190 pounds. "Freshman year was the perfect storm for weight gain," she says. "I worked at a campus coffee shop that served Baskin-Robbins (free ice cream is dangerous), dorm food was surprisingly delicious and outings involved late-night greasy foods."
Sprinting From Sorrow
In 2007, Magula discovered a dynamic duo: Oxygen magazine and Spinning. "I became a Spin instructor, lost weight and began doing lifting workouts from Oxygen," she says. "I still have the workouts I pulled out in 2009!"
But her encounter with lifting was short-lived. "In 2010, I quit my career to be a stay-at-home mom to my daughter and then added my son — making a total of two kids under 2 years old!" Magula says. "My marriage was in trouble, and we moved to the suburbs. I felt lonely and isolated and started running seriously to prove that 'I was enough.'"
Magula began training with a coach for the Los Angeles Marathon, and at first, she had no expectations. "But as I trained and got faster, we realized that I might be able to achieve a Boston Marathon qualifying time," she says. "I put everything into hitting that goal time and let it define my worth. But when I crossed the finish line at the LA Marathon, I missed the qualifying cutoff time by just two minutes. I was devastated."
In the wake of disappointment, Magula threw herself even more into training, hoping it would fill the emptiness inside as she literally ran away from her life. "While running, everything else disappeared — no sadness, fear or pain — it was like a drug," she says. "I also avoided social situations with food or which conflicted with my training. I would secretly binge-eat because I was not appropriately fueling for my caloric expenditure, then 'punish' myself with more miles."
By 2015, Magula weighed 118 pounds and was severely anemic. She had literally worn herself away physically and emotionally.
Stopping the Cycle
Fortunately, Magula was self-aware enough to realize she was in a tailspin and did everything in her power to straighten out her wheels. "Running away from my life did not increase my happiness or sense of fulfillment," she says. "I discovered that I am truly perfect exactly as I am and exactly as I am not, no matter how many races I win or how many miles I log. After a divorce and an intense focus on personal transformation, I returned to weightlifting and committed to rebuilding my body and mind. I reconnected with running for the joy of it and learned about proper fueling, training cycles and recovery."
Magula cut back on her long hours of trail running and started doing shorter road runs and weightlifting sessions. Finally, in April 2019, she ran the Boston Marathon. "Running that race gave me a joyful sense of completion," she says. "I then committed to weightlifting, joined OC5 [in 2019] with coach Amber [Dodzweit Riposta] and haven't looked back since!"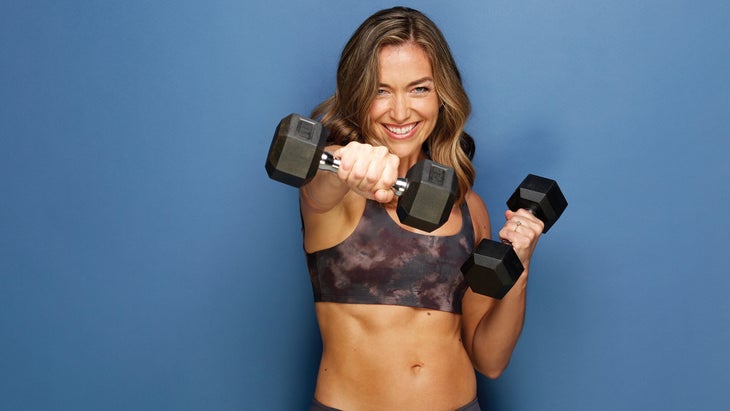 Challenge Accepted
Magula was so enamored with her OC5 experience that she signed up again for OC6, choosing Nikki Snow as her coach. "I liked that her workouts blended HIIT bodyweight work with compound lifting supersets," she says. "The workouts were intense and did not require heavy weights or special equipment, which was perfect during the pandemic. I was able to do every workout in my garage gym using bands, one kettlebell and dumbbells."
Magula also connected with Snow's message. "Being fully present to life, to 'be here right now,' coach Nikki personified that for me," she says. "She encouraged us to take each workout as it came and live it fully. A big part of these challenges for me is integrity — doing what I said I would do. Transformation comes from leaning into what is uncomfortable, even if it is not convenient or easy."
Face Time
Like many OC die-hards, Magula fell in love with the Challenge Facebook group. "This forum is women building each other up, supporting our lows and cheering our highs," she says. "It is unlike any other group, and there is nothing but love, authentic support and heartwarming vulnerability. It's like summer camp for adult women!"
Along with a number of other OC OGs — including 2019 cover winner Janet Spoto Selz and 2020 Best Masters Athlete (40+) winner Danielle Paris — they formed the Watermelon Tribe. "We created this smaller group to stay connected in each other's lives once the [OC6] page stopped being as active," Magula says. "Our common thread was that we all had an authentic and positive point of view regarding sisterhood and raising up other women. We all 'get' each other. We grieve and recover together. We celebrate milestones. It is the most supportive group of women that I have ever known. I feel at home with them."
Her FB family also supported Magula when she signed up for the cover competition. "I chose to create the possibility of being completely committed, focused and in action during the pandemic, when everything else in life was turned upside down," Magula says. "It gave me structure when all other routines, like taking kids to school and going to work, disappeared overnight."
And even though she did believe it was possible, Magula was speechless when she received the news of her victory. "I was sitting at my kitchen table with my daughter doing a geography lesson and my inbox refreshed when I logged in to look at her assignment," she says. "And there was an email from Oxygen with the subject line, Congratulations! My jaw literally dropped and my eyes filled with tears. My kids tackled me in a huge hug and we jumped around together. They were so happy because they witnessed my hard work and dedication all summer."
Fast-forward three weeks from that day and Magula was strutting her stuff in front of our cameras, exuding a confidence that can only come with self-love and inner peace. "I am a practitioner of human performance optimization and I see everyone for their possibility of greatness, beyond what they often see for themselves," Magula says. "I share my fitness journey openly and often because I stand for others to discover their fitness potential. Many Oxy sisters commented that I inspired them with my daily posts — being an inspiration brings me so much joy."
5 Fun Facts About Teresa Magula
My career is in law enforcement oversight, investigating uses of force and evaluating agencies' performance against policy and laws (also known as a special investigator). I am committed to creating a relationship of transparency and trust between our amazing law-enforcement personnel and the communities that they serve.
I take some time for myself almost every evening to practice yoga.
I am in the best partnership with a man who chooses me exactly as I am. This is a rare and beautiful love!
I love all genres of music, including electronic dance music and classic rock. The Beatles are my favorite

.

I am a trained pastry chef, and my love for baking clean versions of traditional treats delights (and sometimes frustrates) my family

and friends!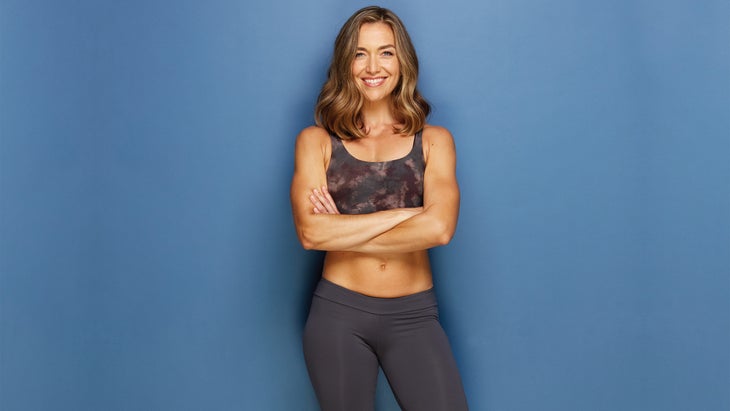 Cover Girl Question & Answer
Q: What are your vice foods?
A: Tortilla chips and ice cream — sometimes even together! Thank goodness for dairy-free options so I can indulge without triggering my lactose intolerance.
Q: What show did you binge-watch last?
A: Cobra Kai. As cheesy as it is, there was something comforting about the nostalgia of the 1980s flashbacks!
Q: What is the most embarrassing thing you have in your purse right now?
A: Actually, the most embarrassing thing is that I don't have a real purse! I am a "random bag" lady and stick things into my pockets and sports bra.
Q: What is your mantra?
A: One of my quotes to live by is from transformation leader Werner Erhard because it allows us to be authentically perfect:
"Let's take a look at the nature of now. What I've noticed … is that everyone who truly experiences right here, right now, actually sees that it's all perfect exactly the way it is. When I am being myself, nothing more and nothing less, when I am doing exactly what I am doing … when I am being right here instead of where I am going, when I am observing it all just as it is without adding any judgments or evaluations or comparing it, then I observe that it is perfect."
Q: What is your best clean joke?
A: Why wouldn't the shrimp share his toys? He was a little shellfish!
True or False:
I have a black thumb and kill all my plants. True!
I love burpees. True — really!
I am a great cook. True. I love to feed people.
I can outrun most of my family members. True, except maybe for my very speedy 8-year-old son!
Teresa Magula's Stats
Birth date: May 7, 1980
Hometown: La Crescenta, California
Height: 5'8"
Total Inches Lost: 7.5
Kids: Aurora (10), Joaquin (8)
Partner: David Kruglov
Social Media: @tmagula