Why Intuitive Eating Works for Me
After battling bad nutritional habits in college, Tara Laferrara has rediscovered a healthy relationship with her food.
Heading out the door? Read this article on the new Outside+ app available now on iOS devices for members! Download the app.
My relationship with food changed when I went off to college. It was like all my healthy high-school habits went right out the window. I binge-ate, binge-drank a lot and gained some weight.
Eventually, my track coach said, "Hey, you came in at this weight … why do you now weigh this? You need to figure out how to lose it." I had no idea how to "lose weight," so I did my best to figure it out.
Headed Down the Wrong Path
I began talking to nutritionists. I tried Nutrisystem. I got super restrictive and ate six meals a day of chicken and broccoli. Of course, none of that ever worked. And because there was always some sort of strictness behind what I could or couldn't eat, there was always a "good" food and a "bad" food. There was always a "cheat day" and a "non-cheat day." It was terrible.
And I never ever want anyone to feel the way I felt in those very formative years of my life. Ages 18 to 22 are crucial. I had no idea who I was, and all this was just thrown at me. I think I'm where I'm at today because I don't feel like women — especially in that age range — should have to go through what I did. I want to help guide them so they never have a similar experience. 
Yet I feel like so many of us have at some point in our lives had an experience similar to mine. So there comes a point at which you say, "You know what? I just can't do this anymore!" and you figure out your why. Nothing will change until you do it for yourself, not for anyone else — not for your coach or even for a loved one.
Over time, I learned that what really works for me is to not eliminate certain foods but rather eat them in moderation. I eat them when I want them, and I eat them in a way that is a sustainable approach to nutrition. 
A Creature of Habit
It has taken me several years to get to this point, but I'm just so simple now with what I eat. For the most part, I eat the same kinds of things every day — because eating this way fuels me and makes me feel good. I like knowing how I'm going to feel within my workout or within my day. 
It's my version of "intuitive eating." So I don't put a label behind certain foods. I've noticed that when I restrict myself from things, it's only going to make me want them more. I mean, whenever the nutritionist was like, "Don't eat dessert," I was like, "I'm definitely gonna binge-eat chocolate bars at 10 p.m." 
Other intuitive-eating habits I like are putting my fork down in between bites and avoiding my phone or computer while eating. Instead, I sit down and focus on chewing, drinking water in between bites, and actually being mindful of what is happening in the present moment. 
I feel so grateful to be where I'm at today, and I owe it all to an intuitive-eating mindset.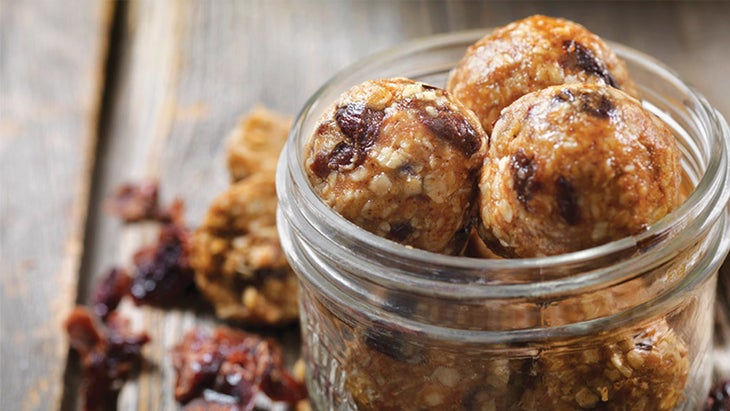 Snack: Protein Date Balls
Prep Time: 10 minutes
Cook Time: 30 minutes
Makes: 10-12 Servings
Ingredients:
1½ cups rolled oats

1 tsp cinnamon

2 scoops protein powder 

2 tbsp coconut flakes

½ cup chopped walnuts, optional

4-6 soft pitted dates, soaked for a couple of hours or overnight

2 tbsp chocolate chips (or cacao nibs)

½ cup nut butter 

1 tbsp sea salt

1 tsp vanilla extract

2 tbsp honey or agave

4-5 tbsp almond milk (Add a little more if mixture is too dry.) 
Instructions:
In a standing mixer, mix oats, cinnamon, protein powder, coconut flakes and walnuts (if using) on low until well-combined.

Add dates, chocolate chips, nut butter, sea salt, vanilla extract, honey and almond milk and continue stirring until a thick dough is formed. 

Scoop out a heaping tablespoon of dough, using your hands to form a small ball. Continue to make your "balls" until all the dough is used up. 

Arrange balls on a parchment-lined baking sheet.

Place baking sheet in the fridge or freezer to set for at least 30 minutes before serving. Store balls in a sealed container in fridge up to a week.
Breakfast: Homemade Granola Yogurt Topper
Prep Time: 5 minutes
Cook Time: 10 minutes
Makes: 8 Servings
Ingredients:
2 cups raw, whole rolled oats

½ cup raw pecans, chopped

¼ cup sunflower seeds 

½ cup unsweetened dried cranberries

¼ cup cashews, chopped

2 tbsp coconut flakes

2-3 tbsp maple syrup or raw honey

2 tbsp coconut oil, melted 

2 tbsp brown sugar 

½ tsp vanilla extract

1 large pinch fine sea salt

1 cup Greek yogurt

2 tbsp of your favorite fruit, chopped
Instructions:
Preheat your oven to 300 F.

Combine all ingredients (except Greek yogurt and fruit) in a mixing bowl, using your hands to mix and coat every ingredient.  

Spread mixture in a thin layer on a parchment-lined baking sheet and bake 10 minutes, or until very lightly toasted.

Cool before serving or storing, between 10 to 15 minutes. Keep in an airtight container in a cool, dry place up to 4 weeks.

To serve, sprinkle granola over your favorite Greek yogurt. Top with fruit.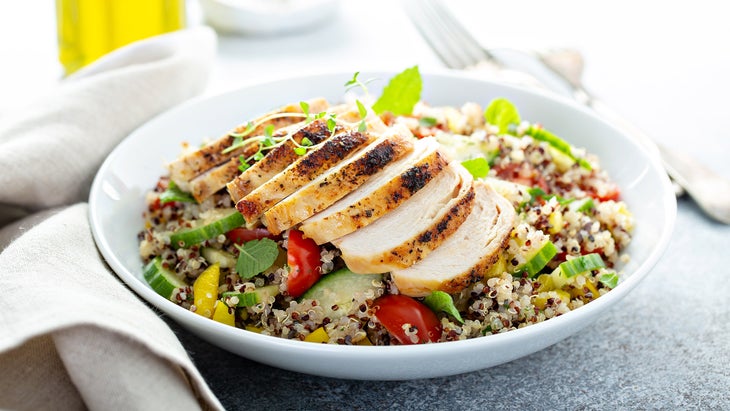 Lunch: Lemon Tahini Buddha Bowl
Prep Time: 5 minutes
Cook Time: 20 minutes
Makes: 1 Serving
Ingredients: 
⅓

cup uncooked quinoa

¾ cup tofu (or chicken)

1 tsp Bull Shit seasoning

1 tbsp avocado oil

⅓

cup arugula or spinach

¼ cup cherry tomatoes

2 tbsp banana peppers

1 tbsp feta crumbles

2 tbsp of sunflower seeds

2 tbsp lemon tahini dressing, for serving
Instructions:
Cook quinoa according to package instructions (I like to prep this for the whole week and ration out portions for meals throughout the week.) 

While quinoa is cooking, press tofu firmly with your hands, extracting all excess water. Cut into 1- or 2-inch cubes. Season with Bull Shit seasoning. (It's on Amazon.) This is a great time to prep chicken, if choosing that protein.  

Place a skillet over medium-high heat. Drizzle with avocado oil. Place tofu cubes in skillet and pan-fry until crispy, roughly 10 minutes each side. You can substitute and cook chicken the same way here.

Place

⅓

cup quinoa in bottom of a large bowl. Place tofu (or chicken) over quinoa, then add arugula, cherry tomatoes and banana peppers. 

Top with feta and sunflower seeds and serve with lemon tahini dressing.



Dinner: Mushroom Lettuce Wrap 
Prep Time: 10 minutes
Cook Time: 25 minutes
Makes: 4-6 Servings
Ingredients: 
1 (14-oz) package tofu, drained and diced

1 tbsp olive oil

3 cloves garlic

1 tsp ginger 

1 cup portobello or shiitake mushrooms, chopped

½ medium white onion, chopped

½ cup canned baby corn 

¼ cup canned bamboo shoots 

2 celery stocks, chopped

1 medium red pepper, chopped

2 tbsp low-sodium soy sauce

1 tsp sesame oil

1 tbsp hoisin 

1 tbsp chili garlic sauce (Omit or reduce if you don't like spice.)

butter lettuce, whole leaves separated

1 green onion, for garnish

cilantro, chopped, for garnish

Sriracha, optional, for garnish 
Instructions:
Drain tofu and chop into cubes. 

Heat a large skillet over medium-high heat and add olive oil. Pan-fry tofu 5 minutes, or until crispy. Add garlic and ginger. Cook until garlic is tender, 3 to 5 minutes.

Add chopped mushrooms, white onions, corn, bamboo shoots, celery and red peppers. Sautee for about 10 minutes. 

Add soy sauce and sesame oil to pan and stir 3 to 5 minutes.

Add hoisin and chili garlic sauce (if using) to pan for some spice. Stir 2 more minutes, then remove skillet from heat. 

To assemble wraps, open individual lettuce leaves, spooning roughly ½ cup mushroom mixture into each leaf. 

Garnish with chopped green onions, cilantro and Sriracha (if using). 
Now in its seventh year, The Oxygen Challenge has helped more than 30,000 women around the world transform their bodies and their lives. This summer, we are bringing you two fitness experts focused on building stronger, healthier and more capable bodies: former Division 1 track athlete, certified trainer, yoga instructor and gym owner Tara Laferrara and movement and mobility specialist Venus Lau.
So what are you waiting for? Now is the perfect time to invite these elite coaches right into your own home! Start transforming your life and body with their 90-day training and nutrition programs designed exclusively for Oxygen — they're guaranteed to awaken your inner athlete, buoy your spirit and empower your life. Join the Challenge today.