Protein's Role in Muscle Recovery
OC4 coach Jen Widerstrom explains how protein aids in postworkout recovery so that you can build muscle faster.
Heading out the door? Read this article on the new Outside+ app available now on iOS devices for members! Download the app.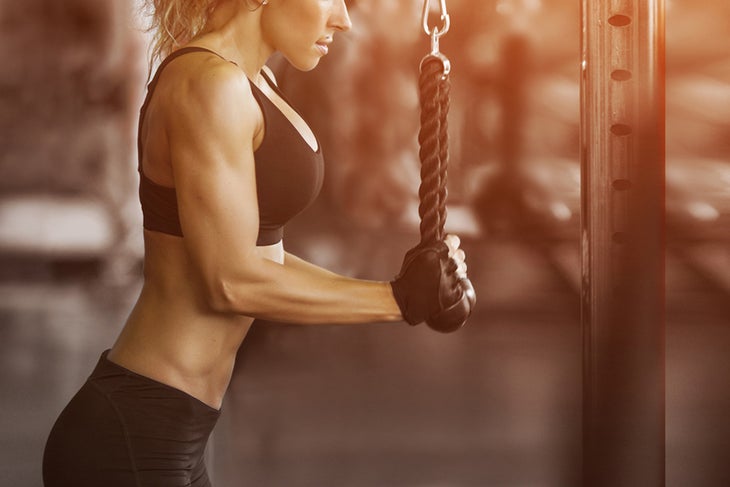 Why are protein shakes so ubiquitous after a workout? Because protein is the most important macronutrient for muscle recovery.
Proteins, specifically the amino acids within them, not only protect and sustain the muscle that you have but also help heal and rebuild that muscle to grow stronger and harder. Without protein, the muscles will begin to atrophy and are unable to perform.
Even worse — if you fall short on protein, your body will actually begin to break down the proteins in your muscles for energy. Nobody wants to erase all their hard work, so it's essential to consume enough quality protein daily.
See also "Macros for Dummies."
Other Key Nutrients for Muscle Growth
There are specific micronutrients that your body is not capable of producing on its own. Therefore, they must be sourced from outside of you and consumed. It's your job to get them in! The most important micronutrients are iron, zinc, calcium, and vitamins C and D. Low levels of vitamin D have been linked to slower recovery in athletes.
See also "6 Nutrients You Could Be Lacking."
How Often Should You Eat Protein?
Every. Single. Meal. Shorting your protein or even cycling it out will create a scarcity within your system, which is something you want to avoid. Your quality of life is dependent on your body's ability to recover and keep up with the pace of your workouts. Therefore, keep your protein consistent and sourced from not only meat and eggs but also plant-based sources such as nuts, beans and whole grains.
Always try to eat a snack that contains a mix of protein and carbs within 45 minutes to an hour after your workout.
Smoky Chicken Tacos
This recipe from Laura's Lean, featuring a balance of macros, can help you recover faster and stronger from tough workouts.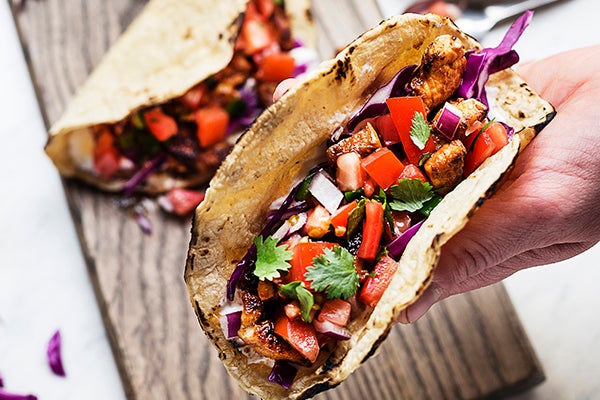 Serves 4
Ingredients:
4 Laura's Lean chicken breasts (5 oz per chicken breast)
1 tsp chipotle powder
2 tbsp paprika
2 tsp onion powder
1 tsp garlic powder
1 tsp cumin
2 tsp olive oil
8 corn tortillas (5-inch tortillas)
4 tsp nonfat sour cream
1 cup shredded purple cabbage
4 Roma tomatoes, diced
¼ red onion, diced
2 tbsp cilantro leaves, chopped
2 tsp fresh lime juice
½ jalapeño, seeded and diced
salt and pepper, to taste
Instructions:
In a medium bowl, combine chicken, chipotle powder, paprika, onion powder, garlic powder, cumin, salt and pepper. Stir until well-combined. In another medium bowl, combine tomatoes, red onions, cilantro leaves, fresh lime juice and jalapeños for the salsa.
Place a large skillet over medium heat. Add olive oil followed by seasoned chicken and cook, stirring frequently, until chicken is no longer pink in the middle, about 8 minutes. Transfer to a plate and set aside.
Evenly distribute cabbage and sour cream among the warmed tortillas, then top with cooked chicken and salsa. Serve immediately.
Curious about how protein actually impacts your physique and fitness performance? Check out Oxygen Challenge 4 coach Jen Widerstrom's Truth About Protein blog series.