10 Reasons Why Every Woman Should Try a Barre Class
Barre isn't just for ballerinas. Here's why you should get out of the gym and into the studio.
Heading out the door? Read this article on the new Outside+ app available now on iOS devices for members! Download the app.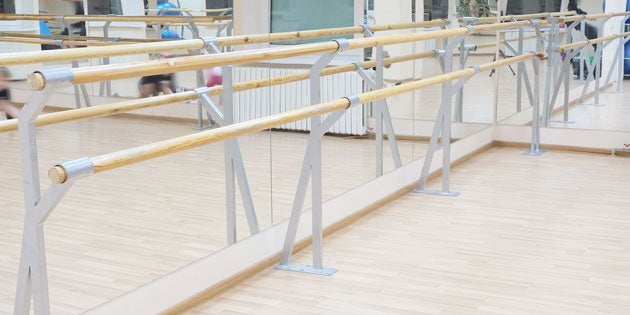 First, let me answer a few questions and put some of your concerns to rest. No, not everyone who takes a barre class has a dance background. No, you needn't be super flexible or particularly graceful. Yes, a barre workout can be modified for pregnancy, injuries and varying levels of ability. And, no, you don't need to look like Misty Copeland to fit in.
Each barre studio differs a little in its method and approach (I attended a class at The Bar Method in Brooklyn, New York), but most offer hourlong classes that are ballet-inspired and incorporate small, focused movements that feel similar to Pilates exercises. Barre devotees report everything from weight loss to increased muscle definition and strength.
Wondering whether you should choreograph a barre workout or two into your weekly workout regimen? Check out these 10 reasons why you may want to give this fitness trend a shot.
1. Personal Attention Within a Group Setting
Whether it's your first class or you're a barre regular, the instructor will learn your name — and use it. Personalized corrections, guidance and encouragement are a big part of the class, so don't expect to hide in the back row. If you like the energy of a group setting but feel you could benefit from some personalized coaching, barre is a good compromise.
2. It's Backed by Science
The Bar Method in particular touts its foundation in human anatomy and physiology. Its technique, which strategically alternates in targeting areas of the front and back of the body, was developed with the input and recommendations of physical therapists and medical consultants. All instructors undergo a rigorous training and certification process before they teach a class.
3. Improved Posture
You've never seen a ballerina with rounded shoulders, right? Barre workouts engage the core and encourage that "shoulders back, chin up" dancer-like posture. If you're like most of the 21st century human population, you spend far too much time slumped over your phone and could benefit from a workout that counteracts slouching.
4. It's 60 Minutes of Mindfulness
Speaking of your phone … you're going to need to leave that outside the room, along with everything else that's on your mind. Barre isn't a workout that lends itself to mental multitasking. Because there's such a focus on form and alignment, barre workouts require a ton of focus and concentration, which is great for increased mindfulness.
5. Strength Training Without the Weights
If you know you could benefit from more strength training but don't feel like getting yourself to the weight room, barre may be a good option. Most of the movements use your bodyweight; expect your fair share of push-ups, plank holds, crunches and plié-like squats. You may be asked to use a small pair of hand weights for movements that target the arms and shoulders, but the most you'll lift is 3 pounds.
See Also10 Reasons Every Woman Should Try CrossFit
6. Cross-Training Benefits
A standard barre workout incorporates deep stretches for the back, hamstrings and calves, which makes it a smart complement to endurance sports like running, cycling and swimming. Plus, barre's targeted movements work to strengthen the smaller muscles around the joints — knees, specifically — which can aid injury prevention.
7. It's Lunch-Break-Friendly
Barre is a challenging, full-body workout, but it won't leave you a sweaty mess. While a post-class shower is nonnegotiable when it comes to cycling or CrossFit, you can usually get away with a change of clothes and a spritz of dry shampoo after barre. This makes it a time-efficient workout you can do on your lunch break or before heading to work.
8. It's Safe
Barre is a low-impact workout, and it's done in a small class setting under the watchful eye of trained instructors. Compared to high-impact workouts and sports that tax the joints and can lead to strains and sprains, barre has a low incidence of injury. Many enthusiasts make the switch to barre after being sidelined with a sports-related injury.
9. All Abilities Are Welcome
A beginner and a barre enthusiast can attend the same class and each get a workout that's challenging and tailored to their abilities. Instructors can provide beginners with modifications they can use until they become more familiar with each move, and veterans can continue to up the ante with "challenge options" or slight adjustments that increase an exercise's level of difficulty.
10. Community
It can be tough to make friends at a globo gym; most members come armed with earbuds and a head-down determination to get in and out as quickly as possible. And there's the fact that everyone's doing something different. Barre studios tend to foster more of a community. Personal attention from the instructors helps, and students have the opportunity to bond over a shared workout, as well as its challenges and results.