How To Climb A Rope
The rope climb is a feat of strength and an awesome full-body workout. Learn how to get up and down a rope gracefully … and without rope burns.
Heading out the door? Read this article on the new Outside+ app available now on iOS devices for members! Download the app.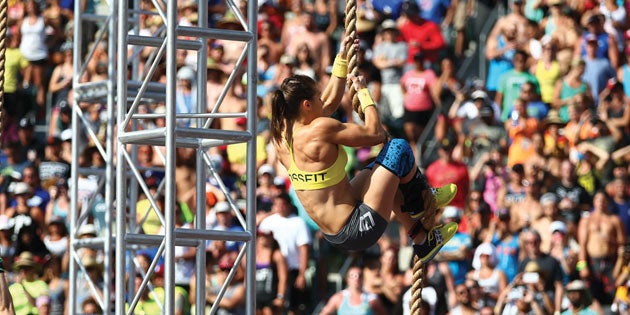 Whether you're a CrossFitter, a Spartan racer or just someone who wants to rectify a bad childhood gym-class experience, learning to climb a rope can improve total-body strength and kinesthetic awareness and make you look like a badass all at the same time. Learn the ropes of climbing with these tips and ascend to new heights with your training.
1. Do it right: Use chalk on your hands to improve your grip, and avoid slick-bottom shoes because your feet will be gripping the rope below.
2. Practice a few rope pull-ups: Reach high onto the rope with both hands and take a firm grip. Pull yourself upward a few times without using your legs as if doing a pull-up, driving your elbows down and back and squeezing your shoulder blades together.
3. Now add a knee tuck: Do a rope pull-up, lift your knees in front of you and hold. Do two sets of three.
4. Your feet are the brake in a rope climb and help save your upper body from exhaustion. A J-lock is an easy braking method to learn: Grip the rope overhead and hang, letting the rope fall between your legs and across the shin of the dominant leg. With your dominant foot, step down on top of the rope while bringing your other foot underneath, locking the rope in place between. This clamp should be secure enough that you can stand up and support your weight.
5. To ascend, reach high with both hands and grip the rope, then tuck your knees and do the J-lock. Once you're secure, simply extend your legs to stand up, keeping your body in close to the rope, and reach up with your hands for the next pull.
6. The higher you tuck your knees, the more rope you'll cover with each pull and the faster you'll ascend.
7. To descend, either inch your way back down the way you came or loosen your J-lock a bit and slowly go hand-under-hand to the bottom once more.
8. As you improve, try jumping up onto the rope to gain height on your initial pull and minimize the number of reaches you have to do. You also can try doing the climb without your legs if you've reached GI Jane status!