It's Time to Spring-Clean Your Gym Bag
Remove the germs and replace grimy gear with our top picks for the season.
Heading out the door? Read this article on the new Outside+ app available now on iOS devices for members! Download the app.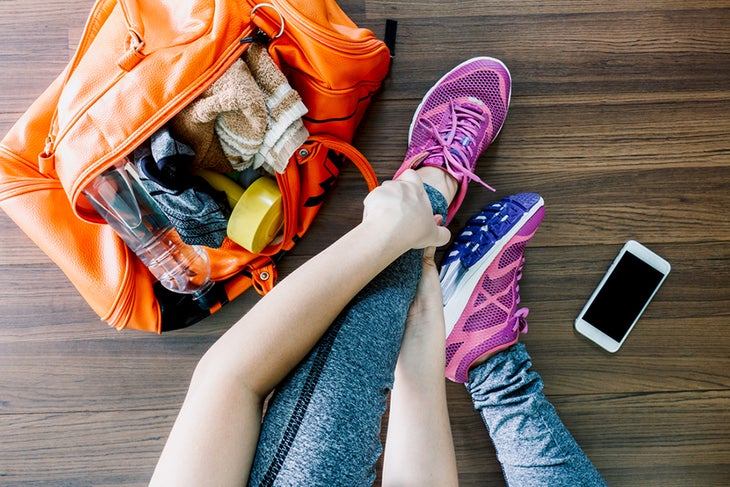 When I say "spring," you say "clean." Spring. Clean! Spring. Clean! Yes, it's that season again. It's time for spring cleaning. While it would be nice to have a cheerleading squad to help encourage you through the process, most of us just have to roll up our sleeves, break out the proper supplies, and dig into closets, junk drawers, gardens and cars.
One item that often goes sadly neglected this season is your trusty gym bag. Yes, that beat-up, possibly double-duty (diaper bag and/or briefcase, anyone?) satchel that houses your sweaty shoes, stinky sports bras and countless hygiene products for cleaning up after a workout. If you think about it, the bag and its contents are basically a petri dish of your own ick mixed with countless other gym-goers' blech, as everything comes into contact with equipment and locker rooms. Gross.
"Your bag goes with you from home to workout to work, so it works just as hard as you do," says Mike Fox, professional equipment manager who has worked with high school, college and professional teams over the past 35 years. "The combination of heat and wet makes the bag an excellent breeding ground for bacteria. Add to it the dirt from outside workouts or the spillage from your toiletries and preworkout and postworkout snack remnants. It needs to get cleaned."
Where to begin? Fox suggests the following:
1. Empty everything out of your bag, shaking out any loose dirt and/or crumbs. Throw away any trash. Vacuum up any debris hiding in the seams or stitching.
2. If the bag is wet, towel-dry it first, then wipe it out with baby wipes and a solution of warm water and white vinegar.
3. If multitasking with the bag — such as working out, going to work and then going to play in your kickball league — pack plastic bags for all the dirty and wet clothes, which will protect the clean ones and the inside of your bag.
4. Air-dry your shoes often. Some shoe bags are rubberized, and they will hold moisture, which lends itself to bacteria growth.
5. Most bags have compartments, so try to use the same compartments for the same purpose each time. That way, you don't lose your snacks in the bag, you keep your toiletries together and you minimize any liquid leaks.
6. Give your bag a good wipe down and time to air out at least once a week. You also can put in dryer sheets to kill the odors or use dry tea bags in your bag and shoes to kill odors overnight. Mix a spray bottle with water, white vinegar and an essential oil, like tea tree or lavender, spray the bag down and let it dry over night. This mix is also great for yoga mats.
Spring Splurges
Once you're done cleaning your bag and reassessing its remaining contents, you may notice it's time to replace the things you use the most or add new products to your preworkout and postworkout routines to help cut down on odors.
No need to scour the internet for ideas. We've tested them out and have included our recommendations below. They are bound to put a little spring in your step this season.
Gym Bag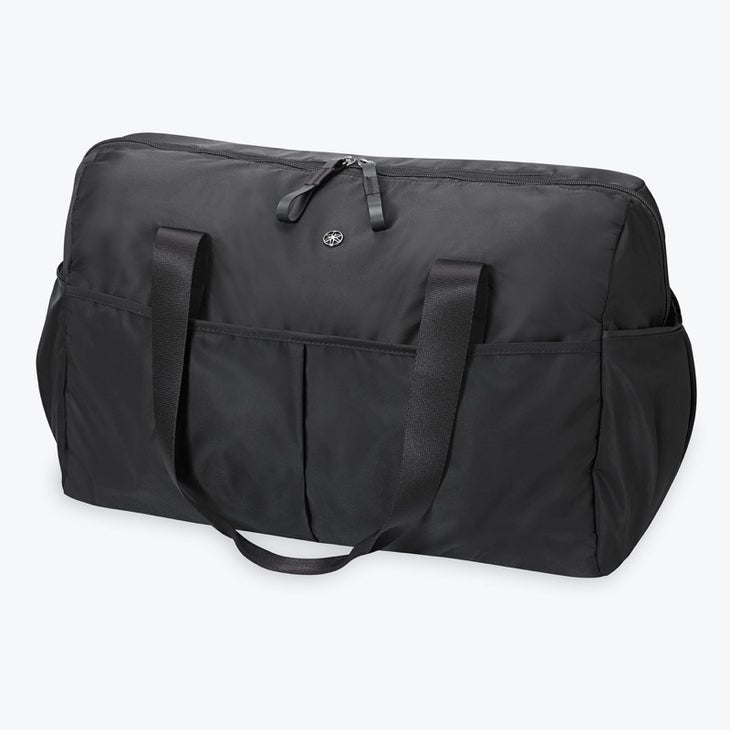 If your bag is ripped, too grimy or otherwise unfit for more trips to the gym, it's time to replace it. The Warrior Weekender Yoga Mat Bag from Gaiam offers a classic style, functional design (it holds up to a 6-mm yoga mat and has multiple interior and exterior pockets for all your gear) and an easy-to-clean interior liner.
$29.98
Hair Brush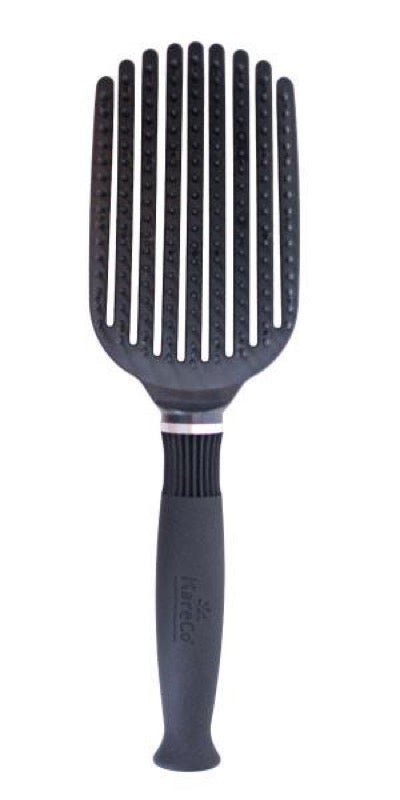 Brushes filled with hair and product can be tough to clean if you haven't done so since the Dark Ages. Swap it out for the Tangle Buster by KareCo, which has a flexible paddle and ionic bristles that gently glide across the scalp to help detangle and smooth your postworkout mane.
$12.50
Portable Scent Pods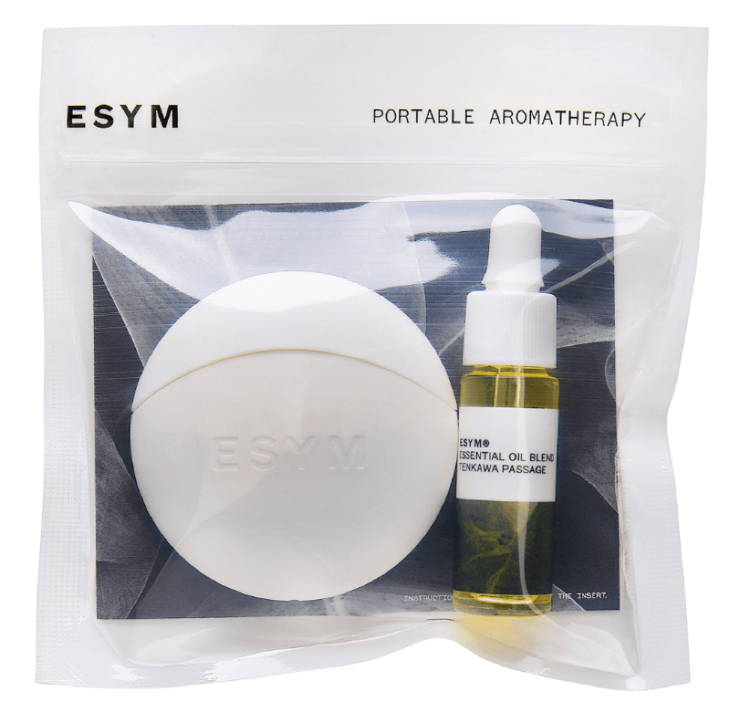 Got a yucky smell from your hot yoga class stuck in your nose? Esym refillable scent pods provide access to handcrafted scent experiences — keep one in your gym bag and simply remove the scent-pod cap, take a deep breath and enjoy. The 100 percent natural essential-oil blends (eight in total, depending on your mood) can be used with a scent pod, diffusers or as a fragrance.
$25
Get a Grip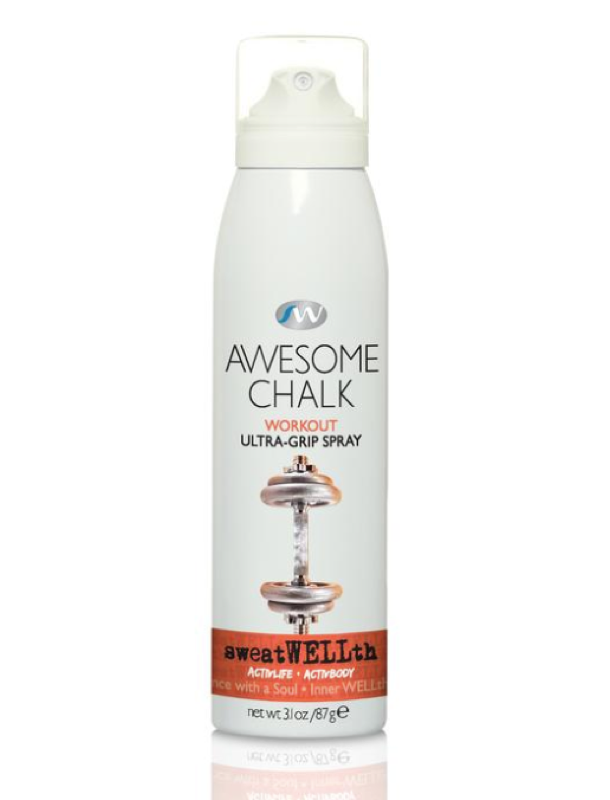 If you're a frequent lifter, then you know chalking up is a must-do. But let's face it. That communal chalk bucket can be pretty unsanitary. Switch to quick-drying SweatWELLth Awesome Chalk Workout Ultra-Grip Spray, which contains hyaluronic acid that helps prevent and heal skin abrasions.
$18
Headphones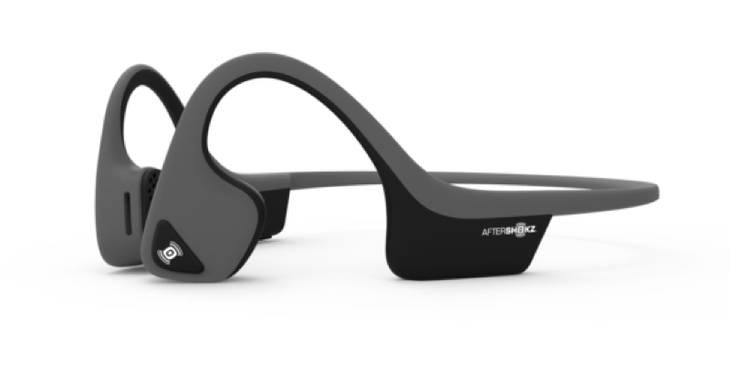 Whether your tangled old headphones have gunk from your ears or from who knows what in the bottom of your gym bag, it's time to replace them with wireless versions that can keep up with your athletic endeavors. Unlike conventional headphones and earbuds that sit in or on your ears and use the eardrum to transmit sound, AfterShokz Trekz Air are bone-conducting headphones that sit outside your ears and transmit sound through the listener's cheekbone to the inner ear, leaving the ear canal open. Whether you're walking the dog, working out with friends or competing in a race, you'll be able to remain alert and aware of ambient sounds while enjoying music or, gasp, talking on the phone.
$179.95
JBL and Under Armour's latest sport headphone, the UA Sport Wireless Flex, is a wireless neckband. These headphones offer a sleek design, JBL's signature sound and impressive versatility to provide athletes with a secure fit at the gym or on the go. They feature bend-and-stay Flex Zones in the neckband so athletes are guaranteed an adjustable fit and all-day comfort. Additionally, they are engineered with an embedded RunSafe LED feature with three flashing modes for increased visibility and safety in low-light conditions — perfect for running at night or before sunrise.
$129.95
Deodorize and Launder

Looking for a killer cleaner for your gym bag, shoes, yoga mat or locker? The Jessica Air and Fabric Freshener from Shabby Chick Natural Products kills the bacteria that cause odors. It's safe, nontoxic and made with ylang-ylang essential oils. $8
If you're in the market for a laundry detergent that's powerful on dirt yet gentle on sensitive skin, then Shabby Chick Natural Products Laundry Soap is the biodegradable, hypoallergenic, nontoxic, kid- and pet-safe solution you've been searching for. Plus, it has natural water softeners, which help keep clothes from fading.
$20
Food and Drink Storage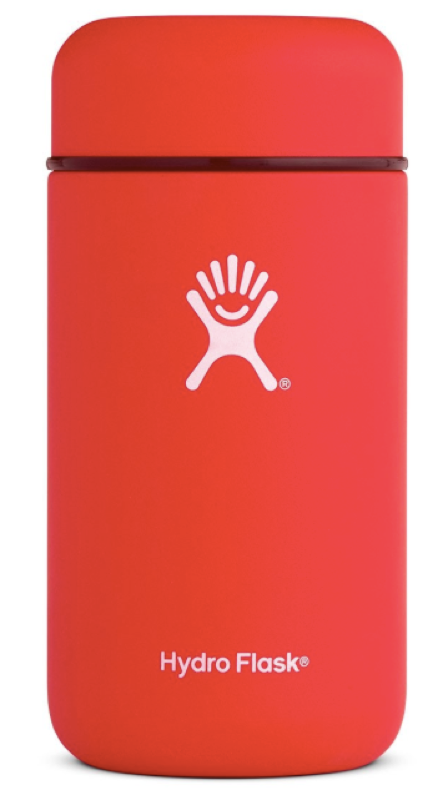 Need a safe container to store your postworkout shake, midafternoon snack or other beverages? Hydro Flask products are the answer. The 21-ounce Standard Mouth Bottle is made with durable professional-grade stainless steel and TempShield insulation that keeps cold water refreshingly cold up to 24 hours — or piping hot up to 12. An easy-to-carry Flex Cap strap and colorful powder coating makes this bottle even easier to grip. Plus, it's designed to resist condensation, so it will never sweat — which means contents of your travel bag stay dry even during big swings in outside temperature. $32.95
Or fuel your workout — from hot morning oats to frozen smoothies, yogurt parfaits and fresh-cut fruit or veggies — with Food Flasks, which keep your favorite foods at the perfect temperature for hours. These sweat-free, easy-to-grip and leakproof thermos are perfect for tossing in your gym bag. Plus, they're made with professional-grade stainless steel and won't retain or transfer flavors, so today's vegan protein shake won't taste like last week's coconut quinoa curry.
$29.95 12 oz / $34.95 18 oz
Gear Cleaner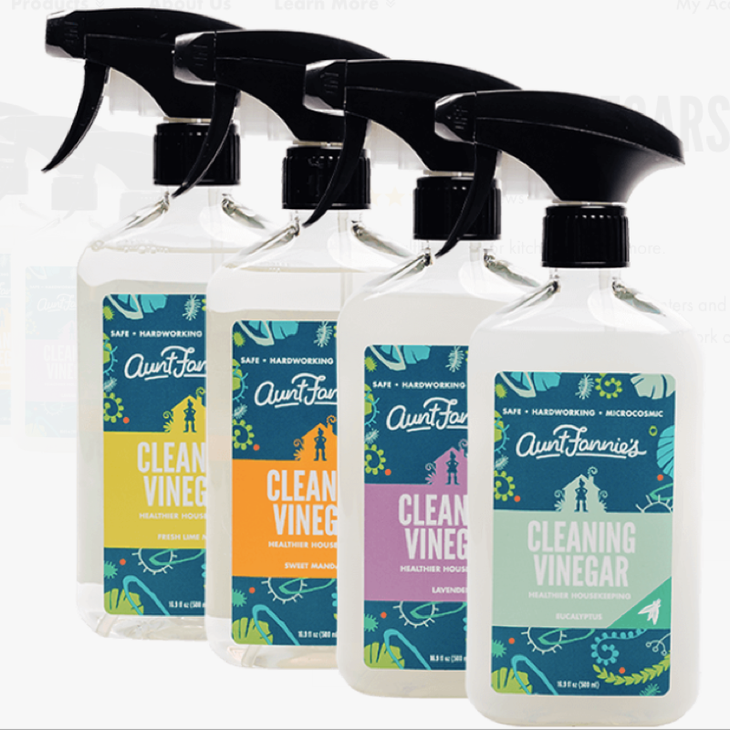 There's no excuse for grimy yoga mats or boxing gloves, thanks to Aunt Fannie's Cleaning Vinegar Spray and Cleaning Vinegar Wipes. These convenient, microbiomic cleaning solutions harness the power of cleaning vinegars to foster the growth of healthier surfaces. Plus, they are formulated with essential oils, creating a pleasant aromatic experience.
$6.99
Pre-Soak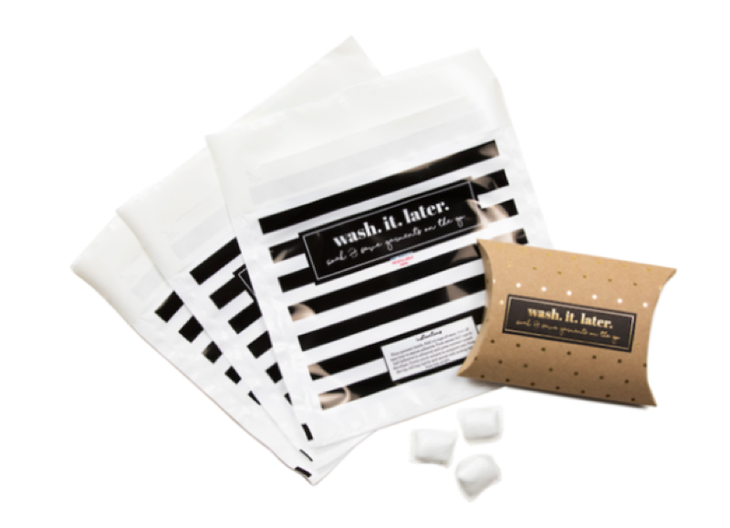 What do you do with your sweat-soaked and smelly postworkout gear? Slip a hypoallergenic, single-use, travel-size Soak & Save Bag from WashItLater into your gym bag so you can toss in your items, add water, seal it up, and start soaking and pre-treating no matter where you are. When you're ready to do laundry, you won't have to scrub or treat with harsh chemicals because the smell and stain hasn't set.
$12.99
Toiletry Kit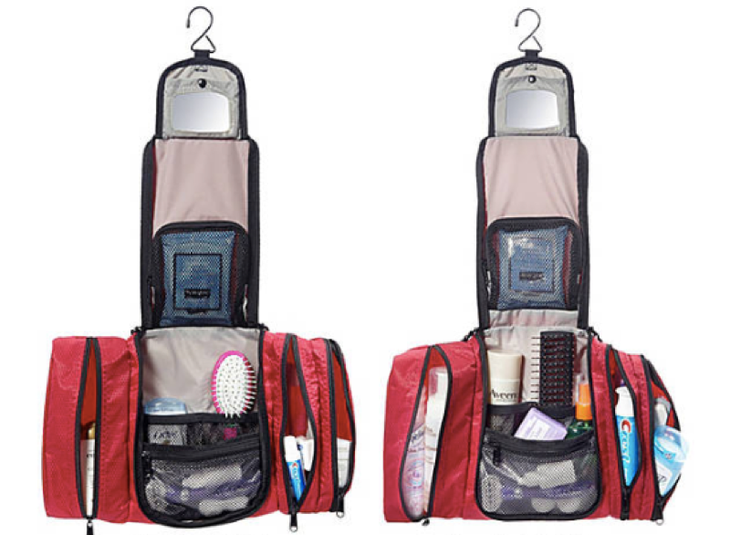 Your deodorant, shampoo, razor and makeup shouldn't be floating around the bottom of your gym bag because this leads to spills and soiled clothing. Instead, store everything in the Pack-It-Flat Toiletry Kit from eBags, which has a handy hanging hook, multiple compartments, a mirror and a specific section for contents that could leak.
$40.00
Banish BO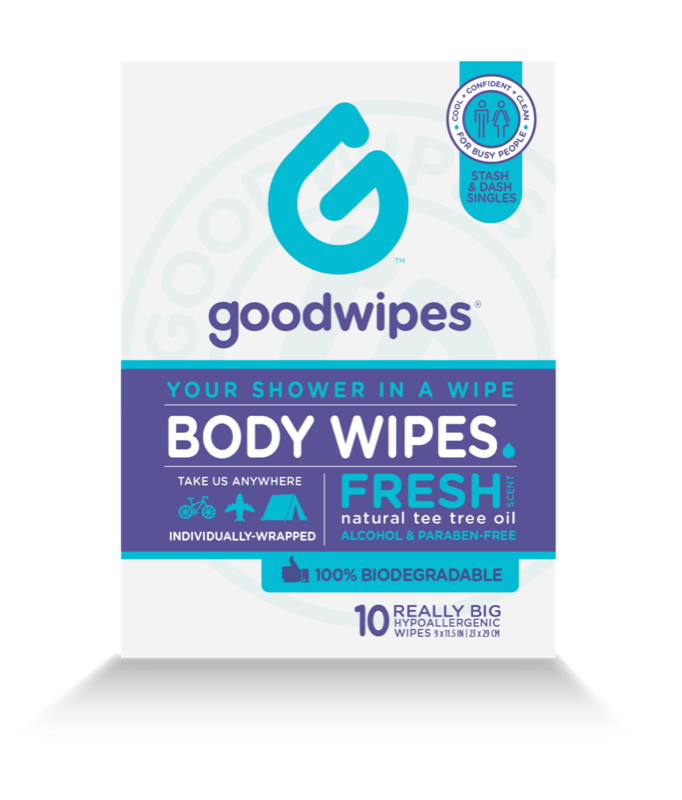 No time for a shower after your workout? Changing into work clothes while covered in sweat can transfer odor to your outfit. Try Goodwipes Body Wipes, which offer a quick shower on the go. Featuring aloe, tea-tree oil, peppermint and ginseng, these pH-balanced wipes are 100 percent biodegradable and flushable after use. $10.00
The ShowerPill Body Wipe is an extra-thick disposable wipe created by three college football teammates that works like a washcloth to clean your entire body. Since it's anti-bacterial, you're not just masking sweaty germs, but you're also removing 99.99 percent of them. Don't worry about skin irritation because these hypoallergenic wipes also contain soothing aloe vera and witch hazel.
$9.99
Sanitize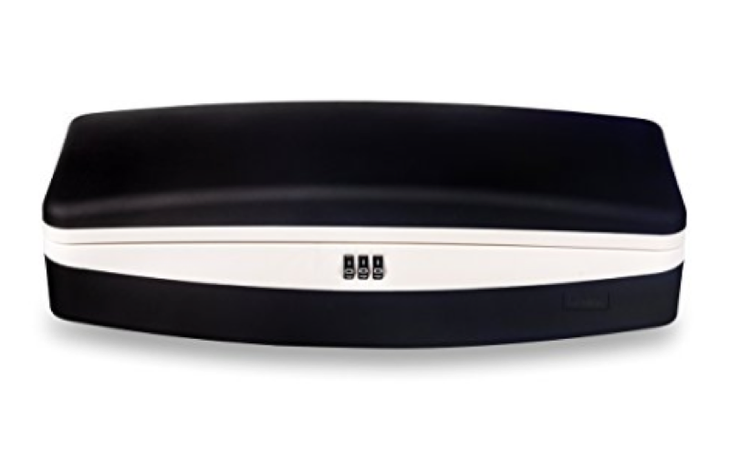 There's cleaning, and then there's sanitizing. If you're looking for next-level hygiene without the harsh chemicals, consider the UVee Go Play by Clean Light Laboratories, a UV-C light storage system that effectively kills 99.9 percent of harmful bacteria and germs in five to 10 minutes. Try it on your cellphone, sunglasses, headphones, Fitbit, toothbrush, remote control and more.
$119.99