8 Ways To Improve Your Connections
Building fitness connections can help you build a better body — and enrich your life.
Heading out the door? Read this article on the new Outside+ app available now on iOS devices for members! Download the app.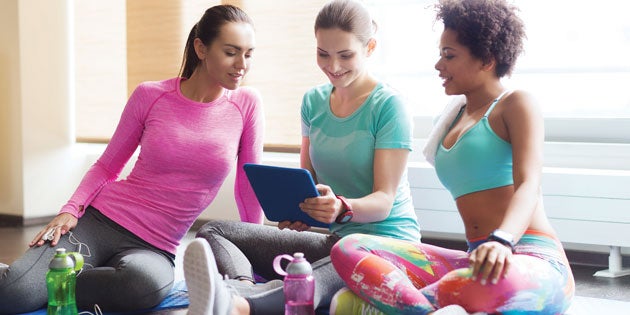 As humans, we need food, water, sleep, exercise … you know, the basics. But did you know social connection ranks right up there? "We absolutely need strong connections to flourish," says David Karp, Ph.D., professor of sociology at Boston College. Research shows that people with strong social bonds are happier, have better immunity, experience less stress and live longer. On the flip side, feeling lonely can seriously hurt your health. One study found that a lack of social ties increases the risk of premature death by 50 percent — the same as smoking 15 cigarettes a day. Yikes!
We get it: Connection is key to health, but what's the gym got to do with it? Turns out ditching the headphones and head-down mentality can improve your fitness and outlook. Not only are we happier when we're with other people, but sweating together also releases oxytocin, a brain chemical that primes you to gel with your fellow gym-goers. Plus, research says connecting to people at the gym means more workout hours logged. "Having friends at the gym, whether it's a favorite instructor or class regulars, provides an additional level of accountability," adds Cherilyn Hultquist, Ph.D., assistant professor in the Department of Health, Physical Education and Sport Science at Kennesaw State University in Georgia.
Bonding is big on benefits, but walking up to the gal doing cable rows can be OMG awkward. These eight no-sweat ideas will have you buddying up with fellow fit friends in no time.
1. Get social on social media.
"Join Facebook groups, post progress photos, start your own blog and watch the conversation begin," says Kim Dolan Leto, trainer and creator of the F.I.T. DVD series.
Icebreaker: Follow your gym's Facebook page and post comments.
2. Smile!
Smiling has superpowers. The act of smiling not only can bring on your own happiness, but one study found that a smile also can make people feel more connected.
Icebreaker: Smile, duh!
3. Stop tuning out on the treadmill.
Skip the Seinfeld reruns so people can actually strike up a conversation with you.
Icebreaker: "Challenge your treadmill neighbor to a sprint race," suggests Felicia Romero, fitness trainer and owner of Fit Method gym in Gilbert, Arizona.
4. Join a group challenge.
Whether you sign up for Oxygen's Ultimate 90-Day Challenge or your gym's weight-loss competition, common goals create a shared sense of purpose.
Icebreaker: Pay attention to the successes of others! Give lots of good-for-yous and high-fives to your fellow challengers.
5. Dish out compliments.
No, we're not saying to pass out pickup lines, but a genuine compliment — "I love your tights" or "What's the secret to your great glutes?" — is always a welcome opener.
Icebreaker: "If I see a fellow female and she has a rocking body, I tell her," Romero says.
6. Become a class regular.
Seeing familiar faces each class creates motivation, community and an atmosphere of accountability, says Hultquist — and common ground to strike up a conversation.
Icebreaker: "I'm still sore from last week."
7. Get to know the instructor.
Don't be intimidated by her divine Dancers Pose or her drill sergeant–like demeanor in class. "Instructors want to be approached and love feedback," Romero says.
Icebreaker: Like your instructor's Facebook posts and Instagram pics.
8. Hang out at the gym's juice bar.
The club's hub of social activity is a prime gathering spot and the perfect place to sip and strike up a conversation.
Icebreaker: "How long have you been training here?"