Recover Well At Any Age
What you need to know in your 20s, 30s, 40s, 50s and beyond.
Heading out the door? Read this article on the new Outside+ app available now on iOS devices for members! Download the app.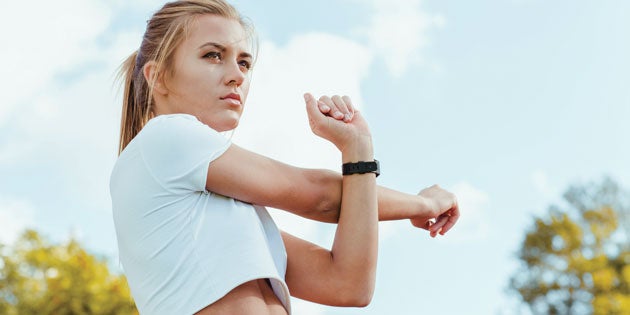 You're tough. Strong. You run. You rock the weights, and you win rave reviews from your friends for your fitness. But one morning, you find yourself dizzy, robbed of your derring-do, drained of the energy that's been your emblem since day one.
What the heck is going on?
Chances are, you've forgotten one of the most important elements of your workout: the right recovery. Sure, you take off a day or two here or there, and you try a little Downward Dog in between getting some z's and taking your vitamin A. But you may not know what's right for your body as you age.
"There's a 'more is better' belief with figure competition — more volume, more load, as if a strong will and desire alone is enough to power through tough workouts," says Jonathan Ross, the owner of Aion Fitness near Washington, D.C., author of Abs Revealed (Human Kinetics, 2010) and an award-winning ACE personal trainer. "But overtraining makes you lose your love of lifting and training, and then you're running on willpower and a sense of obligation that is destined to fail in the short term. Long term, this approach can mean a complete cessation of exercise and all the myriad benefits, beyond appearance, it provides."
There are more serious ramifications, too. In "Overtraining Syndrome: A Practical Guide," Dr. Jeffrey Kreher and Dr. Jennifer Schwartz reveal how working out too hard with too little rest can mess with our brains, reproductive systems and immune systems, leaving us depressed, depleted of libido and prone to illness.
Part of the prevention is listening to your body and your mind. In the aforementioned study, the researchers report that college swimmers reduced burnout by 10 percent when they examined their moods around workouts. But the No. 1 prescription is a mix of good calories, good hydration, good sleep and adjusting training volume.
"Recovery is when you improve — when you progress," Ross explains. "Training is simply the stimulus for improvement, while recovery is the response to that stimulus. One doesn't work without the other."
The good news is that the right recovery approach can get you not only back on track but also back on top of the podium. Which is exactly where a woman belongs, right?
In your 20s
Hurdle: Too much training time, frequency or intensity.
How to get over it: "Listen to your body," Ross says. "If you need a day off, or different, modified workout, take it." But skip the couch-potato routine and go for an easy bike ride instead, and invest in some good tools for self-massage for sore muscles.
Recovery aids: Naps of 15 to 20 minutes can help reset your clock. "In your 20s, your body is a bit more forgiving when dealing with random behavior," says Shawn Stevenson, author of Sleep Smarter: 21 Essential Strategies to Sleep Your Way to a Better Body, Better Health and Bigger Success (Rodale Books, 2016). "But put a focus on making 85 percent of your diet real, unprocessed, whole foods. You can leave 15 percent for some additional fun stuff."
In your 30s
Hurdle: "Your metabolism slows a bit now," says John Rowley, the New York–based author of The Power of Positive Fitness (Leafwood Publishers, 2011) and founder of UX3 Nutrition, "and most don't adjust diet to compensate." That means if you picked up some bad eating habits in your teens and 20s, you may be feeling and seeing the consequences.
How to get over it: Take every third day off of training, Rowley says. That time could be devoted to some well-deserved pampering. "Plan a regular, deep-tissue massage every two to four weeks, and self-massage daily," Ross says.
Recovery aids: Get at least eight hours of sleep, along with a diet that includes omega-3 fatty acids and anti-inflammatories, including cayenne pepper, curcumin, ginger and holy basil. Boost those real, unprocessed, whole foods to 90 percent of your daily intake.
In your 40s
Hurdle: This is typically when you hit your career peak growth and when you're juggling the demands of kids, which can tax your body and brain more than you realize. "You can still train hard and heavy, just not as frequently, and a bit more recovery time is needed," Ross says. Your metabolism, meanwhile, is tanking, while your hormones are going haywire.
How to get over it: Shorten the duration of your workouts, Rowley suggests, while learning how to practice deep breathing. "It's more critical than ever to emphasize overall digestive health and proper elimination because of the way estrogen gets broken down," says Stevenson, who recommends probiotics and fermented foods. Sugars and processed foods should be reduced to an absolute minimum — prep meals in advance so that you don't fall victim to mindless snacking while handling family stress.
Recovery aids: Take a higher dosage of vitamin D, plus 10 ounces of tart cherry juice before and after workouts; multiple studies, including a 2014 report in Nutrients, have found that it decreases inflammation and oxidative stress from tough workouts.
In your 50s and beyond
Hurdle: "We often keep stating the same fitness goals over and over without revisiting them," Ross says. "They need to inspire you but also be varied enough to provide a highly diversified stimulus to your body." Dr. Laurie Steelsmith, a naturopathic physician in Honolulu and the author of Natural Choices for Women's Health (Harmony, 2005), adds that training too hard is especially troublesome at this age. "For women who are postmenopausal, extremes in overexercising don't help support and nourish their bodies. They tend to experience health issues that stem from lowered vitality and wellness."
How to get over it: Take some advice from Rosalie Welch, a 52-year-old Vermont fitness instructor who still spends seven hours a day at the gym either teaching or training. "Hydration!" says Welch, who always has a bottle of water — including one filled with essential amino acids — at her side. She also eats six small meals a day.
Recovery aids: Women 50 and older should seek multivitamins high in calcium, magnesium and vitamin D, Steelsmith says. And keep sneaking protein into those small meals. A U.S. National Institutes of Health study found that people between age 50 and 60 lose muscle strength by about 1.5 percent each year, Stevenson reports.
How to recover like a rock star
• Eat a whole-foods diet.
• Eat protein at every meal.
• Drink eight to 10 glasses of water or herbal teas daily.
• Sleep eight to 10 hours per night for recovery.
• Give yourself rest days.
• Get 20 minutes of sunlight every day.
• Stretch before and after each workout.
• Get massages monthly.
• Have a chiropractic alignment before you begin your training regime.
• Take Epsom salt baths weekly during intense training.
• Be sure you are happy with your exercise regime — life is too short to do things that you do not enjoy.
— Dr. Gabrielle Francis, a New York City–based naturopathic doctor, chiropractor, acupuncturist, massage therapist and author of The Rockstar Remedy: A Rock & Roll Doctor's Prescription for Living a Long, Healthy Life (Harper Wave, 2014). (Francis provides natural medicine for performing artists on tour.)