The Resolution Solution
Five secrets to surviving the crowds of gym newbies
Heading out the door? Read this article on the new Outside+ app available now on iOS devices for members! Download the app.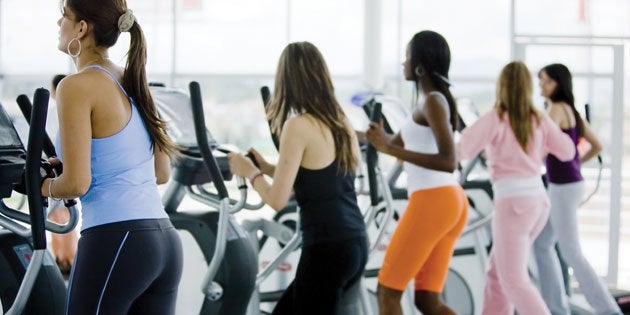 Ah, the start of the new year at the gym. On one hand, the influx of people in the weight room or your favorite group exercise classes adds a contagious fresh-start energy that pushes you even harder than usual. On the other hand, those New Year's resolutioners can be, well, super annoying — especially when you have to wait to use your go-to machines, deal with people who don't understand gym etiquette or get shut out of your beloved cardio class.
"Personally, I try to embrace the influx of newbies, even if it means making some adjustments," says Felicia Romero, a fitness competitor and owner of FR Fit Method, a gym in Gilbert, Arizona. Don't have quite the same positive attitude? Here, Romero and other experts share their best tips on how to keep your calm when the January gym-goers threaten your workout bliss.
1. Breathe deeply.
Taking bigger inhales and exhales is simple but effective, says Stephen Graef, Ph.D., a sports psychologist at The Ohio State University Wexner Medical Center. "When you see someone on your machine or get shut out of a class, it's easy to get really angry," Graef says. "The only way to calm your anxious, ticked-off mind is to slow it down — and the most effective way to do that is by taking big breaths."
2. Have a backup plan.
Another great way to swap anger for acceptance is to shift your focus, Graef says. So when you know the gym is going to be a madhouse, have a few workout options in mind before you walk in the door. "You never know — it might even be an opportunity for you to mix up your usual routine," he says, which could lead to great results. This could be the perfect time to get out of a training rut. Romero recommends thinking of ways to do your workouts that don't involve machines. "Functional moves using bands and bodyweight movements are all great ways to sneak in a workout when the gym is so busy that all the machines are taken," she says.
3. Bank on extra-long sessions.
When you're dealing with crowds, it's best to embrace the fact that your usual workout is likely going to take you a little longer than usual, says Trinity Perkins, M.S.Ed., a personal trainer in Woodbridge, Virginia. You might have to show up to your favorite Spin class extra early, for example, to ensure you score a bike. Or you may need to plan on an extra 10 minutes to get through your weights routine because more people are using the equipment. "Planning on longer-than-usual sessions can help prevent frustration," Perkins says.
4. Take someone under your wing.
Kelly Baez, Ph.D., a licensed professional counselor in Columbus, Georgia, says that offering to help a newbie can transform the way you look at the January influx. And it's easier than you might think to become a mentor. "If you see someone using a machine incorrectly, don't just watch in horror — share a tip," she says.
5. Take some time off.
Still having a rough time dealing with the disruption to your go-to exercise routine? Now's the perfect time to take a week off completely, Romero says. You know that rest is crucial if you want to see results. So why not take a break during what's traditionally the busiest time of year at the gym? When you come back, odds are good that the resolution rush will have mellowed and that your gym routine will be back to normal.