Simplify Your Strength Routine
Don't fall for the trends and hype — get back to basics with these four strength-building tactics.
Heading out the door? Read this article on the new Outside+ app available now on iOS devices for members! Download the app.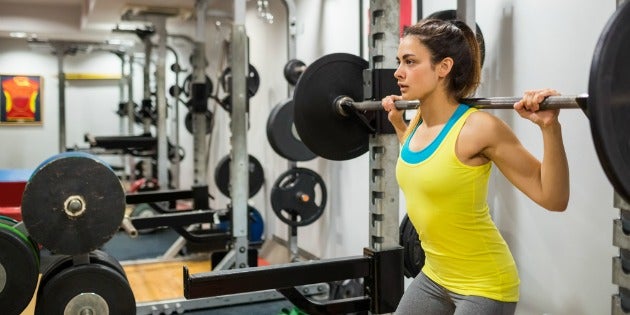 Ashley Krotine, USAW-1, a Southern California–based strength and conditioning coach, feels that the pursuit of strength has become muddled by a cacophony of gurus looking to innovate. "I am old school and believe in the basic fundamentals of strength building," she says. "I try my best not to reinvent the wheel when it comes to this stuff."
Although Krotine is a strength fundamentalist, she does believe that everyone — no matter if your goal is aesthetics or performance — can benefit by focusing on these four things:
1. Ignore the Clock, Focus on the Reps
CrossFit has engendered a habit of frenzied reps, which drives strength purists like Krotine mad. In her opinion, those concerned with boosting their max are better served by slowing things down a smidge. "It's quality over quantity when it comes to traditional strength and Olympic lifts," says Krotine. "Master each lift — deadlifts, cleans, snatches and high pulls — with a progression-based program and you'll see your strength improve drastically. Seems simple; however, this approach is often ignored and is why muscle growth and strength halt and injuries occur."
2. Strengthen the Hips
In the interest of looking bigger, lifters often ignore the importance of developing hip strength. But according to Krotine, to increase overall strength, speed, function and size, you've got to work on your hips. "Strengthening the adductors and abductors will not only improve strength in Olympic lifts but also bolster everyday functional movements such as getting out of a vehicle," she says.
Yes, squats and deadlifts are important, she notes, but to boost overall strength you also have to include lateral movements, active stretching and single-legged work in multiple planes of motion.
3. Do Single-Arm Dumbbell Snatches
Obviously, there's more to strength building than doing the Big Three (bench press, squat and deadlift) and a handful of Olympic lifts. But in the interest of keeping it simple, Krotine has one must-add move that pays huge dividends: the single-arm dumbbell snatch (see photos at left).
"This is an explosive, full-body movement that increases cardiovascular endurance, core strength, upper-body strength, grip strength and more, all without loading the lumbar spine," says Krotine. "And it's versatile: Depending on the tempo and load, it can be an amazing fat burner, shoulder rehab exercise or strength measurement."
4. Work on ROM and Flexibility
Strength experts are reluctant to tout the importance of flexibility work, especially with novice exercisers, says Krotine. Why? Because telling someone that in a few months they'll be able to interlace their fingers behind their backs and fold over is not nearly as sexy as saying, "You'll be able to deadlift a Ram pickup."
"But not all flexibility and stretching routines are effective," warns Krotine, who is a big proponent of a stretching technique called proprioceptive neuromuscular facilitation. "PNF is a lovely combination of passive and active stretching that allows for an almost-immediate increase of range of motion and, over time, muscle repair, which is critical for strength gains and recovery," she explains. "Performing PNF specifically on the lower extremities, especially the hamstrings, is one of the best things one can do. It's best when performed with a partner, but can also be done alone."