The Best Stretch You're Not Doing
This once-partner-assisted stretch has gone solo with great flexibility results.
Photo: Getty Images/iStockphoto
Heading out the door? Read this article on the new Outside+ app available now on iOS devices for members! Download the app.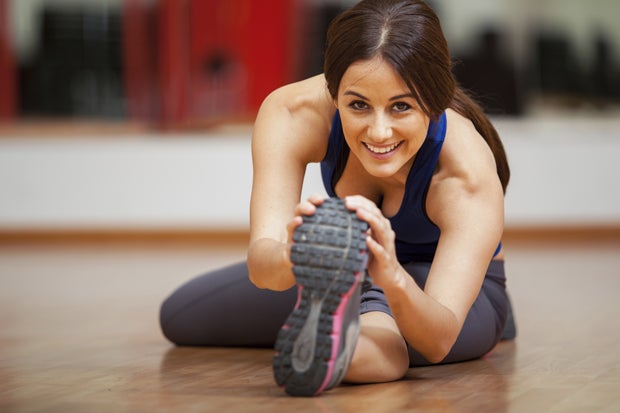 PNF, or proprioceptive neuromuscular facilitation, is when you contract the muscle and then hold a stretch. Turns out that it improves range of motion better than static stretching, according to a study in the Journal of Strength and Conditioning Research. What's more, the researchers at William Peterson University in Wayne, New Jersey, found that this normally partner-assisted stretch methodology is equally effective when doing it solo.
Participants in the study were separated into either into a hamstring-stretching group that used static (traditional stretch-and-hold method) or self-PNF methods. All subjects placed one foot on a chair while standing on the floor. For 40 seconds, the static group held the stretch. The self-PNF spent the 40 seconds performing a static stretch for 15 seconds, then contracting their hamstring by pushing into the chair at 90% effort for 10 seconds, followed by another 15-second static stretch. The researchers found a significantly greater range of motion in the hips after the PNF stretching compared to the static stretching.
Your vigorous workouts should be topped off with PNF since the stretching protocol has been shown to prevent knots and realign muscle fibers. Do it after your workout three times a week and focus on two muscle groups a day to see the results in flexibility.