Women Strong 2019: Nicole Stout
This Team USA Judo athlete and 2020 and 2024 Olympic hopeful encompasses a fighting spirit in all aspects of her life. Take a look at Stout's training regimen, nutrition tips, life advice and more.
Heading out the door? Read this article on the new Outside+ app available now on iOS devices for members! Download the app.
Meet Nicole
Nicole Stout is a Team USA Judo athlete and a 2020 and 2024 Olympic hopeful. The 22-year-old has been dominating national and international competitions since her early teens, and she is gearing up for her first Olympic games in Tokyo. Stout has always competed in sports, and she began her training in gymnastics, rhythmic gymnastics and ballet. She changed tack at age 13 and took up judo, a sport her father and brother both loved and practiced themselves. Outside of judo practice, Stout's intense training regimen includes a variety of heavy lifts, such as her favorite — the clean-and-jerk — and plenty of cardio work. Her favorite judo throw is the uchimata, and her favorite food is sushi. She is currently taking classes at Harvard University online.
Follow Nicole: Instagram | Facebook
What It Means to Be a Strong Woman
Nicole's Favorite Supplement
SR CarnoSyn sustained-release beta-alanine. "It buffers the lactic acid build up in your muscles to delay fatigue and boost recovery," she says. "I take it every day."
Nicole's Cardio Workout
Nicole's Ceviche Recipe
"It's a family recipe for ceviche! Fresh, healthy and super delicious, you can't ask for anything else in a meal," she says. "I prefer a diet that consists of fish, fruit and veggies, so this is the perfect meal for covering all those bases."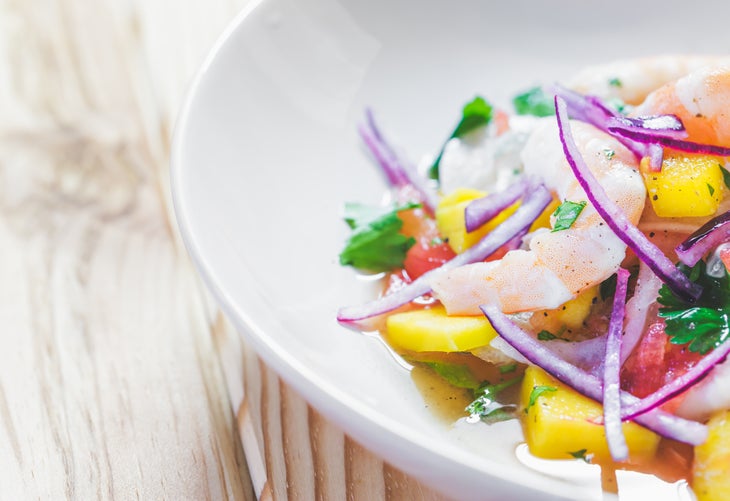 Ingredients
Shrimp (or cut up fish of choice)
Tomatoes
Mango
Red Onion
Cucumber
Cilantro
Orange Juice
Ketchup
Lime (optional)
Directions
Boil shrimp until pink or cook fish all the way through. Dice onions, mangos, tomatoes and cucumbers and mix in a large bowl. Add cooked shrimp to the vegetables and fruit. Add cilantro and enough orange juice to sufficiently coat everything. Then add a couple of tablespoons of ketchup and mix it in to cut down on the acidity. Keep adding orange juice or ketchup (to taste). You also can add some lime, if you'd like. The end result should be colorful and super refreshing!
Nicole's Summer-Ready Tips
Nicole's Favorite Workout Playlists
"I prefer super-peppy, fast-paced, positive songs to work out to," she says. "I like my playlist to evoke the mental image of speeding down a highway, with all the windows down, having the time of your life."
Want more Women Strong inspiration and guidance? Get to know our entire team of amazing athletes. Their stories are equally empowering, and they each openly share their strength, wisdom, compassion, and training advice!